ASOS has become one of the most popular online destinations for fashion-forward 20-somethings looking for the latest trends at affordable prices. But what other retailers stack up as solid ASOS alternatives?
I've compared over a dozen popular online clothing stores like ASOS to find ones with similar styles, range of brands, and shopping experiences.
Whether you're looking for edgy dresses, streetwear staples, going-out looks, or basics to mix and match, these ASOS competitor brands have got you covered. I'll break down what each one does best so you can find new go-to shops for your wardrobe.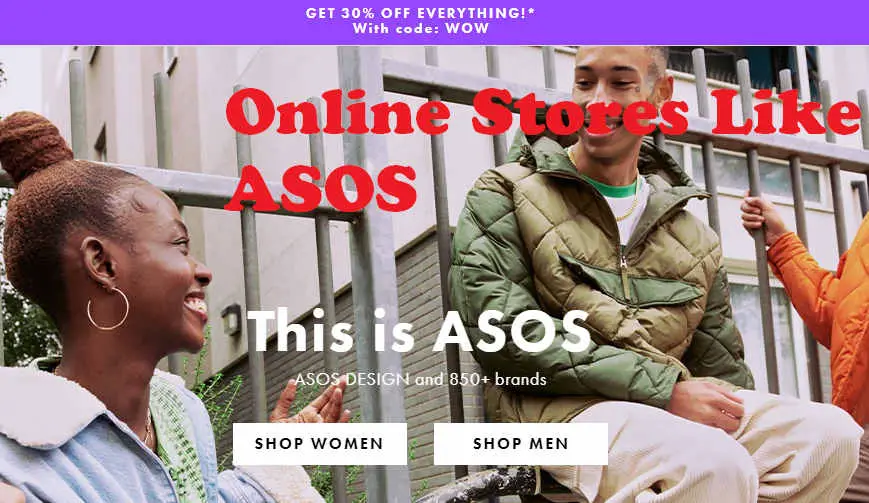 15 Best Online Stores Similar to ASOS for the Latest Fashion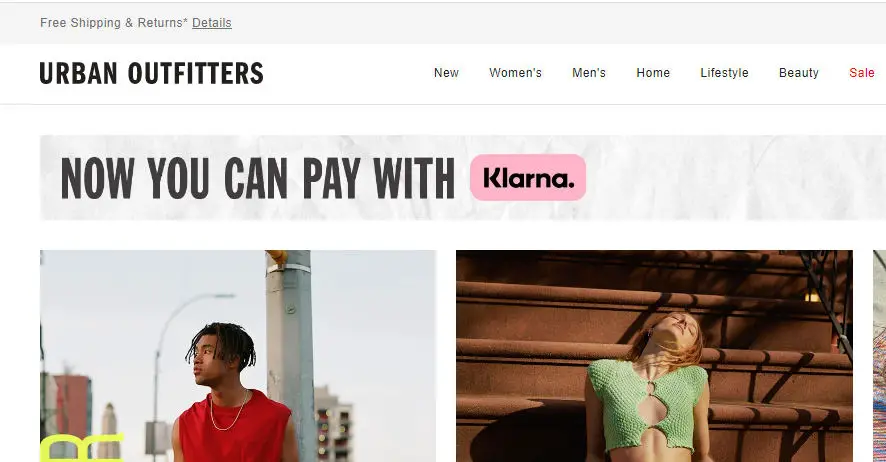 Urban Outfitters is known for its cool, hipster vibe and selection of boho, vintage-inspired women's clothing. You'll also find urban apparel and accessories for men plus apartment decor and vinyl records.
One advantage is the vast range of indie brands stocked, from Free People and Jeffrey Campbell to Levi's and Champion. They also have an impressive amount of exclusives you won't find elsewhere.
Everything ships for free over $50 in the US and Canada. It has over 200 stores but also operates worldwide via its slick online store.
Key Benefits:
Retro and indie clothing styles
Trendy apartment decor
Vintage and secondhand finds
Student discounts and frequent sales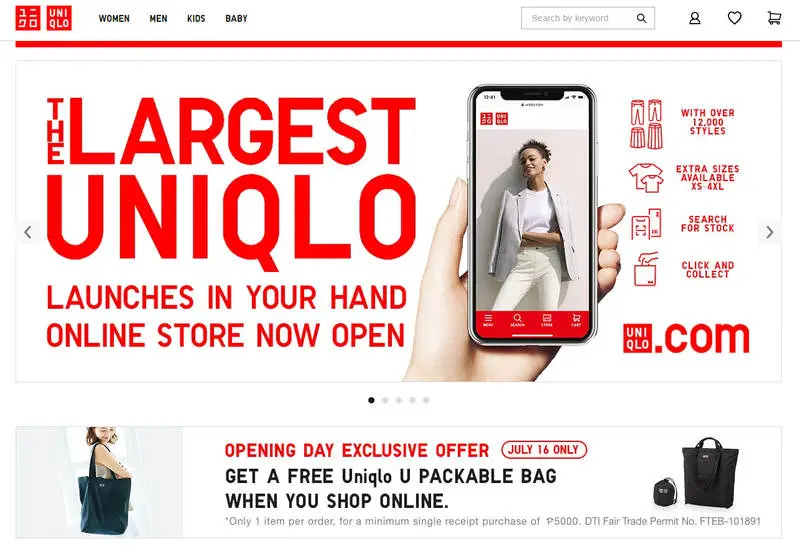 Uniqlo is a Japanese casual wear fashion brand that offers basic and affordable clothing for men, women and kids. They are known for their minimalist, functional styles made from high-tech fabrics.
It provides free standard shipping on all orders with no minimum purchase. Fast shipping options are available for an additional cost.
The company rarely offers sales or discounts. The site sells T-shirts, jeans, underwear, loungewear, suits, outerwear and accessories.
It is a great affordable alternative to stores like ASOS for basic wardrobe essentials and high-tech fabrics. The minimalist styles remain popular in Japan, China, the US, and UK.
Key Perks:
Affordable prices on basics
High-tech fabrics
Versatile wardrobe essentials
Sleek minimalist styles

River Island is a UK-based high-street fashion brand offering stylish clothing, shoes, bags and accessories. They are known for their going-out dresses, denim, footwear and accessories.
The site sells clothing, footwear and accessories across categories like dresses, tops, jeans, coats, bags, shoes and more. Bestselling items include party dresses, biker jackets, platform shoes and satin blouses.
It is a fantastic brand similar to ASOS for trendy going-out fashion and footwear at affordable prices. The brand remains most popular throughout the UK.
Key Advantages:
Trendy going-out clothes
Affordable footwear
Handbags and accessories
Regular sales and student discounts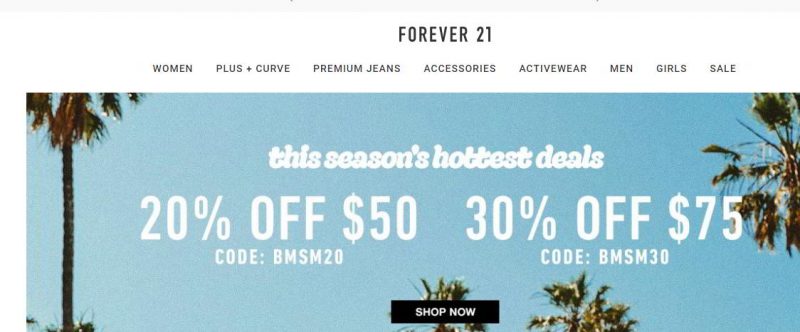 Forever 21 is a popular American fast fashion brand specializing in trendy clothing and accessories for women, men and kids. The company operates over 800 stores across the Americas, Asia, Middle East and Europe.
It is known for its affordable, fashion-forward range of clothing, footwear, beauty and accessories. The brand offers fast fashion styles with new product drops multiple times per week. Customers can shop categories like dresses, swimwear, denim, loungewear, shoes, jewelry and beauty.
It attracts a young, fashion-conscious customer base who want rapidly-changing styles at low prices, much like ASOS' core demographic.
Key Pros:
Inexpensive fast fashion
Broad plus size selection
Trendy going-out styles
Frequent sitewide sales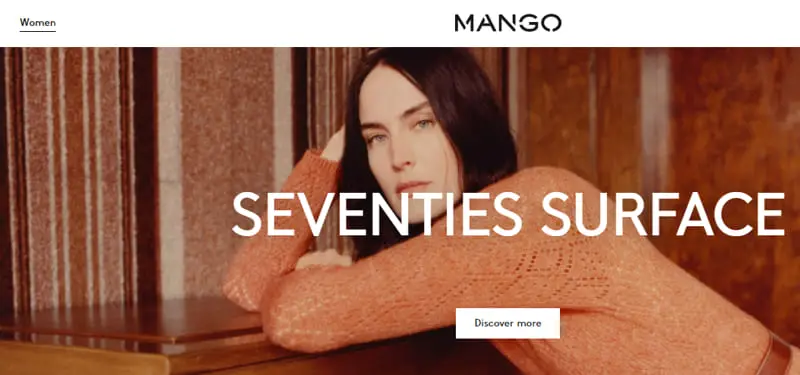 Mango is an international fashion brand from Spain that operates over 2,000 retail stores across 110 countries. It sells clothing, accessories, beauty and homeware for women, men and kids.
The retailer is renowned for its trend-focused seasonal collections of chic, affordable clothing and accessories. Shoppers can browse categories like dresses, tops, jeans, shoes, bags, lingerie, beauty and more. It attracts customers looking for European style at budget prices.
It offers free shipping and returns in the US and UK. The company ships to over 100 countries internationally. Some of their popular products include printed midi dresses, faux leather jackets, trendy denim, and occasion wear.
Key Benefits:
Feminine, flattering styles
Trendy coats and jackets
Figure-hugging dresses and jeans
European style at affordable prices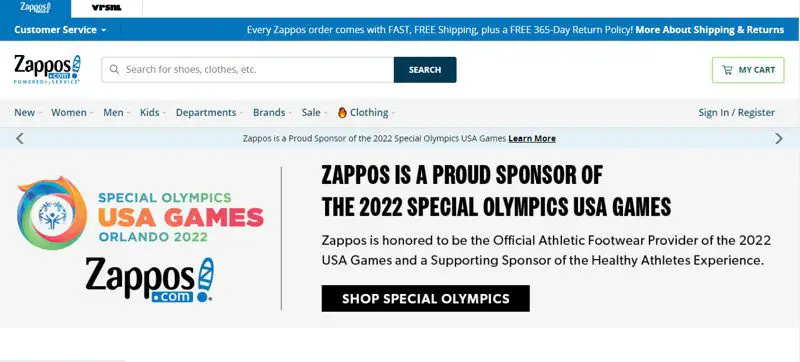 While known mostly for shoes, Zappos also carries affordable apparel for women, men and kids. It's a top alternative to ASOS for stylish footwear at low prices from brands like Nike, Ugg, Adidas and more.
It provides legendary customer service, and free shipping year-round. Their clothing range covers the basics, activewear, and casual styles. The vast shoe collection is what makes them stand out.
Key Perks:
Huge selection of apparel and shoes
Free fast shipping on all orders
24/7 exceptional customer service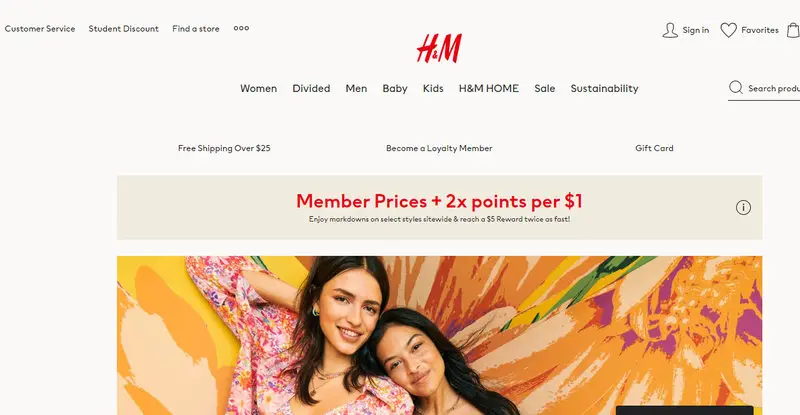 H&M is an international fast fashion giant offering inexpensive, on-trend clothing for women, men, teens and kids. They are known for their basics, accessories, dividends and conscience collections.
It offers free standard shipping for most orders in the US. Faster shipping options are available for an additional cost. They frequently promote sitewide sales, email sign-up discounts and student coupons.
This clothing brand sells apparel, accessories, shoes, dividends and home goods across categories like divided, ladies, kids, men and H&M Home. The brand remains extremely popular worldwide, especially across Europe and the United States.
Key Advantages:
Inexpensive trendy clothing
Sustainable focuses pieces
Trendy accessories and shoes
Sitewide sales up to 60% off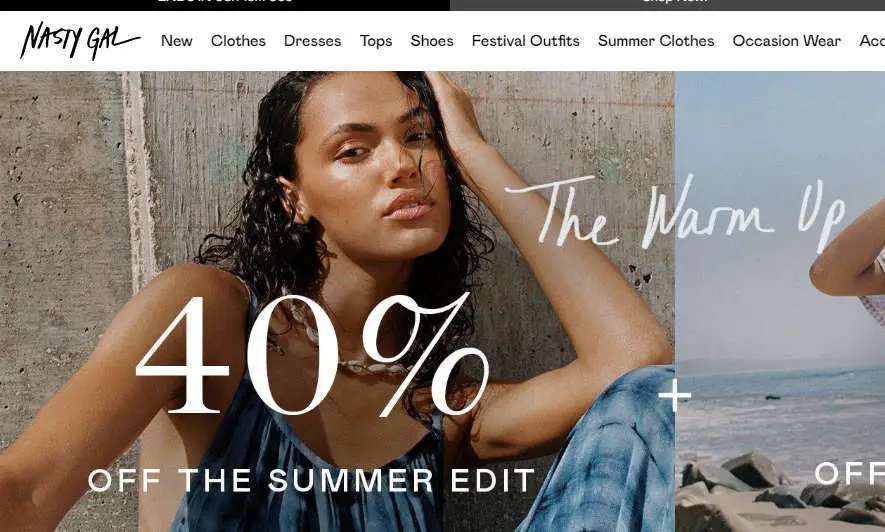 Nasty Gal is an American online retailer focused on fashion clothing, shoes, and accessories for women. The brand is aimed at Gen Z and millennial customers looking for bold, trend-led styles.
It is known for its selection of statement dresses, tops, bottoms, footwear, and accessories with an edgy, sexy aesthetic. The company has frequent new product drops to stay on top of emerging trends. Buyers can shop for sections like clothing, shoes, jeans, intimates, swim, and accessories.
Key Pros:
Daring, statement-making looks
Trendy shoes and accessories
Lots of faux leather and corset designs
Steep discounts and sales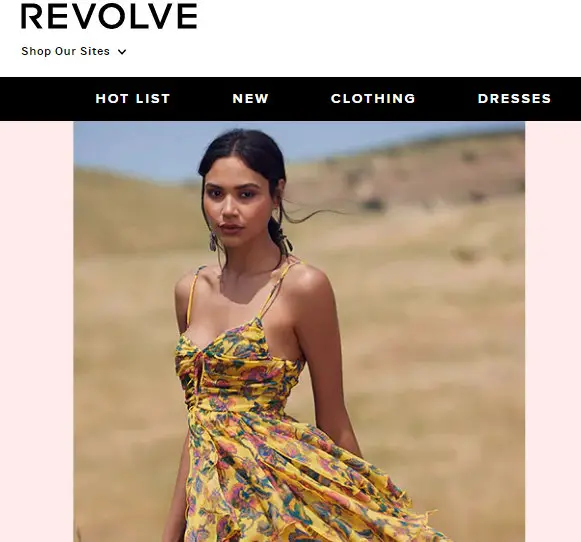 Revolve is a popular US online retailer focused on contemporary fashion clothing, footwear, accessories, and beauty. The company works with over 1,000 emerging brands to offer constant newness and on-trend styles.
It is renowned for its curated selection of coveted brands across all categories from dresses, tops and jeans to handbags, shoes, beauty and more. The clothing company attracts a millennial and Gen Z audience of fashion lovers who want unique, hard-to-find labels.
As major stores like ASOS, this brand also ships to over 100 countries worldwide. The site is a go-to for fashion-forward shoppers who want to discover rising brands and styles.
Key Benefits:
Premium contemporary brands
Luxury fabrics and quality
Trendy shoes and handbags
Sitewide sales up to 65% off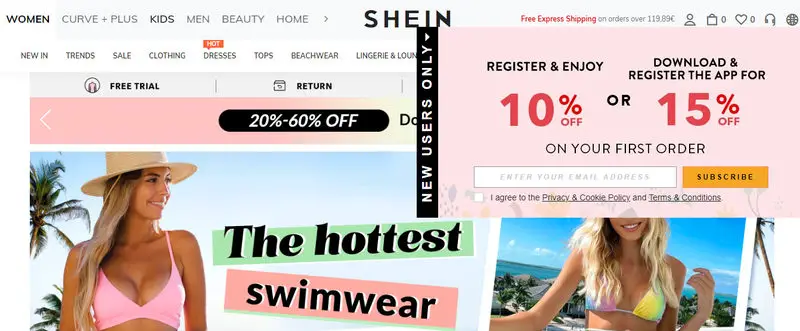 Shein is a Chinese fast fashion e-tailer known for incredibly affordable, on-trend women's clothing. They are known for their dresses, trendy tops, jeans, shoes and accessories.
It offers free standard shipping to the US and UK on some orders. Faster shipping options are available for extra fees. The site offers frequent sales, discount codes, and email sign-up promotions.
The retailer sells women's apparel, shoes, bags, accessories, swimwear, plus sizes and more. Top products include ruched bodycon dresses, crop tops, mom jeans, espadrilles and shoulder bags.
It is an extremely budget-friendly competitor to ASOS offering a ridiculous amount of fast fashion. The retailer is most popular among Gen Z and Millennials globally.
Key Advantages:
Dirt cheap, trendy clothes
Massive variety of styles
Items added daily
Steep discounts and coupon codes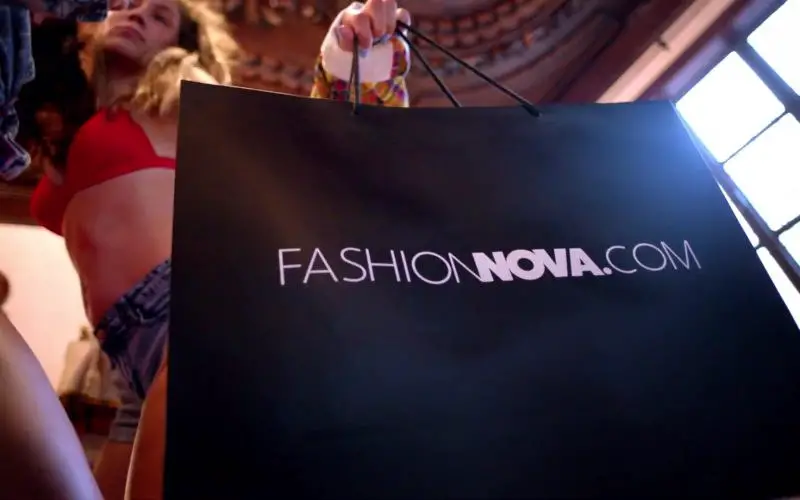 Fashion Nova is an American online fast fashion retailer for women and men. The brand has become hugely popular thanks to its army of influencer and celebrity fans promoting its clothes on social media.
It is best known for its ultra-trendy, going-out fashion inspired by the likes of the Kardashians. The company adds over 100 new styles every week to keep up with emerging trends.
The retailer offers free returns in the US and ships globally to over 150 countries. It is a top choice for party outfits and sexy styles at affordable costs, attracting the Instagram generation like ASOS does.
Key Perks:
Bold, sexy styles for going out
Influencer & celeb collaborations
Affordable club and party wear
New styles added daily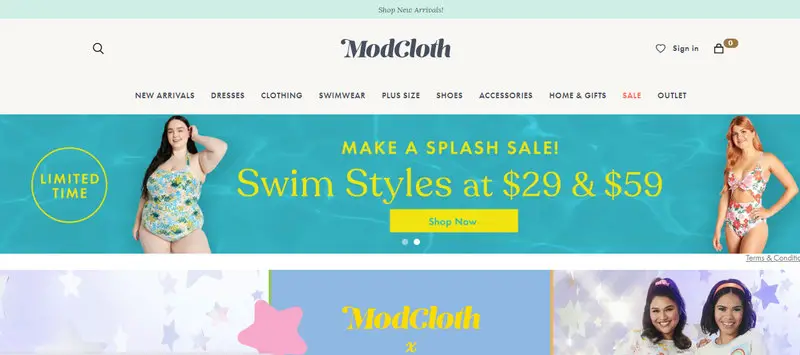 ModCloth is an indie online retailer selling vintage, retro and quirky fashions for women. They are known for playful printed dresses, footwear, accessories and home decor.
It provides cute printed dresses, swimwear, shoes and accessories. The brand appeals to ASOS shoppers loving a retro pin-up or rockabilly style. It's size inclusive range is perfect for fuller bust and curvy figures.
Key Advantages:
Retro, indie and vintage styles
Playful printed dresses
Quirky home decor and accessories
Size inclusive up to 4X

Express is an American clothing brand catering to young professional women and men with modern essentials and going-out fashion. They are known for workwear, jeans, dresses, and accessories.
Faster shipping options are available for an additional fee. They frequently promote online coupons, student discounts and sales.
The site sells apparel, accessories, and shoes for women and men across categories like dresses, jeans, tops, suits, sweaters, and accessories. Top-selling items include bodycon dresses, skinny dress pants, button-up shirts, loafers and tote bags.
This fashion company is a suitable alternative to ASOS offering polished workwear and going-out essentials. The brand remains popular with young professionals and college students in the United States.
Key Perks:
Trendy workwear for the office
Going-out dresses and accessories
Men's suits and business casual
Frequent sales and coupons
French Connection is a UK-based fashion retailer with stores across Europe, North America, and Asia. The brand sells contemporary clothing, accessories, and footwear for men and women via its online store.
It is renowned for its well-made, quality wardrobe staples like classic crew neck tees, jeans, dresses, and outerwear with a modern edge. Customers can shop in categories including clothing, shoes, accessories, and beauty.
The retailer frequently has sales of up to 50% off and offers free standard shipping. This fashion company attracts a similar sophisticated yet style-savvy customer as ASOS who want good value, easy to wear fashion.
Key Pros:
Sophisticated, contemporary styles
Office and workwear
Quality fabrics and construction
Occasional sales and promo codes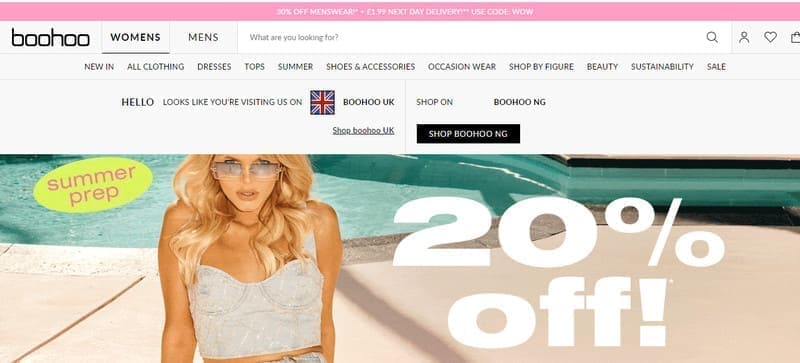 boohoo is a UK-based fast fashion e-tailer selling its own brand clothing, accessories, shoes, and beauty products aimed at 16-30 year olds. The company ships to over 100 countries worldwide.
This clothing brand is renowned for its on-trend fashion reflecting the latest looks straight off the runway. The retailer adds up to 100 new clothing and accessory lines every week. Customers can shop categories like dresses, tops, jeans, shoes, swimwear, beauty and more.
With extremely affordable pricing, constant new drops and cool collaborations, the brand attracts the youthful, social media generation who want instant fashion.
Key Perks:
Dirt cheap, trendy clothes and accessories
New styles added daily
Includes petite, tall and plus sizes
Sitewide sales up to 80% off
Conclusion
ASOS remains one of the most popular online destinations for affordable and on-trend fashion. But savvy shoppers have several excellent ASOS  competitors to discover awesome new styles. Brands listed above offer their own unique twists on the latest fashions.
The key is to look for retailers that provide free and fast shipping, plenty of sales and promos, along with the styles, quality and prices that appeal to you personally. This list includes online stores similar to ASOS across a wide range of styles and budgets so you can always find great new looks.
FAQs about Brands Like ASOS
What is ASOS most known for?
ASOS is most known for its huge range of affordable, fashion-forward clothing, shoes, and accessories for young women and men. The British online retailer adds thousands of new styles to its website every week.
Does ASOS offer free returns?
Yes, ASOS provides free returns within the UK. International customers can return items for store credit subject to fees. Items must be returned within 28 days in original condition with all tags attached.
What sizes does ASOS carry?
ASOS offers an extensive size range from UK 4-18 including Petite and Tall options. Their Plus size collection goes up to UK size 30. Maternity wear, footwear and accessories are also available in multiple sizes.
Does ASOS sell men's clothing?
Yes, ASOS has an entire men's section selling casual essentials, shoes, accessories and more fashionable styles from popular brands. The men's collection includes sizes XS-XXL.
What is ASOS Premier Delivery?
ASOS Premier is a subscription service that provides unlimited next day delivery and returns in the UK for £9.95/year. It also includes access to sales previews and special offers. Premier is free for students or £11.95/year for non-students.
Does ASOS have an app?
Yes, ASOS has popular mobile apps for both iOS and Android. The apps make shopping ASOS quick and easy with exclusive app-only offers and personalized recommendations.
Is ASOS only sold online?
Yes, ASOS is an online-only fashion retailer originally founded in 2000 under the name AsSeenOnScreen. They sell their own branded styles along with many other popular brands exclusively on their website and apps.
Does ASOS sell beauty products?
Yes, ASOS has an entire beauty shop selling makeup, skincare, haircare, accessories, gifts and more from brands like MAC, Clinique, NARS.
Does ASOS ship worldwide?
Yes, ASOS ships to over 200 countries and territories worldwide. Shipping fees and delivery times vary by location.