Fashion Nova has become one of the most popular online fashion retailers, especially among millennials and Gen Z. Known for its trendy and affordable clothes, Fashion Nova caters to women who want to look like celebrities and influencers on a budget.
If you love Fashion Nova but want to explore similar brands, you're in luck! Several e-commerce sites sell comparable clothes at low prices. I've rounded up the 14 best affordable fast fashion brands &  stores like Fashion Nova for trendy apparel and accessories.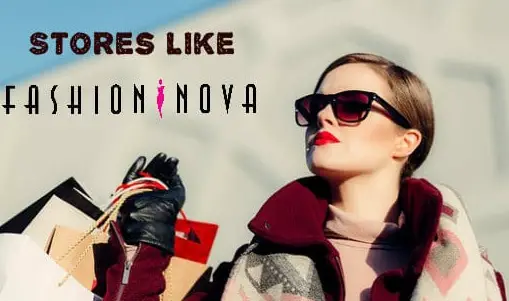 14 Affordable Fast Fashion Websites Like Fashion Nova For Shopping


Rosegal features women's fashion inspired by the latest runway and celebrity looks. The China-based company sells everything from dresses and swimwear to loungewear and accessories.
Prices are incredibly low, with most items under $30. It offers frequent discounts and flash sales up to 90% off. While you may sacrifice some quality for the prices, the huge selection is worth exploring if you're on a tight budget.
It "Nova Style" collection emulates Fashion Nova's aesthetic. You'll find bodycon dresses, distressed denim, plunging tops, and more.
Key Benefits:
Huge selection of trendy clothes under $30
"Nova Style" line inspired by Fashion Nova
Low prices with frequent sales and discounts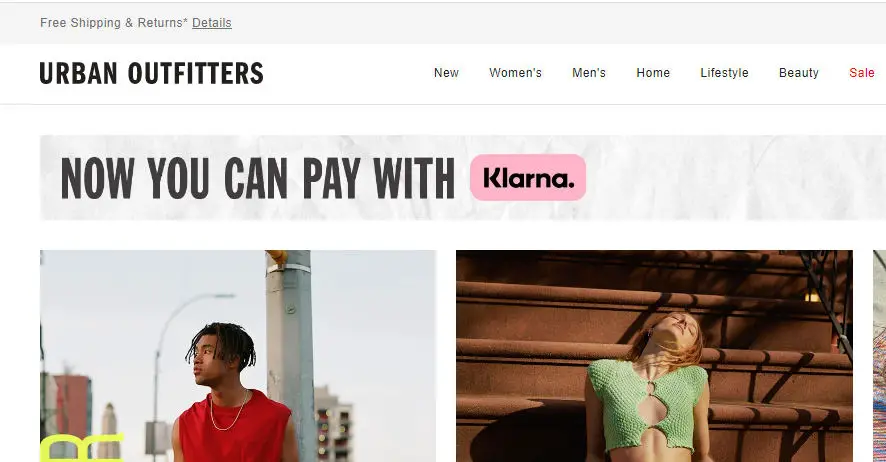 Urban Outfitters is a popular brand among young women for its curated collection of boho, vintage, and alternative fashions. While not as inexpensive as other stores like Fashion Nova on this list, it offers trendier, higher quality clothes than fast fashion chains.
This clothing company carries its own in-house brands like BDG and Kimchi Blue along with third-party brands. You can shop categories like dresses, tops, bottoms, jumpsuits, swimwear, accessories, and shoes in edgy, contemporary styles. Expect to pay $40-$80 for most pieces.
The brand nails short, tight-fitting dresses, activewear-inspired loungewear, and heavily distressed denim.
Key Perks:
Trendy, good quality clothes from in-house & third-party brands
Edgy, going-out dresses and streetwear aesthetic
Higher price points than extreme fast fashion, but lower than premium brands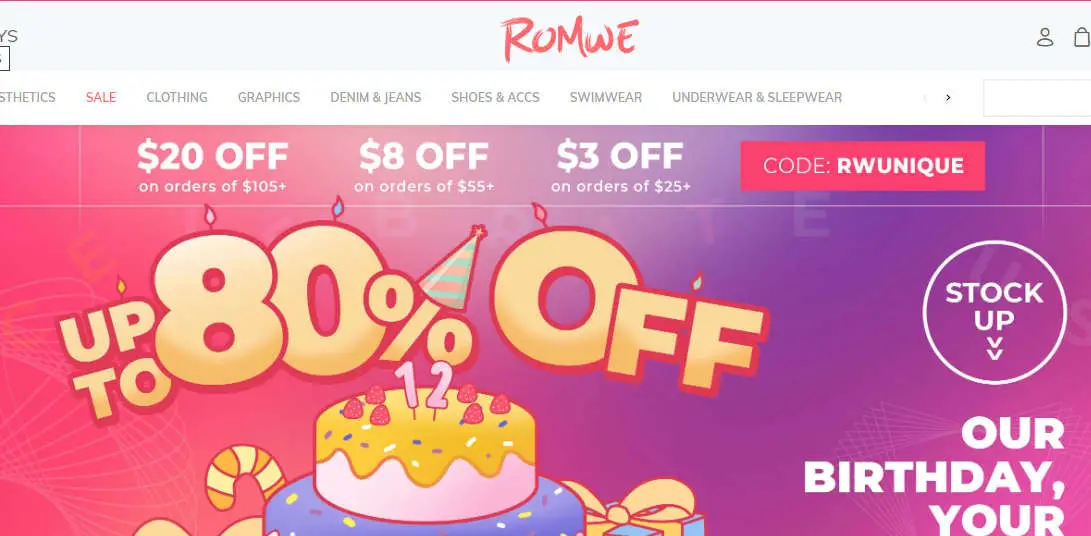 Another China-based retailer, Romwe sells uber-cheap clothes and accessories for women. The vast majority of items cost under $20, with plenty available for just $5-10.
This clothing brand drops new arrivals almost daily, so the selection stays on-trend. You can shop categories like dresses, swimwear, tops, bottoms, shoes, accessories, and plus size options. Be aware that sizes often run small.
It also has clubwear-inspired dresses and streetwear essentials like graphic tees, joggers, and oversized denim jackets.
Key Advantages:
Extremely affordable, with most clothes under $20
New arrivals almost daily
Curve-hugging dresses and streetwear staples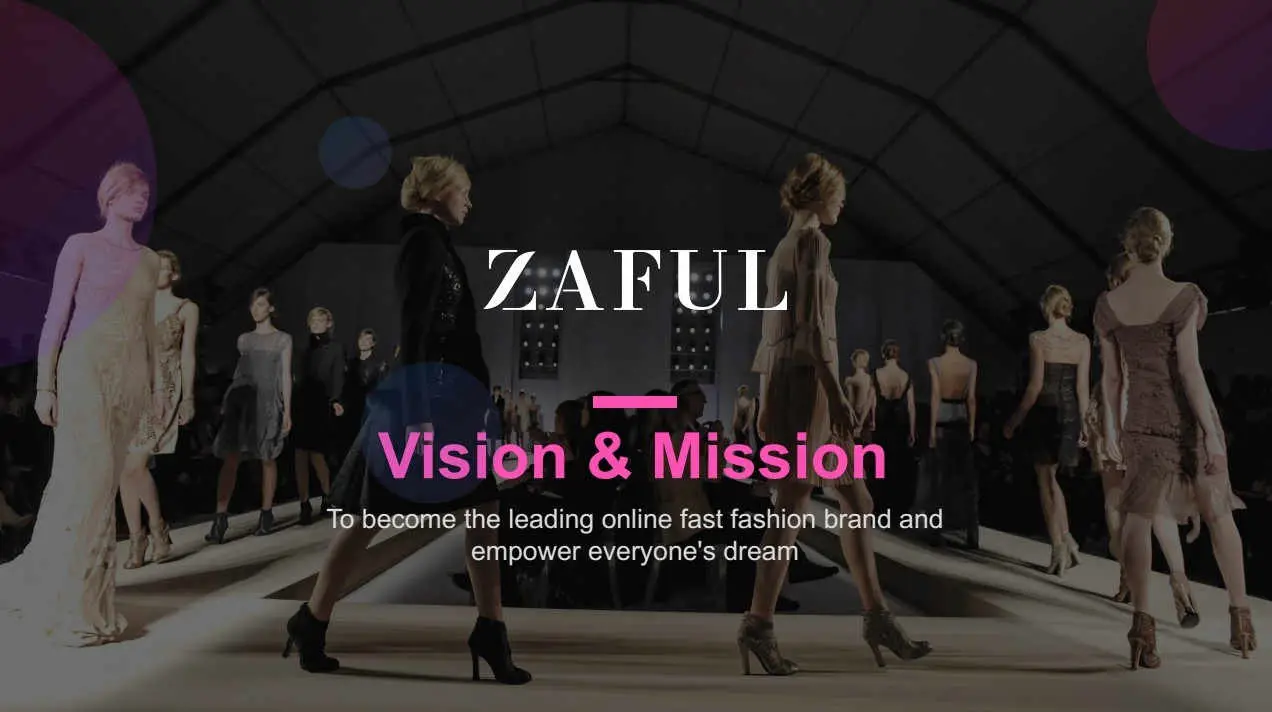 Zaful is a fast fashion e-tailer catering to young women on a strict budget. Like Fashion Nova, it's especially popular for sexy clubwear and beachwear. The China-based site sells swimsuits, lingerie, dresses, and more for shockingly low prices.
Most items cost $10-25, with plenty of options under $10. It uses influencer and celebrity inspiration to design cheap recreations of high-end trends. You can shop categories like clubwear dresses, swimwear, basics, bottoms, outwear, accessories, and plus size options.
It club dresses and bikinis emulate Fashion Nova's validating, curve-flaunting looks. You'll also find casual basics with FN vibes like graphic tees, activewear leggings, and destroyed denim shorts.
Key Perks:
Some of the lowest prices in online fast fashion
Huge assortment of clubwear and swimwear
Casual staples like graphic tees and bike shorts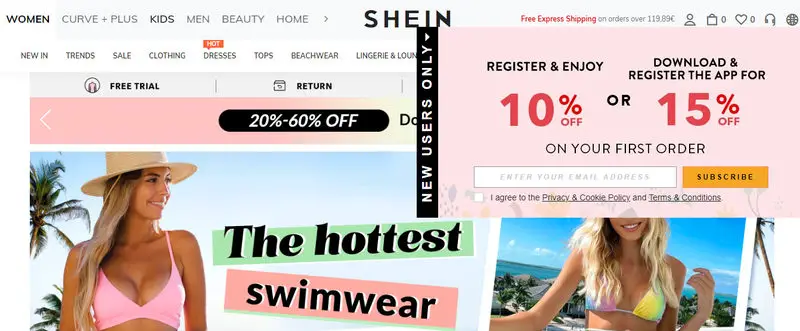 Pronounced "She In", this Chinese fast fashion company has become wildly popular for its dirt cheap clothes. Shein adds fresh inventory daily with over 5,000 new items per day. Primarily targeted at Gen Z on TikTok, it is the ultimate destination for fast fashion fanatics.
The clothing store has an enormous selection with everything from dresses and tees to loungewear and swim. Use coupons and daily deals to save even more. It also sells accessories, shoes, and plus sizes. The styles are shockingly similar to Fashion Nova considering the low costs.
Key Benefits:
Fast fashion leader with new items added daily
Huge selection with thousands of affordable options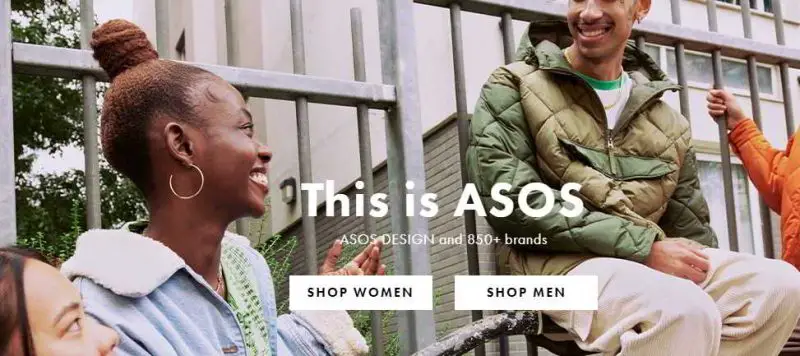 This UK-based fashion destination ships to over 200 countries. ASOS is aimed at 20-somethings seeking fashion-forward apparel for going out, work, and everyday. It sells own-brand merchandise along with hundreds of third-party brands.
It has an enormous selection across dresses, tops, bottoms, lingerie, accessories, shoes, activewear, and more. While not dirt cheap fast fashion, it has better quality and more variety than many competitors.
For trendy night-out looks, it has an eye-catching array of curve-flaunting dresses, bodysuits, heels, and accessories reminiscent of Fashion Nova. The in-house brand also kills the casual basics like leggings, denim, sweats, and tees.
Key Advantages:
Massive selection of own-brand & third-party merchandise
Higher quality and price points than extreme fast fashion
Trendy occasion wear and casual staples

Missy Empire ships glam looks from the UK to over 100 countries worldwide. The fashion retailer launched in 2015 and has quickly become a leading destination for going-out and occasion clothes.
You'll find stylish picks like wrap dresses, jumpsuits, mini skirts, and tops. Most pieces range from $50-$100, so the prices are affordable but not dirt cheap. It has its own in-house designs along with third-party brands.
It nails dresses and separates for cocktails, parties, vacations, and nights out. Lots of figure-hugging, dramatic styles take inspiration from Fashion Nova. The label also slays casual loungewear like joggers and sweatshirts.
Key Perks:
Own-designed & third-party occasionwear
Curve-hugging dresses and separates for going out
More affordable price points than premium brands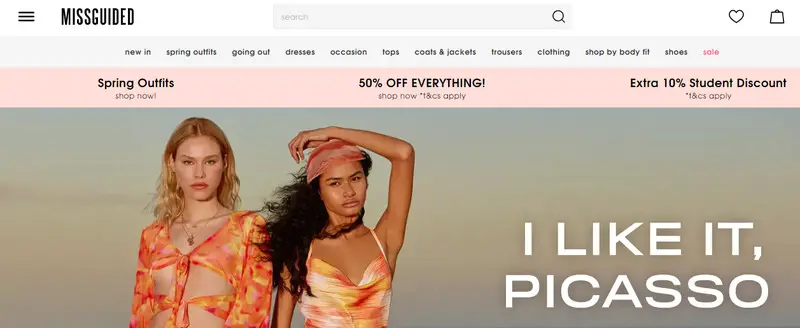 Missguided is an edgy, going-out focused retailer catering to 16-35 year olds. The UK-based company ships worldwide and drops new products daily. You'll find clothes, shoes, accessories, and beauty products.
Like Fashion Nova, this brand embraces sexy, attention-grabbing styles. Shop push-up bikinis, bandage minidresses, PVC pants, and more—all at accessible price points.
It also nails party-ready looks, from barely-there bodysuits to sequin minidresses. For casualwear, check out activewear essentials like sports bras, leggings, and windbreakers reminiscent of FN.
Key Perks:
Trend-led clothes and accessories updated daily
Razor-focused on Gen Z
Sexy occasionwear and streetwear basics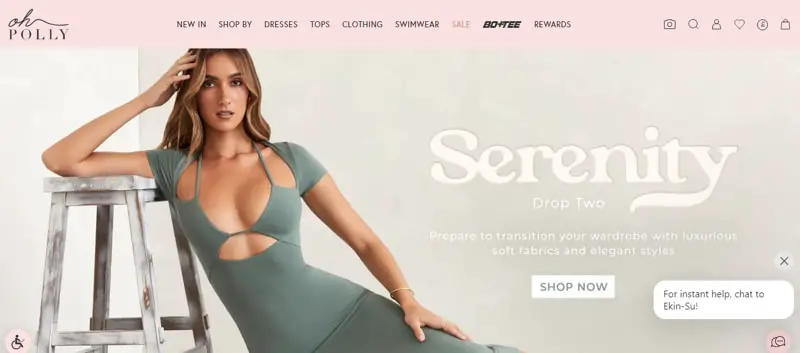 Oh Polly makes occasionwear for the Instagram era. Launched in the UK in 2015, the brand creates short, sultry dresses for all your going-out needs. It ships worldwide, including free standard shipping and returns in the US.
In addition to signature bandage minidresses, you'll find corset tops, mesh skirts, chic jumpsuits, and sequin styles perfect for parties and vacations. Most pieces are $40-$100. It also sells swimwear and day-to-night separates.
Fellow Fashion Nova fans will love the skin-tight dresses with dramatic cut-outs and ruched detailing. It dresses are also more premium and tailored than cheap fast fashion quality.
Key Perks:
Curve-hugging party dresses and occasionwear
Higher quality materials than extreme fast fashion
Free shipping and returns in the US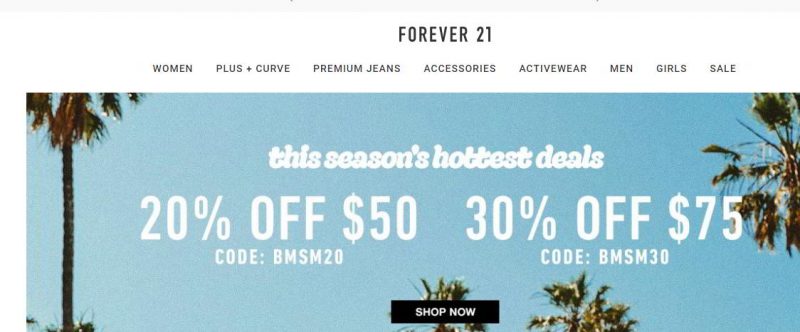 Forever 21 is a staple fast fashion destination for trendy apparel and accessories. The American retailer is known for its affordable takes on celebrity and runway-inspired styles. Although the company filed for bankruptcy in 2019, it remains popular among shoppers on a budget.
You'll find super cheap basics like camis, leggings, and t-shirts starting around $5-10. Going-out styles like dresses, jumpsuits, and heels are more in the $15-30 range. Everything is priced well below other mall brands.
Key Perks:
Dirt cheap prices for mall brand quality
Trend-led basics and going-out looks
Clearance racks loaded with Fashion Nova dupes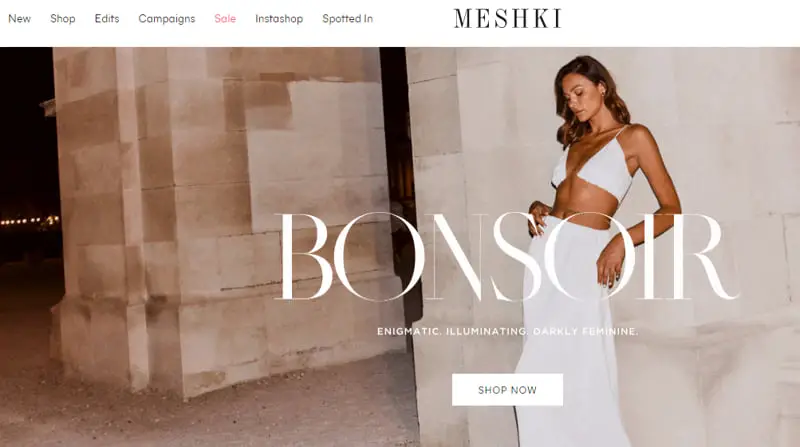 Meshki provides trendy going-out fashion from their Australian base. They focus on dresses from mini to midi, along with matching two-piece sets.
Their fabrics and construction are high quality, with prices to match before discounts. But regular sales drop items 40-60% off, delivering great value.
It's sequin, satin and lace dresses rival those on A-list celebrities. Their product shots on models give you styling inspiration for a night on the town. Their casual sweats and bodysuits are also totally on point.
Key Perks:
Trend-driven occasionwear updated biweekly
Expert digital/influencer marketing
Feminine-chic styles for going out and lounging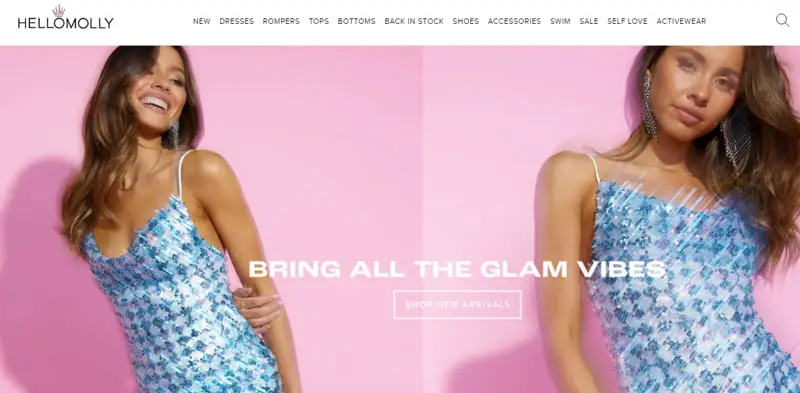 Hello Molly makes stylish clothes for going out, vacations and everyday wear. They're especially known for trendy dresses, jumpsuits and swimwear.
As an Australian retailer, their regular pricing is on the higher end. But constant discounts bring costs down 50% or more.
They focus on quality fabrics that drape nicely and flatter your figure. I also appreciate their detailed product descriptions that provide measurements and fabric composition. You can considere this brand as an alternative to stores like Fashion Nova.
Key Perks:
Fresh dresses and separates added weekly
Pretty occasionwear in feminine silhouettes
Curve-hugging styles for going out and lounging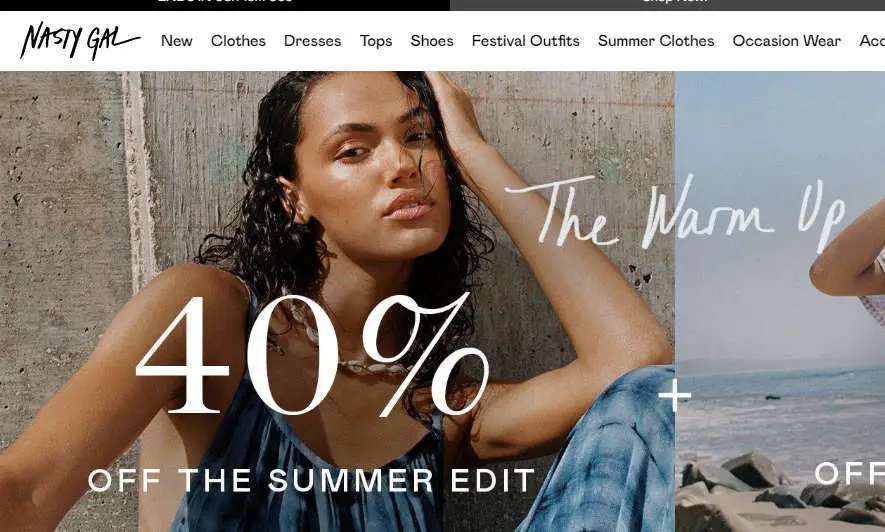 Once a vintage eBay store, it now sells new fast fashion apparel with a rebellious, LA edge. The brand made waves in the early 2010s for its provocative takes on trends. After tumultuous management changes, Nasty Gal lives on as an affordable destination for sexy styles.
Shop everything from faux leather pants and mini dresses to sweats and swimsuits—all priced affordably. Most pieces range from $20-$100. It also carries extended sizes up to 4X. The aesthetic embraces edgy streetwear alongside sultry clubwear.
You will feel right at home shopping their bodycon dresses, distressed denim, mesh bodysuits, and activewear in bold prints. The brands share an eye for sexy, attention-getting fashion.
Key Perks:
Major edge and sex appeal
Extended sizes up to 4X
Figure-flaunting dresses, denim, bodysuits and athleisure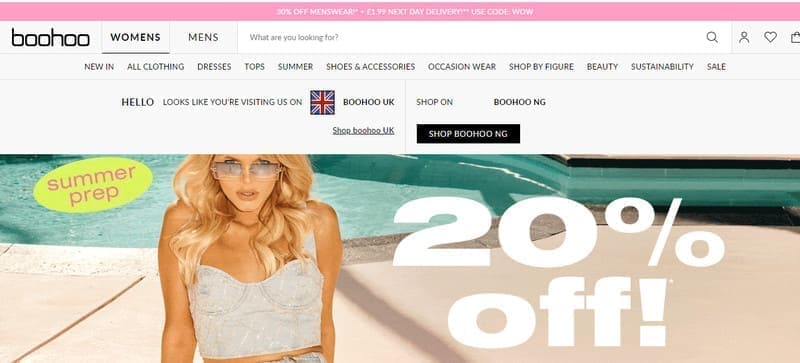 Boohoo is a UK-based fast fashion retailer marketing to 16-30 year olds worldwide. The brand embraces skin-baring styles and microtrends to keep fashion exciting and affordable. In addition to women's clothing, it also sells menswear, activewear, accessories, beauty products and more.
With most clothes under $50, it makes runway-inspired fashion accessible. The brand sells own-label merchandise as well as collections from celebrity collaborators like Megan Fox, Paris Hilton and Carolyn Murphy.
Lots of sexy, supportive styles to show off your curves for cheap. This Fashion Nova competitor also nails athleisure basics like leggings and sports bras.
Key Perks:
Ultra affordable, trend-led clothing
Huge variety of curve-flaunting styles
Celebrity collaborations and inclusive sizing
Fashion Nova Alternatives: Final Thoughts
Fashion Nova has inspired shoppers to embrace daring styles at affordable prices. But as this list shows, you have plenty of excellent Fashion Nova competitors for staying on trend at low costs.
No matter your fashion sense, these affordable stores like Fashion Nova deliver major style and savings. Browse their new arrivals and sales to find your next look for less.
With huge selections that change daily, you can reinvent your wardrobe all year long. These budget-friendly sites help you elevate your outfit game.
FAQs About Fashion Nova
What type of clothes does Fashion Nova sell?
Fashion Nova is an online women's retailer known for trendy, sexy clothes like dresses, jeans, tops and swimwear at affordable prices. Their styles cater to a Gen Z and millennial audience.
Does Fashion Nova have sales or discounts?
Yes, Fashion Nova runs sales and promotions throughout the year. They offer sitewide discounts around major holidays along with category sales on dresses, denim, shirts and more. following and getting alerts can help you find the best deals.
How fast does Fashion Nova ship orders?
Fashion Nova offers relatively fast shipping, getting orders delivered within 3-5 business days in the US. This speed makes it easy to get the latest trending items you see on social media.
What is Fashion Nova's return policy?
Fashion Nova allows returns and exchanges within 30 days of the ship date. Return shipping is free when using their prepaid label. Refunds are issued once the return is received and processed at the warehouse.
Does Fashion Nova have brick-and-mortar stores?
Currently Fashion Nova only sells through their website and app. They don't have any physical store locations. The brand relies on social media and influencers to market their clothes.
Is Fashion Nova good quality for the prices?
Fashion Nova provides decent quality at very affordable prices. The fabrics and construction aren't high end but suitable for the latest trends. Reading reviews can help assess expected quality and fit.
What sizes does Fashion Nova carry?
Fashion Nova offers an inclusive size range from XS-3XL in most items. Their jeans are available in sizes 0-20. The site includes size charts to help you find your best fit.
How often does Fashion Nova release new arrivals?
New styles are added daily across categories, giving Fashion Nova a constant flow of fresh inventory. This makes visiting regularly rewarding to catch trending items before they sell out.
Does Fashion Nova run true to size?
Fashion Nova sizes tend to run small, so sizing up is recommended, especially for jeans and form-fitting items. Reading reviews can help determine if you should order your typical size or size up.