Love shopping the trendy clothes and accessories at Rainbow but want to expand your options? Check out this list of the 13 best stores like Rainbow for scoring everyday low prices on stylish finds.
These similar stores offer the same affordable fast fashion Rainbow is known for. At these Rainbow alternatives, you can find cute dresses, jeans, shoes, bags, jewelry, and more for less. Between their frequent sales and clearance racks, you can build an on-trend wardrobe on a budget.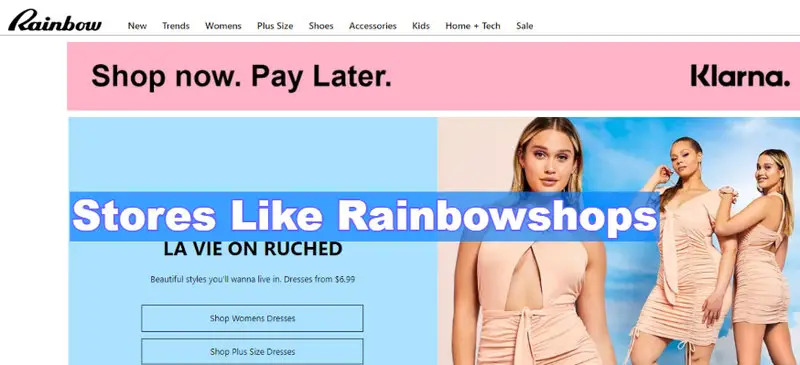 13 Best Stores Similar to Rainbow for Affordable Clothing and Accessories
If you're looking to shop fashionable, budget-friendly pieces for women, plus sizes, and children, here are 13 of the best brands like Rainbow that won't disappoint: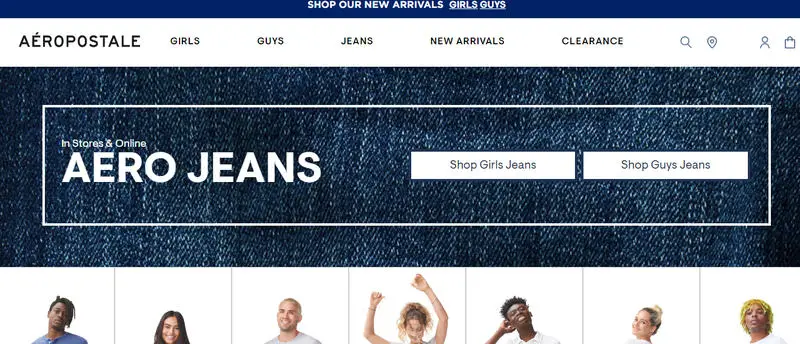 Aeropostale is primarily known for casual clothing and accessories geared towards teens and young adults. This American store offers a wide selection of apparel and shoes for both guys and girls.
What makes Aeropostale like Rainbow? Both stores offer budget-friendly prices on the latest fashion trends and basics. It also has frequent sales and clearance items up to 70% off. They also provide free shipping on orders over $50.
Their target audience is teens and young women in their late teens to early twenties. They carry casual separates like graphic tees, jeans, sweaters and joggers. Popular products include their polo shirts, fleece tops and hoodies. The brand is especially popular for jeans and bottoms.
Key Benefits:
Trendy, casual clothes for teens and young adults
Affordable prices, especially with sales and promos
Large selection of graphic tees, jeans, hoodies, and joggers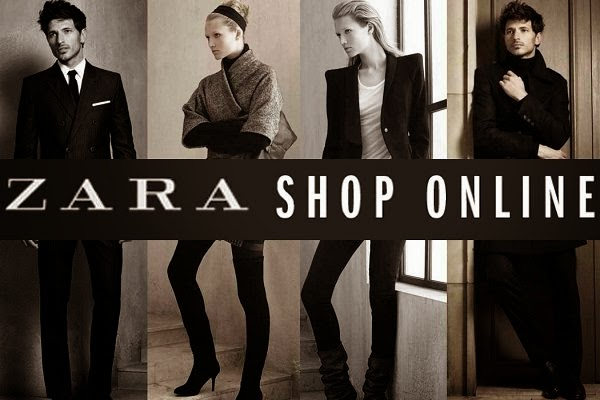 Zara provides fast fashion for women, men and kids inspired by catwalk trends. The affordable prices make runway styles attainable for mainstream buyers.
Their selection is constantly changing to deliver totally fresh styles each week. Shop here for fashion-forward clothing, shoes, accessories and more at prices friendlier than high-end designers.
Why people love them:
Catwalk-inspired fashion for less
New collections every 1-2 weeks
Women's, men's and kids' sections
Affordable pricing compared to luxury brands
Trendy dresses, denim, tees, outerwear, shoes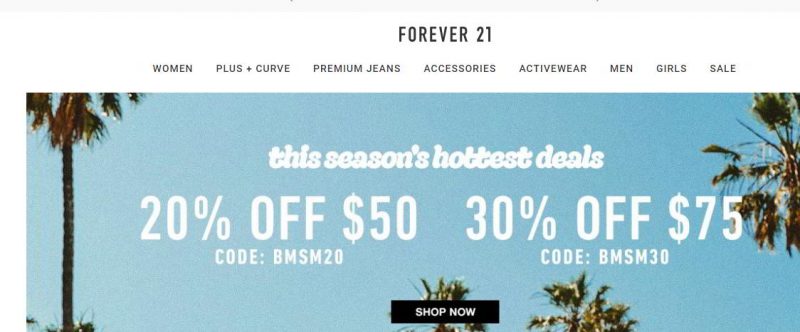 Forever 21 is a popular fast fashion chain with trendy and affordable clothing and accessories for women, men and kids.
Like Rainbow, it offers stylish pieces inspired by the latest fashion. As a fast fashion retailer, new arrivals come in frequently. Their target audience is young women in their teens, 20s and early 30s who want to keep up with trends on a budget.
Their most popular categories are women's clothing, handbags, jewelry, activewear and lingerie. Shoppers love them for their wide selection of tops, dresses, swimsuits and accessories. The company also offers extended sizes.
Key Advantages:
On-trend, fast fashion at low prices
Huge variety of clothing, accessories, shoes and beauty items
Plus size and men's sections
New arrivals multiple times per week
Frequent sales with items under $10

Fans of stylish, sexy club wear should check out Pretty Little Thing. The UK-based company exploded in popularity for its affordable, Instagram-worthy women's clothing and has expanded to offer an inclusive range of sizes.
You'll find everything from figure-hugging bandage dresses and plunging jumpsuits to cut-out swimsuits, faux leather pants, and barely-there tops. Prices start at just a few dollars for accessories. Complete outfits rarely top $50.
Among stores like Rainbow, this clothing company adds hundreds of new items to the site daily. You can browse by category or check the outlet for discounts up to 80% off. Expect to find daring, fashion-forward styles ideal for a big night out.
Key Benefits:
Sexy, eye-catching dresses, tops, bottoms, and accessories
Caters to club, festival, and party styles
Size inclusive with extended options
Hundreds of budget-friendly new arrivals daily
Steep discounts in the outlet section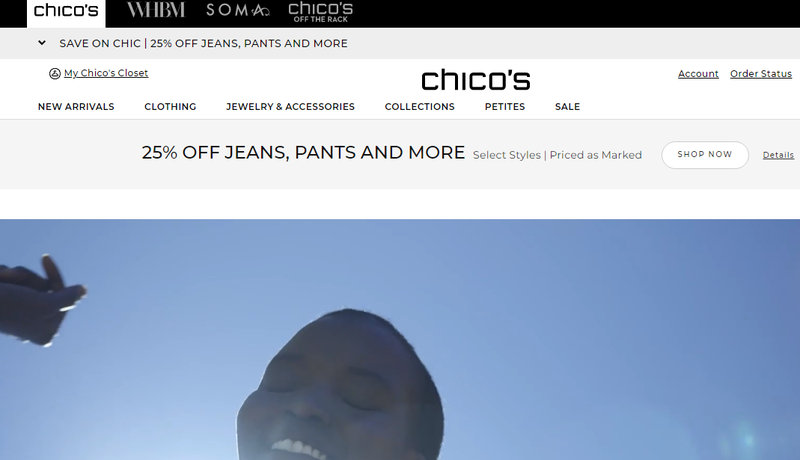 For women over 30 looking for affordable, stylish clothes in sizes 0-3X, Chico's delivers. While best known for breezy printed blouses, flowing pants, and relaxed casual wear. It also offers dresses, swimsuits, outerwear, and accessories.
The aesthetic skews feminine, polished, and chic. Pieces are crafted from quality fabrics designed to flatter and last. lots of easy care wrinkle-free styles make it ideal for travel and low-maintenance wear.
Sales run frequently both online and in stores, with discounts up to 40% off or more. Loyalty members get early access to sales plus free shipping and returns. It's a reliable source for mature yet fashionable pieces at reasonable prices.
Key Perks:
Affordable, stylish clothes in extended sizes
Quality materials and flattering cuts
Feminine, chic styles for women 30+
Frequent sales and special offers for members
Wrinkle-free, travel-friendly fabrics

Teens and college students on the hunt for cute dresses, shoes, denim, and accessories should check out Charlotte Russe. This fashion store similar to Rainbow caters to young women's tastes with stylish pieces under $50.
The selection includes jeans, shorts, rompers, tops, sweaters, coats, swimwear, shoes, jewelry, handbags, and beauty items. Most stores also have a plus size section. New arrivals come in weekly, both online and in stores.
It is affordable to begin with, and you can shop sales and use promo codes to save even more. Between the low prices and trendy styles, it's easy to refresh your whole closet without overspending.
Key Advantages:
On-trend clothes and accessories for teens/college students
Everything under $50, with frequent sales and promos
New arrivals multiple times per week
Cute dresses, denim, swim, shoes, jewelry
Affordable prices on stylish, youthful fashions

Deb Shops is a retail store targeted towards teenage girls and young women. They sell affordable trendy apparel, shoes, accessories, and formalwear for various occasions.
Like Rainbow, Deb offers stylish casual wear and dressier pieces for an affordable price point. The company frequently runs promotions like 20% off or $10 off $30.
Their core Shopper is a teenage girl or woman in her early 20s with average income. Their top sellers include jeans, tops, dresses, intimates, and matching sets. Shoppers love their cute dresses and semi-formal outfit options.
Key Perks:
Affordable mix & match basics and statement styles
Ideal for teens, school & weekend wear
Sales and coupons for extra savings
Trendy dresses, denim, graphic tees, and accessories
Classic closet staples under $30

If you love casually stylish clothes with a California vibe, Wet Seal has lots of options. This retailer caters to teens and college students with laidback, trendy pieces for school, weekends, the beach, and going out.
You'll find super soft jeans, graphic tees, leggings, button-downs, sweaters, jackets, dresses, rompers, and activewear. Most items cost between $10-30, with accessories starting under $5. Sales run constantly in stores and online.
They frequently refreshes options with new arrivals across categories. Expect to find both wardrobe basics and trendy statement pieces to mix and match for a relaxed, youthful style.
Key Advantages:
Casual, trendy clothes with a laidback vibe
Affordable prices from $10-30 per piece
Tons of new arrivals and inventory refresh
Graphic tees, jeans, leggings, dresses, and activewear
Constant sales and specials both online and in stores

Rue21 combines edgy, trendy pieces with basic wardrobe essentials at affordable prices. Teens and college students love this retailer for girly tops and dresses along with band tees, jeans, hoodies, and accessories.
The style leans casual, playful, and on-trend. You can easily find cute graphic tees, distressed denim, slouchy sweaters, flirty dresses, and stylish outerwear starting around $20-30 per piece. New fashions and prints arrive weekly.
It has frequent sitewide sales both online and in stores where you can save 30-60% off or more. It's easy to grab multiple items while still sticking to a budget. For lots of cute options under $30, this store similar to Rainbow is a winner.
Key Perks:
Trendy, affordable clothes and accessories
New styles and prints arrive weekly
Sitewide sales for big discounts
Cute graphic tees, dresses, denim, sweaters, outerwear
Most items under $30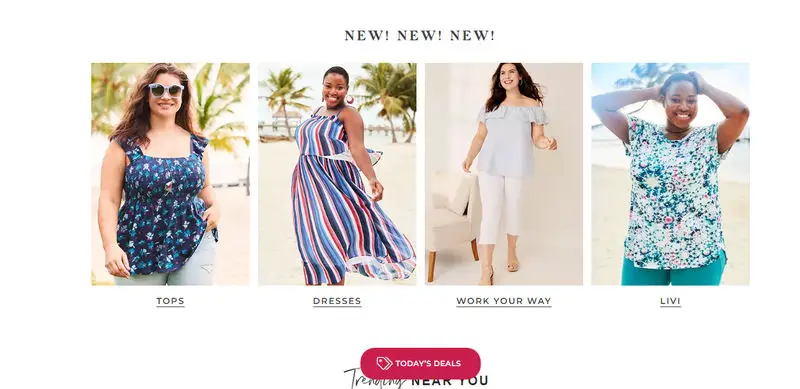 The popular Lane Bryant caters to plus-size women with on-trend, high-quality clothes in sizes 10-28. You'll find lots of polished basics like pants, jeans, blouses, dresses, and tees along with trendier jackets, jumpsuits, swimwear, and accessories.
While prices are a bit higher than fast fashion stores like Rainbow, they routinely runs major sales both online and in stores. You can easily save 40-60% sitewide or scoop major markdowns in the clearance section. Sign up for emails and watch for sales to get the best deals.
It also offers free shipping sitewide with no minimum spend along with free returns, making online shopping a total breeze. It's a go-to for stylish plus essentials at sale prices.
Key Advantages:
On-trend plus size clothing up to size 28
Sitewide sales can save 40-60% or more
Major markdowns in the clearance section
Free shipping and free returns on all orders
Lots of polished basics and trendy options

Hot Topic is a leading destination for pop culture inspired fashion. They offer unique apparel, accessories, gifts and more for teens and young adults who want to stand out from the crowd.
Beyond band merch, you'll find stylish graphic tees, tops, skirts, dresses, leggings, outerwear, shoes, handbags, beauty products, and plenty of edgy accessories to showcase your personality. Festivals, cosplay or daily wear – Hot Topic has you covered. Sign up for their rewards program to save even more.
Prices are super affordable, with most items under $50 and lots under $20. Sales run frequently including buy one, get one deals. It's the ultimate spot for pop culture and music lovers to save on stylish finds.
Key Perks:
Edgy, music & pop culture-inspired styles
Band merch, graphic tees, licensed accessories
Affordable prices, mostly under $50
Sales, BOGO deals, and clearance items
Costumes, makeup, decor, and gifts too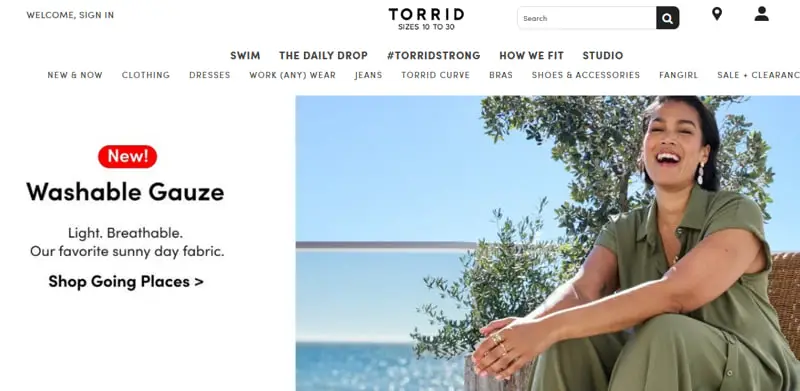 Torrid rules the plus size fashion scene, especially for trendy, eye-catching pieces. The retailer carries sizes 10-30 in clothes, intimates, shoes, and accessories designed for a youthful, sexy aesthetic.
You'll find everything from curve-hugging denim, bandage dresses, and bodysuits to satin bombers, faux leather leggings, and plunge neck tops. It also offers swimsuits, activewear, workwear, and formal dresses.
While regular prices are a bit higher, Torrid has sales constantly online and in stores. You can easily save 30-50% on latest styles. Members get additional perks like free shipping.
Key Perks:
Stylish, sexy plus size clothes and accessories
Trend-driven pieces in sizes 10-30
Sales offer 30-50% off or more
Curve-hugging dresses, jeans, swim, bodysuits, and more
Wedding guest dresses, activewear, workwear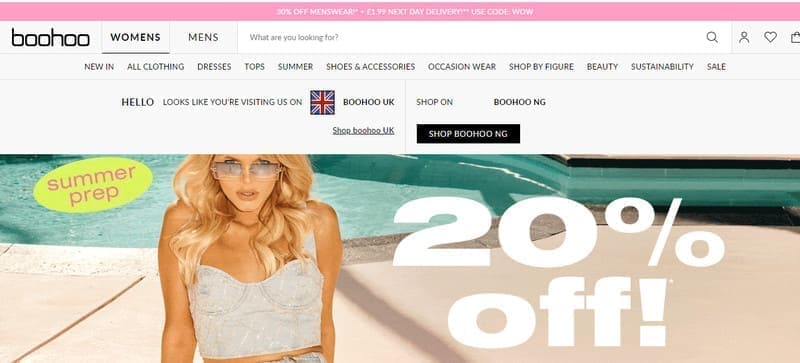 For seriously affordable fast fashion, Boohoo delivers trendy clothes starting at just $6. This UK-based retailer brings latest styles to market lightning-fast for women, men, and plus sizes.
At this store you can score dresses, tops, pants, denim, swimwear, outerwear, shoes, accessories, and more for a fraction of typical prices. Sign up for emails to get access to extra promo codes and deals.
New options arrive daily, and sale sections offer up to 80% off. For high fashion on a bare-bones budget, it should be on your radar.
Key Advantages:
Dirt cheap fast fashion – dresses, jeans, shoes from $6
New styles added daily
Up to 80% off in sales and outlet
Trend-driven clothing for women, men, plus
Conclusion
Finding stylish clothes and accessories doesn't have to blow your budget – stores like Rainbow offer affordable fast fashion so you can stay on trend. Take advantage of the constant new arrivals and regular sales at these Rainbow alternatives to treat yourself while saving money.
Focus on versatile, quality pieces with long-term value over impulse buys and delicate items. With a little strategic shopping, you can build a wardrobe of cute outfits that suits your personal style, fits within your budget, and makes you feel great every time you get dressed.
The next time you're craving some retail therapy, skip the expensive department stores and explore all the stylish steals waiting for you at Rainbow and similar budget-friendly fashion paradises.
Frequently Asked Questions About Rainbow Stores
What does Rainbow sell?
Rainbow is a retail chain that sells affordable clothing, accessories, shoes, handbags, and jewelry for women, men, juniors, plus sizes, and children. You'll find everyday basics along with trendy fashion styles.
What age group shops at Rainbow?
Rainbow caters mainly to teens, college-aged shoppers, and young women in their 20s-30s. However, women and men of all ages shop Rainbow for deals on current fashion and accessories.
Does Rainbow have an online store?
Yes! Shop Rainbow online to browse even more styles and take advantage of web-only sales and promo codes. You can have items shipped to home or pick up in store. Returns are free and easy.
What sizes does Rainbow carry?
Rainbow stocks sizes from toddlers up to adult XL/XXL for men and 0-24 for women. Their plus size range offers stylish options up to 4X. The petite range includes short and extra short to accommodate smaller frames.
How much does clothing cost at Rainbow?
Rainbow is known for affordable prices. Most tops, dresses, bottoms, and jumpsuits range from $10-$25. Outerwear like coats and jackets cost $25-$60. Shoes and accessories start under $10. Sales can offer additional discounts.
How often does Rainbow have sales?
Rainbow runs sales frequently both online and in stores. You can often take advantage of sitewide discounts, clearance under $10, flash sales, doorbusters, BOGO (buy one get one) offers and coupon codes for extra savings on already low prices.
Does Rainbow offer coupons or a rewards program?
Yes, sign up for their rewards program to earn points with purchases and receive bonus coupons by email. You can also find coupons online to stack savings on top of sales for the biggest discounts.
How quickly does Rainbow restock new items?
Rainbow gets shipments of new items to stores weekly. The selection is always changing with new styles, prints, and seasonal essentials coming in all the time to keep the inventory fresh.
Is Rainbow jewelry good quality?
For inexpensive fashion jewelry, Rainbow offers decent quality pieces that look much more expensive than the low prices. Focus on metals like stainless steel over plated, and be gentle removing earrings.