Finding affordable alternatives to premium preppy brands like Abercrombie & Fitch can feel overwhelming. Their laidback American styles come at designer price points that quickly add up. Luckily, there are tons of Abercrombie competitors to discover trendy clothes on a budget.
In this guide, I'll share my top picks for the best clothing sites & stores like Abercrombie & Fitch. So that you can recreate chic preppy outfits for less.
By mixing and matching pieces from a few key affordable brands, you can develop your own casual cool style. Keep reading to shop my favorite teen and college apparel companies similar to Abercrombie!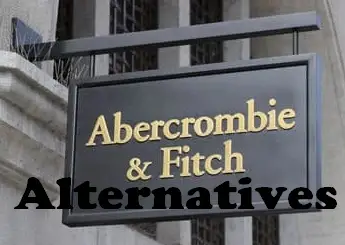 14 Best Clothing Shops Like Abercrombie and Fitch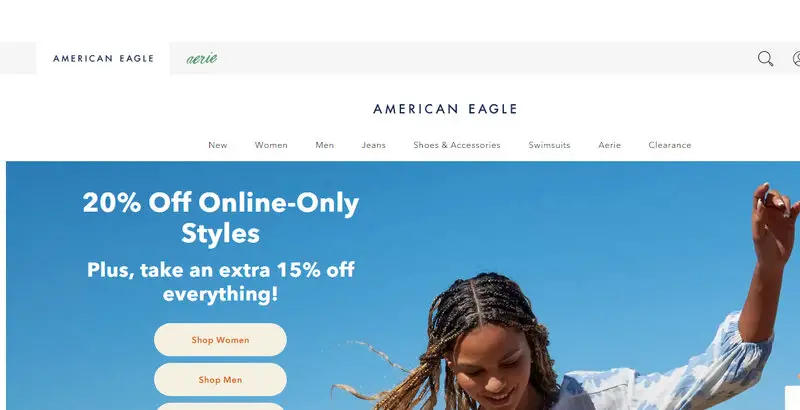 American Eagle is one of the most popular stores like Abercrombie, featuring laidback American styles for men and women. They are famous for jeans, with an extensive denim collection in all fits and washes. You'll also find tees, hoodies, flannels, dresses, shorts, outerwear, shoes, accessories, and more. The store prides itself on quality fabrics and comfortable fits. Their athletic brand Aerie is also popular for loungewear and intimates.
With frequent sales and discounts, this brand provides trendy fashion at lower prices than Abercrombie. Their versatile selection works for casual wear, back to school, weekend outfits, and college life. It ships worldwide and has over 1,000 stores across North America, Asia, Europe, and the Middle East.
Key Benefits:
Affordable prices
Extensive denim collection
Quality fabrics and fits
Frequent sales and discounts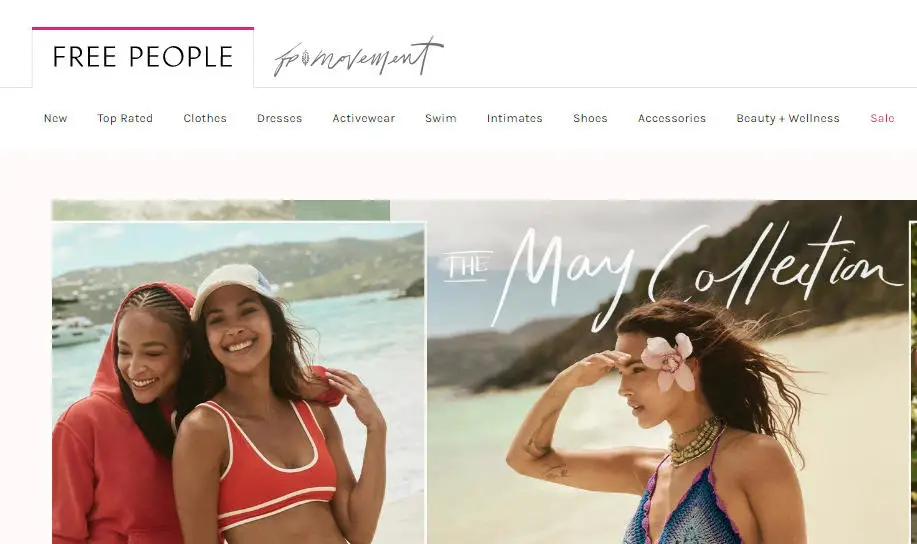 Free People is a bohemian-inspired women's clothing brand with a relaxed, earthy vibe. They are known for feminine dresses, retro tops, stylish outerwear, and comfortable sweaters. While more hippie inspired than preppy Abercrombie, it has some crossover in their casual dresses, jumpsuits, graphic tees, and jeans.
Based in Philadelphia, it ships worldwide and has over 150 boutique stores across North America, Europe, and Asia. Their styles work perfectly for music festivals, unique office looks, and weekend adventures. Sign up for emails and check their sales section for deep discounts on original prices.
Key Perks:
Boho inspired women's fashion
Dresses, tops, sweaters, outerwear
Relaxed, earthy aesthetic
Occasional preppy crossover styles
150+ stores worldwide
Good sales and discount section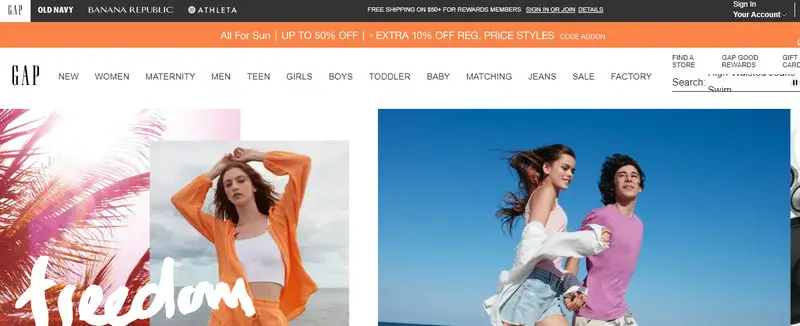 GAP is a classic American clothing brand known for denim, khakis, and timeless wardrobe basics for men, women, and kids. Their style has preppy aspects similar to Abercrombie & Fitch, with an emphasis on quality materials and versatile pieces. It also owns Old Navy for more budget-friendly options and Banana Republic for elevated workwear.
Some popular products at GAP include their Signature hoodies, soft knit tees, Icon denim, and khaki pants. You'll also find on-trend pieces every season like utility jackets, midi skirts, and shirt dresses.
It has over 2,000 stores worldwide and frequent sales both online and in stores. It carries a wide range of sizes from XS-XXL. Sales are frequent, especially around the holidays.
Key Advantages:
Timeless American style
Denim, khakis, tees, hoodies
Quality materials
Versatile wardrobe basics
Frequent sales and deals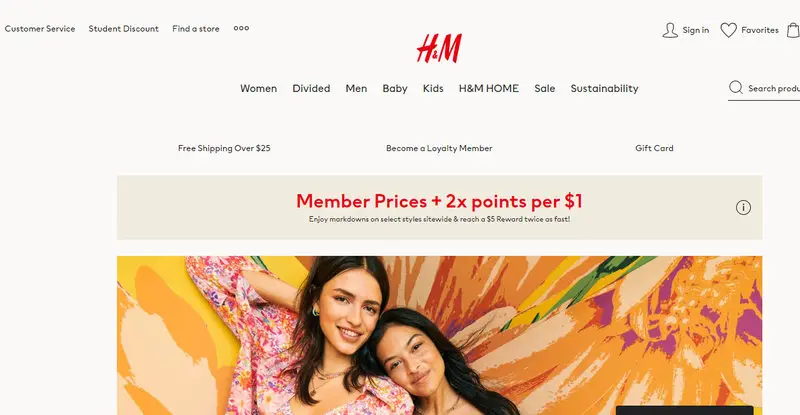 H&M is a popular Swedish fast fashion brand with trendy, inexpensive clothing for men, women, teens, kids, and babies. They offer everything from business casual to dressy styles to lounge wear. Prices are budget-friendly. New stock arrives frequently.
You can shop everything from jeans and graphic tees to sundresses, blazers, swimwear, accessories, shoes, and more. H&M also collaborates with luxury designers and celebrities for limited-edition collections. With affordable pricing and over 5,000 stores worldwide, it's easy to find cute clothes here for any occasion. Returns are accepted within a month of purchase. Sales run constantly both online and in stores.
Key Perks:
Fast fashion retailer
New styles daily
Trendy clothing for all
Occasional preppy selection
Designer collabs
Affordable prices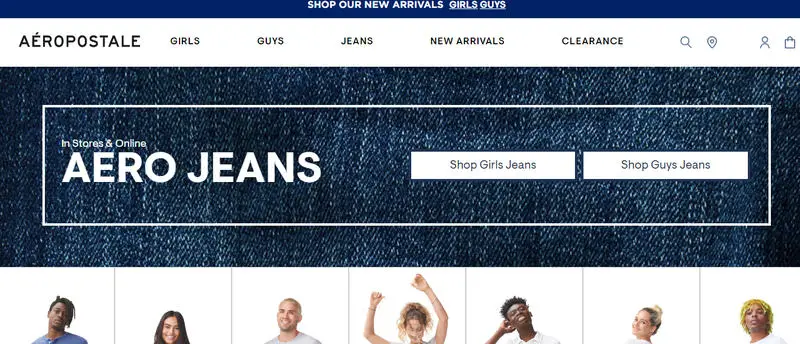 Aeropostale is another American brand with a young, casual vibe similar to Abercrombie & Fitch clothing brand. They specialize in activewear and basics for teens and college students. Expect to find tees, jeans, hoodies, joggers, dresses, shorts, and more in the latest styles. While still mall-based, they've expanded beyond apparel into dorm furniture, bags, accessories, and beauty.
Based in New York City, this clothing company emphasizes their American roots in marketing and products. They frequently have big sales both online and in stores, so you can stock up on trendy clothes for less. Sign up for their mailing list to get early access to discounts.
Key Advantages:
Teen and college apparel
Activewear and basics
Mall brand with American style
Expanded into furniture, beauty, etc.
Big sales online and in stores
NYC based with American vibe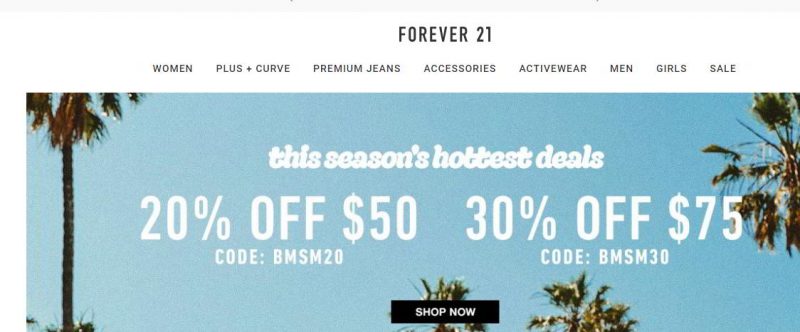 Forever 21 is a popular fast fashion retailer with trendy, inexpensive clothing and accessories. Styles can range from casual basics to clubwear, with most items under $50. It carries extended sizes from XS-3X now too.
You can shop just about any current fashion trend at their store for an affordable price. Some popular items include their graphic tees, hoodies, bomber jackets, dresses, activewear, and accessories like hats, sunglasses and jewelry. Sales change frequently with new styles arriving daily which make them one of the major Abercrombie competitors.
Key Perks:
Fast fashion for all
Hundreds of affordable styles
Women's, men's, kids, accessories
LA-based with global shipping
800+ stores worldwide
Recreate social media trends
Frequent sales online and in stores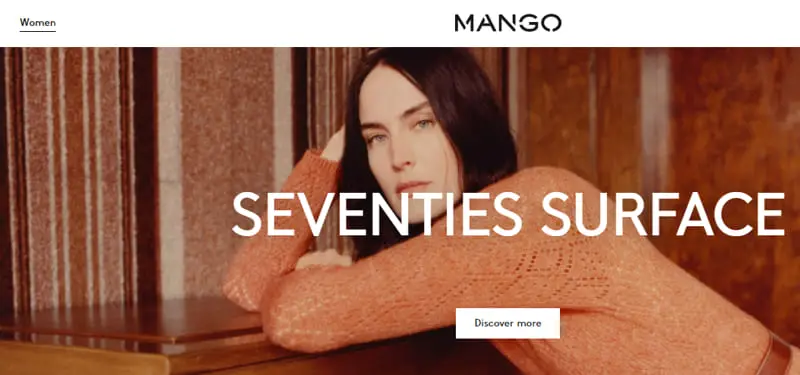 Mango is among the affordable Spanish clothing stores like Abercrombie with a sophisticated yet laidback vibe. While not distinctly American preppy, the store offers casual pieces reminiscent of Abercrombie & Fitch, like button-downs, sweaters, jeans, sundresses, and chino pants. Their clothes are fashion forward but translate well for everyday wear.
It ships to over 100 countries and has a helpful mobile app for shopping. They aim for sustainable practices and transparency in their supply chain. It runs frequent promotions, with discounts up to 50% off original prices. Sign up for their newsletter to shop private sales.
Key Perks:
Sophisticated casual clothing
Sustainability initiatives
Mobile app for easy shopping
Up to 50% off sales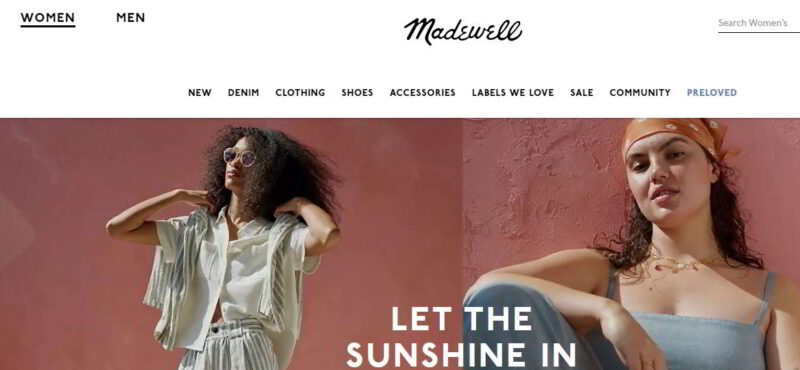 Madewell is a mid-range denim and basics brand under J.Crew. They offer high quality, vintage-inspired wardrobe staples for women and men in natural fabrics. The aesthetic is relaxed Americana. Prices reflect the quality fabrics and construction.
Customers love them for durable jeans, tees, and basics with premium denim and natural fibers. The lived-in look never goes out of style. While prices are higher, the pieces last. It also provides free standard shipping and returns. Sales and promos run regularly, especially for new email subscribers.
Key Perks:
Quality denim and apparel
Vintage American vibe
Overlap with laidback preppy
Designed for real life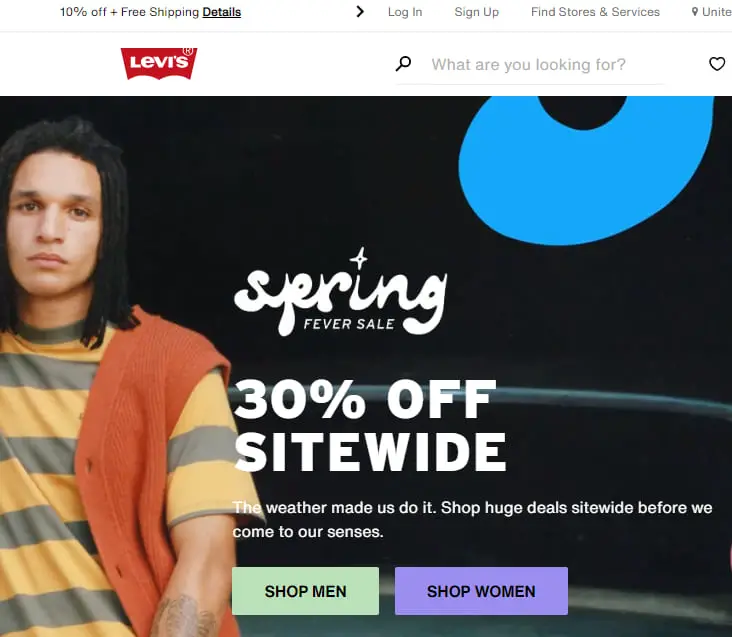 As the inventor of jeans, Levi's is renowned worldwide for quality denim along with jackets, tops, accessories and more. While classic American in heritage, many of their styles have a casual vibe. Expect to find denim shirts, trucker jackets, graphic tees, pullover hoodies, and other relaxed staples.
It frequently runs promotions on their online store, offering 20% off for new subscribers. You can also shop their outlet site for discounted prices year-round. With 100 years of denim expertise, it is a reliable choice for affordable essentials.
Key Advantages:
Iconic American denim brand
Quality jeans, jackets, tops
Relaxed styles with casual preppy vibe
Regular online discounts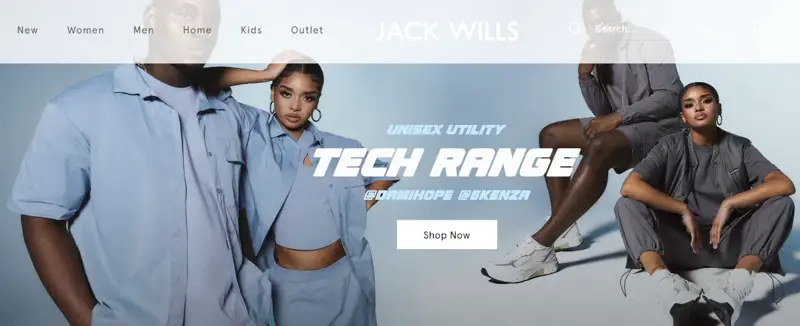 Jack Wills is a British brand selling college-inspired, preppy casual wear for women and men. They specialize in casual classics like button-downs, polos, sweaters, hoodies, tees, and accessories. Their outfits are perfect for uni life, weekends, sports games, and casual events. While higher priced, they frequently discount select items up to 70% off.
Based in Salcombe, England, it ships globally from their online store. They have over 75 brick and mortar locations throughout the UK, North America, Middle East, and Asia.
The brand has a playful, collegiate attitude with sleek preppy styles. Their catalog focuses on a college-aged audience.
Key Perks:
British take on casual preppy
Button-downs, polos, sweaters
Perfect for uni life and weekends
Items discounted up to 70% off
Ships worldwide from UK
75+ stores globally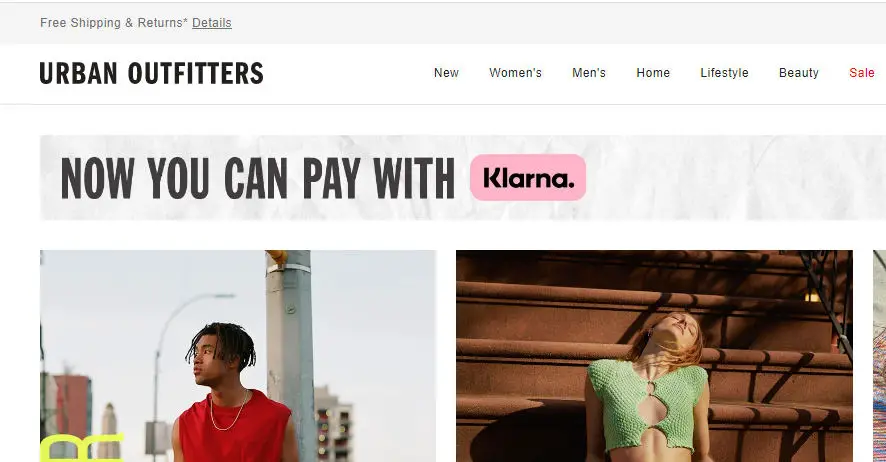 Urban Outfitters is an American clothing brand selling boho-chic, hipster inspired styles for women and men. They stock apparel, accessories, home goods, beauty, vinyl records and more. Expect laidback pieces like graphic tees, mini dresses, Mom jeans, hoodies, button-downs and slip dresses.
This clothing store similar to Abercrombie ships orders over $50 for free in the contiguous US. They frequently discount select items in their sale section both online and in stores. With over 200 locations worldwide and fast shipping, it's easy to shop their latest collections.
Key Advantages:
Bohemian style with casual prep
Apparel, accessories, home goods
Laidback tees, jeans, button-downs
Free US shipping on orders $50+
200+ stores worldwide
Sale section with discounts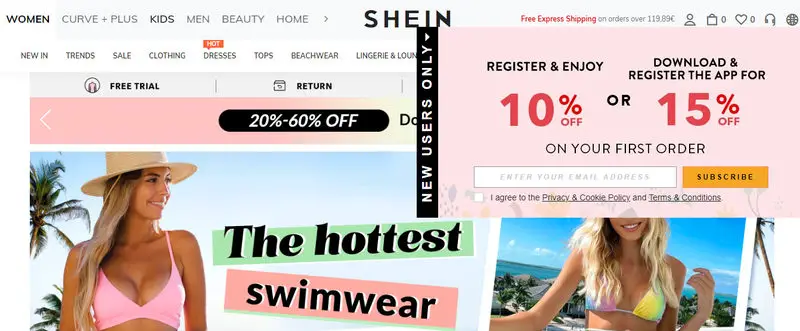 Shein is an affordable online fashion retailer shipping to over 200 countries. They add new clothing styles daily, with an ever-changing selection of women's apparel, accessories, shoes, bags and more.
Th store carries casual prep styles reminiscent of Abercrombie & Fitch, like graphic tees, denim jackets, midi skirts, sundresses and loafers.
While based in China, their styles cater towards American fashion. Use their website filters and reviews to find high-quality pieces. Shein often discounts items 60-70% off. Subscribe to their email list for early access to promotions.
Key Perks:
Online fast fashion retailer
New styles added daily
Women's clothes, accessories, shoes
Caters to American trends
Items discounted 60-70% off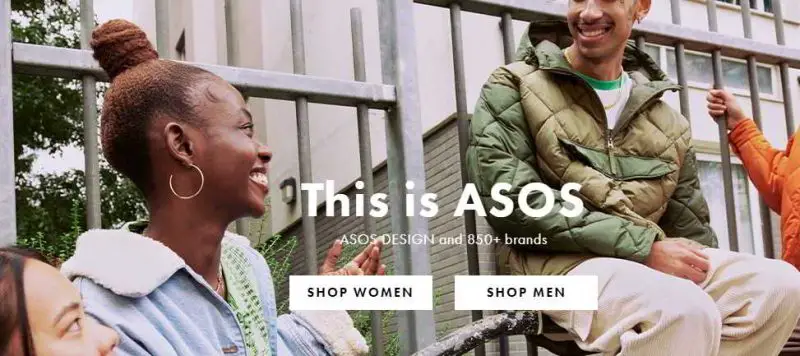 ASOS is a popular online fashion hub based in the UK that ships worldwide. Along with their in-house designs, it stocks a wide range of brands for women, men, plus sizes, petite, tall, and maternity. Expect to find casual prep styles like relaxed tees, sundresses, denim jackets, and chino pants.
It has an easy online shopping experience with user reviews and outfit ideas. They provide free delivery and returns in the UK, US, and Australia. Top brands are often discounted up to 70% off, so make sure to check the sale section. You can shop by occasion, such as holiday clothes or festival outfits.
Key Advantages:
Online fashion hub
In-house and brand name clothes
Ships worldwide from the UK
Stocks casual prep styles
Easy shopping with reviews, outfit ideas
Free delivery in UK, US, Australia
Brands discounted up to 70% off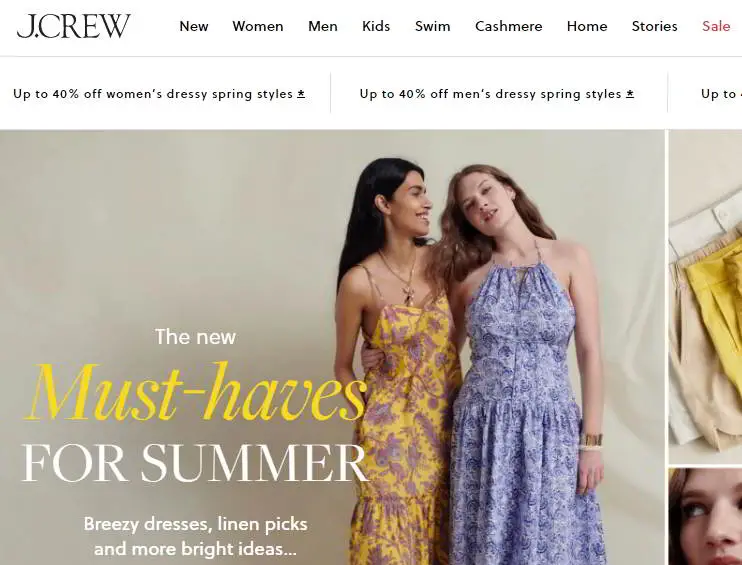 J.Crew is a mid-range American brand selling classic preppy clothing with an aesthetic blending Ivy League and Americana style. Categories include business casual, causal basics, dresses, denim, shoes, bags, accessories, and more.
For elevated basics and business casual with an academic twist, this clothing company delivers. Offerings range from everyday wearable to smart with a retro vibe. Expect quality fabrics and flattering fits.
While they commands higher prices, they frequently discount new items 40% off or more. You can also shop their clearance section for the biggest savings on out of season styles. Sign up for their emails to get early access to promotions and free shipping.
Key Perks:
Iconic American preppy
Button-downs, chinos, sweaters
Business casual and weekend outfits
Quality materials and fits
New items 40% off or more
Clearance section for deepest discounts
Conclusion
Abercrombie & Fitch paved the way for an entire generation of youthful, preppy casual clothing brands. Today you can find many similar stores like Abercrombie & Fitch catering to teens, college students and young professionals on a budget.
So whether you love the preppy Abercrombie look or want something entirely different, these 14 Abercrombie competitors help you find your new favorite fashion retailer.
FAQ about Abercrombie & Fitch
What is Abercrombie & Fitch known for?
Abercrombie & Fitch is known for casual American preppy clothing for teens and young adults. Their signature styles include ripped jeans, graphic tees, henley shirts, polo shirts, hoodies, joggers, and flannels in easygoing masculine fits.
Does Abercrombie & Fitch ship worldwide?
Yes, Abercrombie & Fitch provides worldwide shipping to over 100 countries from their online store. However, customers in some regions will be responsible for any import duties, customs taxes, and brokerage fees.
What are Abercrombie & Fitch's most popular products?
Some of Abercrombie & Fitch's most popular products include their Ultra High Rise jeans, SoftAF tees and hoodies, Graphic Tiger Pattern shirts, Curve Love high-waisted jeans, and First Instinct perfume. Their jeans and casual tops sell out quickly each season.
Is Abercrombie & Fitch expensive?
Compared to fast fashion brands, Abercrombie & Fitch is generally more expensive, with most tops, sweaters, and jeans ranging from $40-$100. However, they do frequently run sitewide sales up to 50% off and seasonal clearance sales to help offset the higher regular prices. Signing up for their email list provides early access to promotions.
What is Abercrombie's target audience?
The target audience for Abercrombie & Fitch is men and women ages 18-22, with a focus on college students and teens with a laidback preppy style. Their American style and branding around youth, freedom, and casual luxury appeals to this younger demographic.
Does Abercrombie & Fitch run sales often?
Yes, Abercrombie & Fitch runs frequent sales on their website and in stores. They offer sitewide discounts around major holidays and seasons, along with extra percentage off clearance styles. Signing up for Abercrombie emails provides early access to many of their best sitewide sales and exclusive one-day only deals.
What sizes does Abercrombie carry?
Abercrombie & Fitch carries a full range of standard sizes, from XXS to XXL for women's clothing and 28-38 waist for men's bottoms. However, their sizing does tend to run smaller than average, so sizing up is often recommended. They also offer longer and shorter inseams and lengths for better fit.
Does Abercrombie have physical stores?
Yes, Abercrombie & Fitch operates over 250 stores across the United States, Canada, Europe, Asia and the Middle East. Their brick and mortar locations aim to provide an immersive brand experience. You can also return online purchases at any local Abercrombie store for free.
Where are Abercrombie clothes manufactured?
While Abercrombie & Fitch is an American brand, their apparel is made in factories and mills around the world. Some of their top manufacturing countries include China, Vietnam, Jordan, India and Honduras. They aim to find partners that meet responsible sourcing and safety standards.
Is Abercrombie ethically sourced?
Abercrombie & Fitch has faced controversies in the past regarding ether supply chain. However, in recent years, they have published an Ethical Sourcing Policy and traceability goals. They monitor factory conditions and aim to use eco-friendly materials. While not perfect, they are working to improve supply chain transparency.