Looking for stylish vintage-inspired women's clothing stores like Modcloth offers? You've come to the right place!
Modcloth is cherished by many for its cute and quirky selection of retro and vintage-inspired women's clothing. However, the brand was acquired by Walmart in 2017. And also sold it out just 2 years after buying it, which led to some changes that disappointed loyal Modcloth fans.
These Modcloth competitors featured offer affordable, indie-designed apparel and ship worldwide so you can achieve that mod look no matter where you live.
I'll outline what each Modcloth-like store is popular for, key benefits, available categories, popular products, target audience. And other useful details to help you find items that match your personal style.
From girly dresses to indie apparel, here are my top picks for the best Modcloth dupes and lookalikes.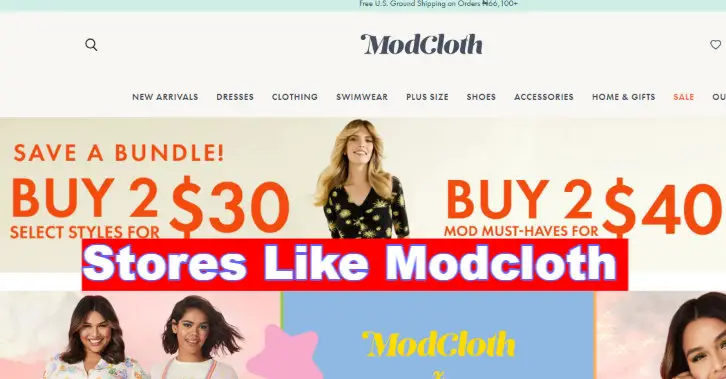 14 Best Women's Clothing Stores & Shops Similar To Modcloth For Vintage-Inspired Fashion
These Modcloth alternatives offer similar aesthetics and shopping experiences.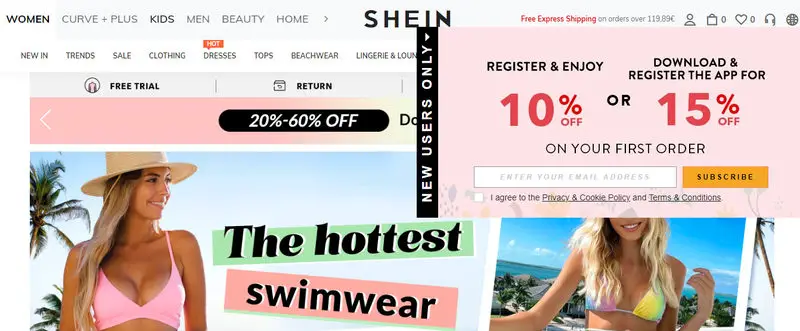 SHEIN is a popular fast fashion e-commerce site based in China that ships to over 220 regions globally. It's one of the best online stores like Modcloth for trendy women's apparel inspired by current fashion.
They offer an extensive range with new arrivals daily including retro-vintage dresses, graphic tees, denim, sweaters, outerwear, swimwear, accessories and more. This clothing company provides affordable pricing with frequent sales and discounts.
The target audience is teens, college students and young women looking for the latest fashion trends. It has an average shipping time of 1-2 weeks.
Key Perks:
Massive selection of stylish, affordable women's fashion
New arrivals daily with 1000s of items
Caters to latest trends and indie styles
Ships worldwide
Low cost and frequent sales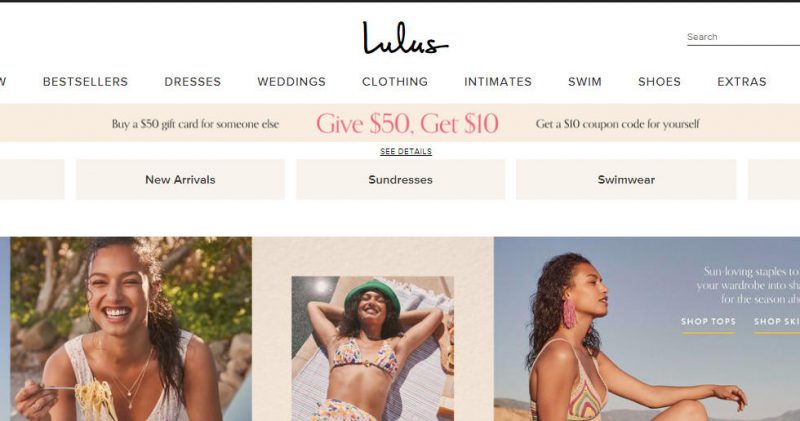 Lulus is a trendy ecommerce store known for dresses, along with a full range of apparel, shoes and accessories. The styles are feminine and pretty, with plenty of florals, lace and chiffon.
It has weekly sales and discounts, with flash sales up to 90% off. It focuses on making trendy indie clothing accessible with most pieces under $100. They target fashionable women looking for the newest vintage-style trends at affordable price points.
Shop categories like dresses, tops, bottoms, swimwear, shoes, accessories and more. The dresses especially stand out, like fit and flare midi dresses, strappy sundresses and formal gowns. It is a popular source for influencers and bloggers to find looks for events, travel content and ladies' nights out.
Key Advantages:
Specializes in retro-vintage dresses and blouses
Bridal and formalwear sections
Ships to 45+ countries
Affordable indie clothing under $100
Free shipping on orders over $50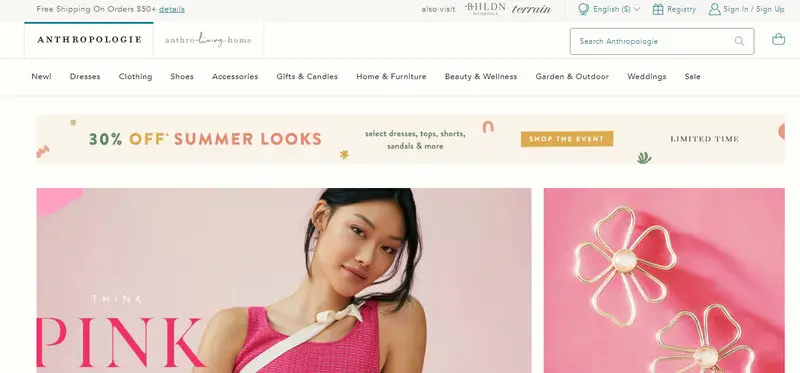 Anthropologie is a popular upscale women's clothing and lifestyle brand with over 200 stores across America and Canada. They offer art-inspired, boho-chic apparel with a vintage vibe similar to Modcloth.
The range includes dresses, blouses, sweaters, bottoms, outerwear, swimwear, sleepwear, shoes, bags and accessories. There is also a home decor and furniture line. Prices are moderate to high-end for the quality.
This similar brand focus on stylish women ages 28 to 45 looking for unique, artsy pieces. They provide fast free shipping over $50 and ship to over 100 countries.
Key Perks:
High-quality, art-inspired vintage clothing
Intricate prints, details and textures
Diverse boho-chic styles for various occasions
Ships internationally
Occasional sales and discount offers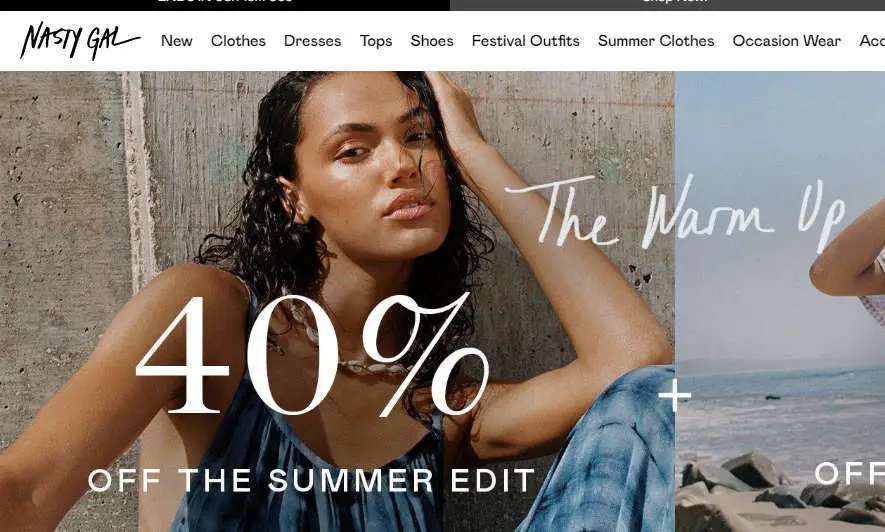 Nasty Gal is an edgy e-commerce retailer popular among teens and millennials for retro-vintage inspired women's fashion. They offer trendy dresses, tops, bottoms, outerwear and accessories.
The aesthetic here is bold, daring and unique. They specialize in turning vintage-style clothing into modern pieces. The prices are inexpensive to moderate for the fashion-forward quality.
The store focus on confident young women looking to make a statement and stand out from the crowd. They provide quick shipping times and good sales throughout the year. It also collaborates with various influencers on limited capsules as well. The minimalist, Instagram-friendly website makes online shopping easy.
Key Advantages:
Edgy, trendy vintage-inspired styles
Specializes in turning retro into modern
Caters to young indie demographic
Affordable pricing, frequent sales
Ships quickly to over 60 countries

Boden is a UK-based clothing retailer that ships internationally. They offer timeless, vintage-inspired women's, men's and kids' apparel designed in London.
The range includes dresses, tops, bottoms, coats, swimwear and accessories. Silhouettes and detailing are classically inspired yet modernized for today. Most prices are moderate, with some splurge items.
The clothing brand aim at 30 and 40-something women seeking classic vintage-style clothing. They provide free shipping and returns in the UK, US, Canada, and Australia. Customers love the consistent fit, flattering silhouettes and attention to detail. The mobile app makes shopping easy and efficient.
Key Perks:
Timelessly styled retro-vintage clothing
Also offers men's and children's lines
Designed in London, ships worldwide
Higher quality materials and construction
Good sales and discount codes available

As the name suggests, Unique Vintage has specialized in retro and vintage-inspired women's fashion. They offer reproductions of 1920s through 1960s styles online and in their LA store.
The range covers retro-glam dress styles for parties and formal events along with classic tops, bottoms, outerwear and accessories. Most items are priced affordably under $100.
The store particularly targets women looking for authentic vintage recreations, whether for costumes, events or everyday wear. They ship worldwide and have frequent sales.
It has an impressive selection of wiggle dresses, flared skirts and retro swimsuits perfect for a vintage pinup look. Along with their in-house designs, they also carry brands like Bernie Dexter, Stop Staring and more for a one-stop vintage shop.
Key Perks:
Specializes in authentic retro reproductions
All decades of vintage style from 1920s-1960s
Affordable pricing, with sales up to 80% off
Ships worldwide from the US
Large selection of dresses and bridal

Alice & Olivia offers elevated, retro-inspired designer clothing for women. The brand is known for their signature vintage-style dresses reimagined in bold prints and colors. Beyond dresses, they design sleek suits, tops, bottoms, jumpsuits and accessories.
The aesthetic balances classic vintage inspiration with glamorous modern touches. Prices reflect the premium designer quality, typically ranging from $250-$800 per piece.
The target audience is splurge-worthy women who appreciate timeless vintage style with a twist. The clothing store ships worldwide from the US and is stocked at major department stores globally.
Key Perks:
Sophisticated, lux vintage-inspired design
Especially known for whimsical dresses
Balances retro with modern glamour
Higher price reflects premium quality
Ships worldwide, stocked at retailers globally


Rosegal is a fast fashion e-tailer based in China that offers women's vintage inspired clothing at affordable pricing, like Modcloth. They carry dresses, tees, jeans, sweaters, beachwear, intimates, shoes, bags and accessories.
New arrivals are frequent, with 1000s of budget-friendly indie fashion items under $30. They ships worldwide from their overseas warehouses. Their aim customers are teens, college students and young women. Their vintage and novelty prints on flirty dresses and feminine tops are especially popular. Customers love the effortless, cool Cali vibes of the brand and feel good about buying sustainable clothing.
Key Advantages:
Massive range of affordably priced vintage styles
New arrivals daily with 1000s of items
Average pricing under $30 per piece
Ships from China to 200+ countries
Caters to young women and students
Karina Dresses is among the online women's clothing stores like Modcloth that specializes in elegant formal and cocktail vintage dresses. They also design bridesmaid, prom and evening gowns.
The styles offer romantic feminine detailing like florals, ruffles and lace. Most dresses range between $99-$299. The company ships worldwide from its Los Angeles headquarters.
The target audience is women seeking affordable vintage-inspired formalwear for events and special occasions. Karina Dresses runs regular sales and promo codes on their website.
Key Perks:
Specialized selection of vintage formal/cocktail dresses
Also offers bridal and bridesmaid gowns
Romantic styles with feminine detailing
Ships internationally from Los Angeles
Reasonable formalwear prices, regular sales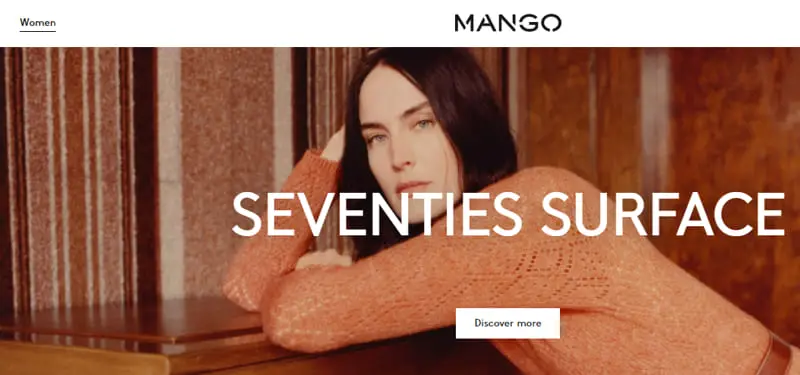 Mango is a popular Spanish fast fashion brand with stores across the globe. The women's collection includes plenty of retro and boho-chic pieces any Modcloth fan would approve of.
Shop their floral dresses, off shoulder tops, ruffle skirts, jeans with funky embroidery and indie accessories. Most items on this Modcloth alternative cost between $40-$100.
Their sizing runs numeric 0-20 or S-XL. The brand offers free shipping and returns to the US for added convenience. It has worked to improve sustainability efforts like water reduction and recyclable packaging.
Key Perks:
Contemporary fast fashion with retro detailing
Carries full range including dresses, denim, outwear
Affordable high street pricing under $100
Ships quickly worldwide
Caters to youthful demographic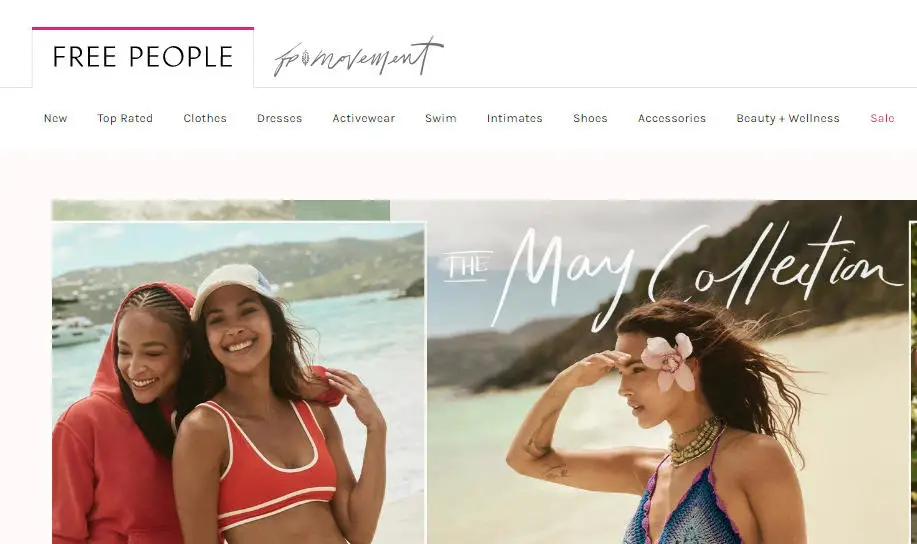 Free People offers boho inspired women's apparel with a feminine and romantic vibe. Along with clothes, they sell shoes, accessories, activewear, beauty and lingerie.
Standard shipping is free on $50+ orders, taking 2-7 business days. Site wide sales run up to 50% off or more. The target demographic is mainly women 18-30 embracing a free spirited, hippie chic style.
It is especially loved for dresses, from maxi sundresses to sequin slips for going out. Their signature tops, outerwear and sweaters also have feminine details like lace, fringe, embroidery and crochet. And their intimates and loungewear are popular for the perfect boho bedroom aesthetic. The free spirit vibe attracts lovers of music festivals like Coachella.
Key Perks:
Boho vintage-inspired women's clothing
Known for their easy, comfy staple pieces
Mix of affordable basics and pricier specialty items
Retro 70s flavor in prints and silhouettes
Ships quickly worldwide from the US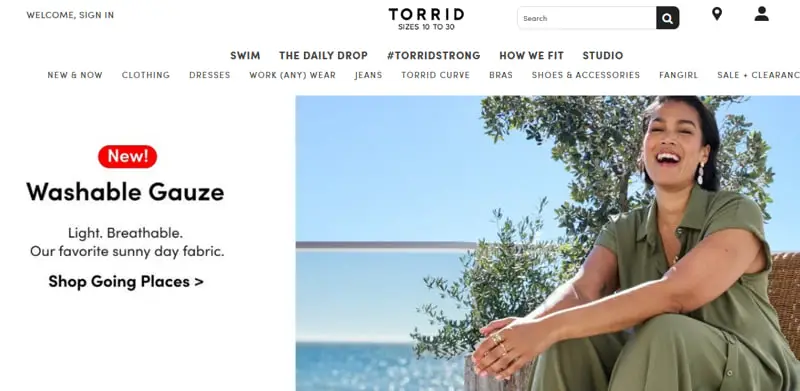 Catering to sizes 10-30, Torrid is a popular plus-size fast fashion brand carrying trendy retro and vintage style women's apparel.
Their range includes dresses, tops, bottoms, swimwear, shoes and accessories. This store similar to Modcloth offers the latest indie fashion trends reimagined for the curvier figure at affordable price points. Most items are priced $50-$100.
The target audience is stylish plus-size women in their teens, 20s and 30s seeking current fashionable clothing. It also ships quickly from their US warehouses and has 300+ stores across America.
It is dedicated to sustainable production minimizing textile waste and using eco-friendly materials. The brand has a community of #TorridInsider super-fans.
Key Perks:
On-trend vintage fashion for plus sizes
Carries dresses, tops, bottoms and more in sizes 10-30
Flattering styles for the curvier figure
Affordable fast fashion pricing, 50-100 per piece
Ships quickly within the US and worldwide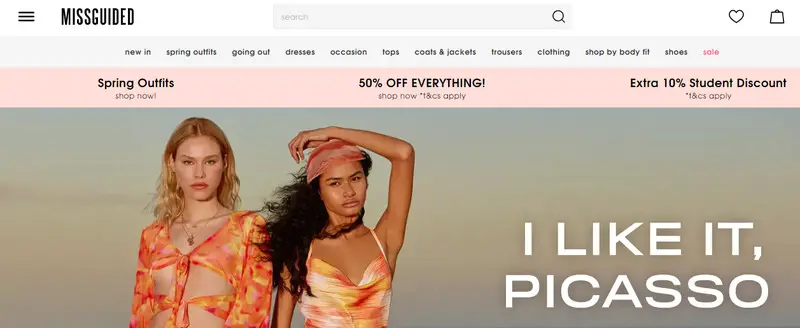 Hailing from the UK, Missguided takes fast-fashion up a notch with ultra trendy clothing for young women. The edgy brand offers its share of vintage inspired pieces from denim to dresses.
This Modcloth alternative ships worldwide and carries sizes 4-30. Prices are super affordable ranging from $10-$70 for most items. The brand is moving towards improved sustainability and labor practices to balance fast fashion ethics.
Exchanges are free and refunds offered within 14 days. Delivery takes 7-10 days in the UK and 10-15 days to the US. It often runs 50-70% off everything sales making the deals even sweeter.
Key Perks:
Youthful indie fast fashion with vintage edge
Trend-driven dresses, tops, denim and outwear
Caters to teens and women under 30
Very affordable pricing from $20-$60
Ships worldwide quickly from the UK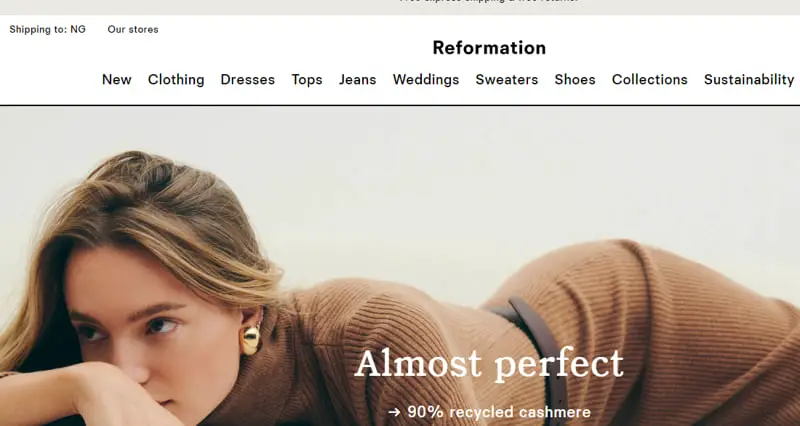 Reformation creates sustainable women's apparel with vintage charm and a conscience. They are a top eco-conscious brand reimagining retro styles for today.
They designs dresses, jeans, two-pieces, blouses and accessories in LA. Silhouettes pull from the 50s, 60s and 70s while details feel modern. Prices reflect the premium sustainable materials.
The target market is eco-minded Millennials and Gen Z looking for responsibly made vintage-inspired fashion. It ships worldwide from the US which make them a good Modcloth competitor.
Key Perks:
Sustainable, eco-friendly materials
Vintage-inspired styles with modern twists
Conscience-driven brand model and practices
Ships worldwide from Los Angeles
50s, 60s, 70s inspired detailing
Conclusion
I hope this overview of the top women's clothing shops & stores like Modcloth was helpful! Each featured brand offers their own spin on chic vintage-inspired fashion so you can find cute retro dresses, tops, bottoms and more to suit your personal taste.
Based on your location and preferred styles, any of these Modcloth competitors can provide you with affordable indie clothing to achieve that mod vintage aesthetic for your wardrobe.
A few final parting tips:
Look out for sales and promo codes to save money
Browse new arrivals for the latest vintage-style drops
Read product reviews to assess quality and fit
Compare shipping fees and times per store
Whatever your budget and location, you can curate dreamy retro outfits thanks to these wonderful Modcloth alternatives that deliver worldwide. Happy vintage shopping!
FAQs About ModCloth
What years was ModCloth founded and established?
ModCloth was founded in 2002 by Susan Gregg Koger and officially launched online in 2006. Based in San Francisco, the indie e-commerce site quickly became popular for its curated selection of retro, vintage-inspired women's fashion.
What is ModCloth's shipping and return policy?
ModCloth provides free standard shipping on all US orders over $50. Expedited and international shipping rates apply otherwise. Returns are free within 30 days of delivery in the US. ModCloth also has over 60 fit shops across the country for trying and returning pieces.
What payment methods are accepted?
ModCloth accepts Visa, Mastercard, American Express, Discover, PayPal, Apple Pay and ModCloth gift cards. They offer checkout in multiple currencies based on your location.
Does ModCloth run sales and promos?
Yes, ModCloth runs frequent promotions like percentage discounts, dollar-off deals and free shipping sitswide. They hold especially large seasonal sales for occasions like Black Friday and end-of-year holidays. Signing up for emails will notify you of current deals.
How do ModCloth sizing and reviews work?
ModCloth has an extensive size range from XXS-4X. Each product shows detailed size charts and measurements. Customer reviews include fit feedback along with photos to aid your selection. Be sure to compare your measurements to theirs.
Does ModCloth have an affiliate or influencer program?
Yes, ModCloth offers an affiliate program with 8% commission on sales. Sign up on their website. They also have an influencer program partnering with style bloggers. Reach out to collaborations@modcloth.com to inquire about opportunities.
Where are ModCloth products manufactured?
ModCloth partners with indie designers and brands around the world to produce their clothing. Production is centered in LA, China, India, Hong Kong and South Korea for different categories. Their social responsibility page outlines standards.
Does ModCloth sell internationally?
Yes, ModCloth ships to over 50 countries worldwide! Shipping rates and estimated delivery times will vary by your location. Taxes and duties may apply for international orders.
What is ModCloth's return and exchange policy?
ModCloth offers free returns and exchanges within 30 days of delivery in the US. For exchanges, new sizing must still be in stock. For returns, items must be unworn with tags intact. You can return by mail or at a local fit shop.
Is Modcloth fast fashion?
Modcloth started out as indie but has adopted some fast fashion strategies like quicker design cycles and lower prices. However, they maintain a focus on retro-inspired original styles.
What is ModCloth's target demographic?
Modcloth caters predominantly to 16-35 year old women who love feminine, indie and vintage-inspired style. The focus is on making retro fashion fun and accessible.
What makes Modcloth unique?
Modcloth combines an authentic retro indie aesthetic with inclusivity and affordable price points. The community and content surrounding self-expression through fashion creates a distinctive Modcloth vibe.
Is Modcloth ethical?
Modcloth aims to partner with ethical brands using sustainable materials and practices. They screen for fair labor practices and are working to improve transparency and traceability in their supply chain.