Finding new arts and crafts stores that are similar to Michaels can be a challenge. There are many big box stores and online retailers that offer comparable selections of art supplies, craft materials, custom framing, and more. In this blog post, I'll be sharing the top craft stores like Michaels that all creative enthusiasts should know about.
Whether you're looking for affordable everyday basics or unique specialty tools, these featured stores provide the quality selection and prices you've come to expect from Michaels.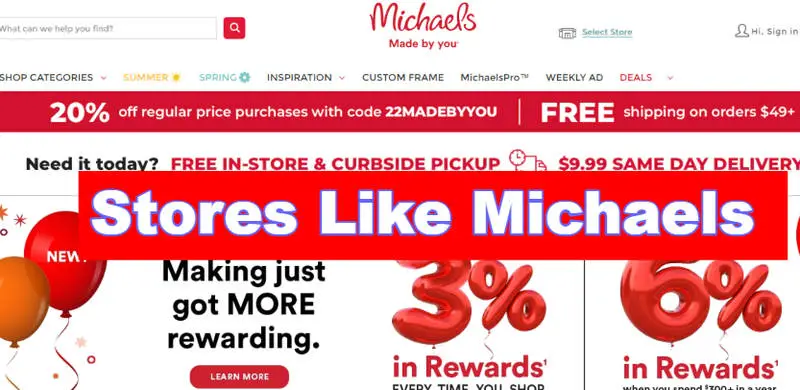 I'll highlight what each retailer is best known for along with key benefits to help you discover your new favorite Michaels competitors. With a variety of online and in-store options, you're sure to find endless inspiration for your next project.
13 Best Stores Similar To Michaels for Art Supplies, Crafts & Framing

Target has gained immense popularity over the years for its wide range of products spanning home goods, apparel, groceries, and more. But many don't realize it's also a great place to shop for arts and crafts essentials.
What I love about them is their Art Class collection which offers a little bit of everything – paints, brushes, canvases, sewing and needlecraft tools, kids crafts, and more. You'll also find craft storage options to keep everything neatly organized.
It has an ever-evolving selection, so you never know what you'll discover each visit. Some hot items are their Crayola and Elmer's branded supplies, which are always top-notch. Beyond the basics, they also carry unique crafts like weaving looms, macrame kits, and stamp carving sets.
Key Benefits
Wide range of basic craft supplies and tools from leading brands
Also carries more unique craft products not found everywhere
Affordable pricing, especially for bulk packs of supplies
Can shop for other home goods and groceries in one trip
It appeals to casual crafters, families, teachers, and anyone looking for solid supplies without breaking the bank. It's a craft lover's paradise with new treasures waiting around every aisle bend.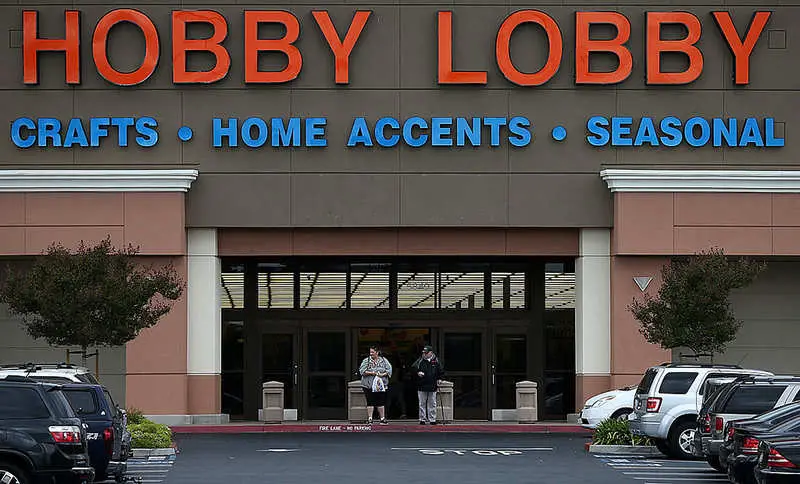 When it comes to arts and crafts stores like Michaels, Hobby Lobby is a go-to destination for many. With over 900 stores across the country, you'll find endless options for creative projects here.
The store calls itself the "Home of All Things Creative" – and rightfully so. Their selection includes just about any craft supply or tool you can think of, from basic essentials to unique specialty items. Some top categories are fabric, sewing & needle-art, floral, kids crafts, fine art, jewelry making, baking decor, and more.
Beyond materials, they also offer free project ideas and instructional videos online. So if you need a little inspiration, this brand has you covered. Their seasonal and holiday craft offerings are especially impressive.
Key Perks
Massive in-store selection of craft supplies and tools
Unique items not found at general retailers
Classes and project ideas for guidance
Specialty craft categories like jewelry-making
Seasonal/holiday crafts and home decor options
From framing custom designs to putting together floral arrangements, it will help fuel all your creative passions. Sign up for the weekly newsletter to stay on top of sales and new product arrivals too.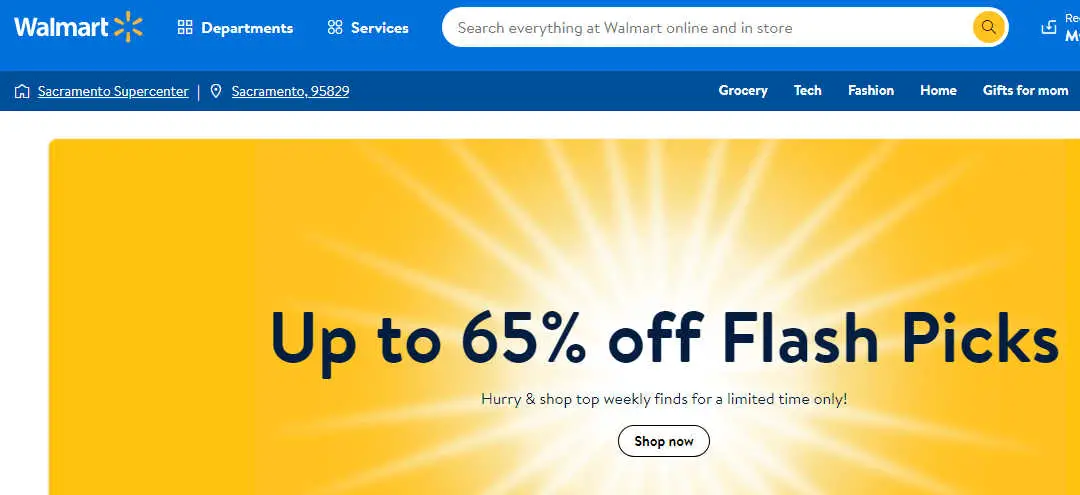 You probably know Walmart as your one-stop shop for general merchandise and groceries. But scattered amongst its many aisles, you can uncover an amazing range of craft supplies too.
Walmart carries all the basics – paints, fabric, yarn, beads, clay, storage, kids crafts, and more. I especially love their CERN brand of arts supplies which offers great quality at low prices. Outside everyday essentials, they also have unique crafts like candle and soap-making kits, decoupage, macrame, calligraphy, and more.
Key Advantages
Huge assortment of basic craft items and tools
Affordable prices, especially on bulk packs of supplies
CERN brand offers quality art supplies
Fun unique kits for trying new crafts
Can purchase other household items in one trip
Between on-trend DIY kits and all the crafting staples, the store has an inclusive range for crafters of all skill levels. It provides the convenience to stock up on necessities for your latest project alongside regular shopping.

For over 75 years, Oriental Trading has delivered smiles and savings with their unbelievable range of arts, crafts, school supplies, novelties, and party products.
They live up to their slogan "Quality Worth Sharing" by curating affordable products that bring people together through creativity. You'll discover everything from basic tools and materials to unique craft kits and stylish room decor.
This store similar to Michaels shines with party supplies for holidays, birthdays, and all occasions. Their inventory evolves seasonally, so there's always something new to explore. Teachers and parents rave about products that inspire learning through fun hands-on activities too.
Why Shop Here
Massive range of affordable arts, crafts, and DIY projects
Party supplies, decorations, and favors for all occasions
Classroom learning tools, craft kits, and activities
Unique finds not available elsewhere
Special sales and bulk discounts
Let your creativity soar with their value-packed selection. From seasonal crafts to teaching tools, they have something for crafters of all ages.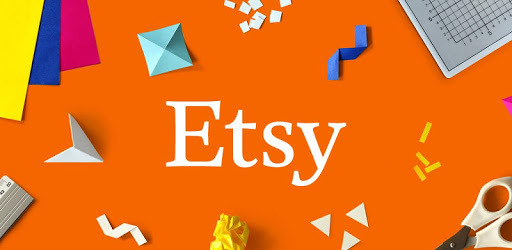 Etsy provides a more personalized and handmade alternative to mass stores like Michaels. It's an online marketplace featuring crafters and artisans selling their unique creations.
You can find just about any arts and craft supply imaginable in Etsy's virtual aisles. Above materials, there are also finished crafts, DIY kits, printable designs, and more – many of which you won't find anywhere else. Sellers span a wide range of mediums like knitting, woodworking, sewing, ceramics, jewelry, papercraft ts, and far beyond.
Etsy is the perfect place to discover one-of-a-kind products that make great gifts. Custom framing and personalized pieces are available too. And their search tools make it easy to refine by item location, price, shop reviews, etc.
Key Benefits
Discover unique handmade and customizable craft products
Purchase supplies directly from skilled artisans
Option for custom/personalized items like framing
Global marketplace with broad range of creative goods
Support small independent sellers and artists
Tap into Etsy's inspired collection of crafts and tools to unleash your inner maker. You'll find creative inspiration while supporting artistic entrepreneurs.

Kirkland's is a home décor store similar to Michaels but with a niche focus on holiday, seasonal, and other decorative craft components suitable for DIY projects. This makes them unique from Michaels in specializing in festive craft supplies.
During Christmas, this is a top destination for affordable artificial trees, ornaments, ribbons, craft décor, and more. Come other holidays like Halloween, Fourth of July, and Easter, they have a great selection of themed décor pieces, crafts, fabrics, signs, figurines, and party supplies to embellish your own projects.
Beyond the holidays, it also stocks craft essentials like artificial floral arrangements, wreaths, garlands, vases, candle-making supplies, frames, and decoupage materials. If you craft holiday or seasonal décor, their selection and prices are tough to beat.
Key Benefits:
Extensive holiday and seasonal craft decorations
Affordable prices on themed craft components
DIY-friendly pieces for embellishing handmade items

Owned by TJX companies, HomeGoods offers a similar treasure hunt shopping experience for brand name home décor at 20-60% off department store prices. This makes it a great source for affordable crafting materials to embellish your DIY home and holiday projects.
The store selection changes weekly. but you can generally find silk flowers, vases, candles, ribbon, seasonal crafts and décor, frames, embellishments for fabric DIYs and more at bargain prices.
The hunt for the best deals on name brand craft supplies can turn up exciting finds, everything from faux florals to produce signs to terrariums and more. Savvy crafters and decorators should check the store first before buying higher-priced seasonal crafts at Michaels.
Key Benefits:
Ever-changing stock of home décor, some craftable
Deep discounts on major brands
Great for affordable seasonal/holiday DIY crafts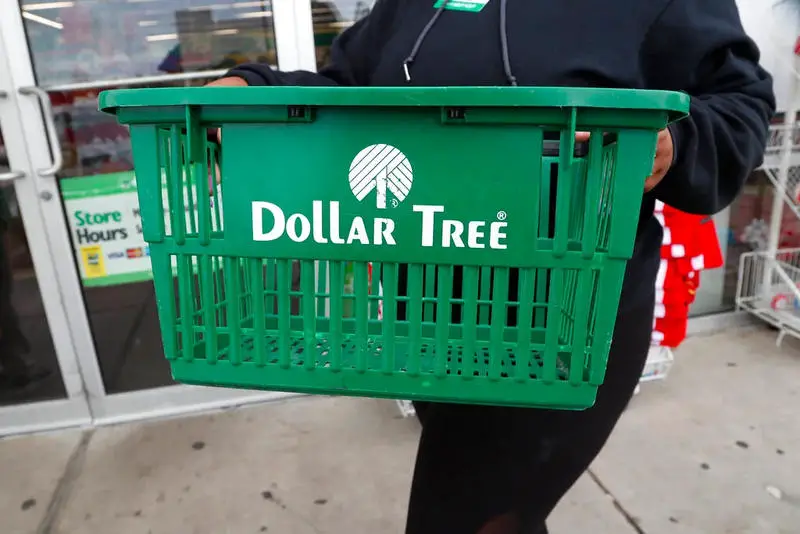 Dollar Tree is a crafter's paradise for acquiring tools and materials on a dime. Just as the name suggests, everything in store costs around $5 or less.
Given the extreme affordability, I wasn't expecting much when I first visited. But I was amazed by the range of name brand crafts jam-packed into these tiny stores – fabric, stickers, party supplies, frames, floral stems, ribbon, and way more.
The selection evolves weekly, keeping each trip full of surprises. While I wouldn't buy fine art supplies here, it's great for basic tools, seasonal crafts, classroom projects, party favors, and general hands-on fun. Teachers and parents especially love it for stocking up economically.
Key Advantages
Major name brand craft supplies for only $1.25
New products arriving weekly
Great for party supplies, seasonal crafts, and classroom projects
Affordable way to amass large quantities of supplies
Crafting on a tight budget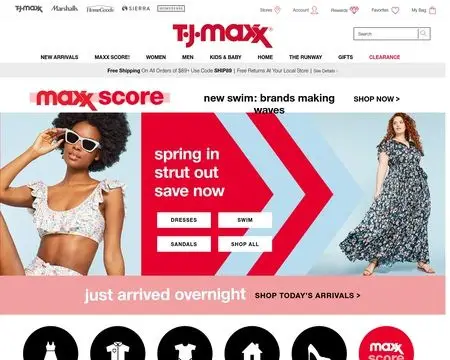 For shoppers looking for craft supplies at a discount, TJ Maxx are ideal. These stores offer 20-60% discounts on brand name fashions and home goods, including some craft basics and embellishments.
Selection varies store to store, but often includes craft papers, some beading supplies, silk flowers, baskets, candle-making kits, and vases suitable for craft projects. Seasonal/holiday crafts and decor are a big draw too when outfitting DIY holiday décor on a budget.
You have to hunt the aisles and new stock appears weekly, but TJ Maxx is smart places to buy embellishments like ribbon, décor and some materials for DIY home projects for less than Michaels charges.
Key Benefits:
Deep brand name discounts on select craft supplies and décor
Fun treasure hunt shopping weekly
Affordable prices for embellishing DIY home/holiday crafts

Factory Direct Craft sets itself apart by curating arts, crafts, and DIY supplies directly from manufacturers. Cutting out the middleman allows them to offer wholesale pricing but without the high-volume commitments.
This Michaels competitor carry a strong range of basics along with unique items you won't find elsewhere. I especially love their selection of craft kits for fun new projects. Categories include DIY decor, kids crafts, weddings, fabrics, sewing, art supplies, and far more.
Sales are frequent, so you can often score big deals. Factory Direct Craft also publishes tutorials and ideas using the products they sell, providing helpful inspiration for crafters of all skill levels.
Key Perks
Direct wholesale pricing without bulk minimums
Fun unique craft kits not found elsewhere
Regular sales and clearance deals
Range of basic supplies plus specialty items
Ideas and tutorials using available products
Unleash your creativity with Factory Direct Craft's cost-effective selection of crafting must-haves and unique new projects to try.

If you're looking for stores like Michaels for super affordable basic craft supplies, Big Lots is worth checking out. This national discount store offers a frequently rotating selection of overstocks and closeout merchandise at up to 40% off department store prices.
They carries some brand name and off-brand arts and crafts supplies for bargain prices, though selection is hit or miss. You may find crayons, colored pencils, markers, paints, glue, craft sticks, and various papers. Some seasonal craft materials are usually available as well.
Given the closeout nature of inventory, you have to catch products while they're in stock. But if you see craft basics you need, the low prices make them a smart alternative to Michaels or other craft stores when saving money is key.
Key Benefits:
Deeply discounted prices on closeout craft basics
Occasional craft supply stock depending on surplus merchandise
Ideal when you need supplies cheap

Artist & Craftsman Supply has grown to 8 stores across the Pacific Northwest. Just as the name suggests, they cater to the tools and materials creative folks need to make beautiful art and crafts.
Beyond basics, they offer specialty supplies for bookbinding, printmaking, fiber arts, and more. You'll also find curated gifts, classes, and free project ideas to spark inspiration. Artist & Craftsman carries many locally made and eco-friendly products too.
While limited to the Northwest region, I frequently purchase from their online store. Expect excellent service and expert advice to help bring your arts and crafts dreams into reality.
Key Advantages
Massive selection of art, craft, and DIY supplies
Local store with strong regional focus
Specialty tools beyond basics
Classes and free project ideas
Eco-friendly and USA-made products
Tap into Artist & Craftsman Supply's meticulously curated collection for makers and creators of all kinds.

JoAnn Fabrics and Crafts is another national craft retailer with a similar model to Michaels in offering a huge range of creative products. It has an advantage for crafters in providing more fabric, sewing, yarn, and other fiber arts supplies than Michaels along with typical craft materials.
Outside fabrics, it stocks decorative craft pieces, seasonal/holiday supplies, kids' activity kits, and basics like paint, glue, beads, jewelry components, papers, and more art supplies Michaels offers too. They also do custom framing.
It also runs frequent coupons and sales, especially on their app. Combined with in-store pick-up and loyalty perks, they competes well with Michaels on price and convenience for multi-purpose craft shopping.
Key Benefits:
Massive selection of fabrics, yarn, sewing supplies
Typical craft basics along with kits and décor
Routine coupons/sales and loyalty program
Conclusion
I hope this overview provides some fresh alternatives to explore beyond your go-to Michaels craft store. While Michaels will always be a favorite for essentials and inspiration, branching out can lead to new product discoveries, deals, and creative awakenings.
Personally, I like to rotate between different stores like Michaels to meet new products for next project.
No matter where you choose to shop, may it spark creativity and bring your arts and crafts visions to life! Let me know in the comments about your favorite Michaels competitors for stocking up on all the DIY supplies and inspiration you crave.
Frequently Asked Questions about Michaels
What is Michaels best known for selling?
Michaels is best known for selling arts, crafts, and DIY project supplies. Top products include art materials, custom framing, baking and floral supplies, home decor, kids crafts, fabrics, and more.
Does Michaels offer online shopping?
Yes, Michaels has an online store at Michaels.com selling all the same products available in-store. Purchases over $49 ship free or you can choose in-store pickup.
What discounts or promos does Michaels offer?
Michaels routinely offers coupons and promo codes providing 10-20% off regular priced items. Sign up for their email list to receive special offers. They also run weekly sales on select categories.
Does Michaels provide free classes or craft ideas?
Yes, Michaels provides free online classes, tutorials, and project ideas spanning skills from sewing to painting to floral design. Customers can also attend free in-store classes.
What are Michaels' most popular products?
Some best sellers at Michaels include Cricut machines, art paints and canvases, custom framing, sewing machines and fabric, floral stems, scrapbooking tools, and DIY craft kits.
Does Michaels sell gift cards?
Yes, Michaels offers physical and electronic gift cards that can be used online or in stores. Cards have no fees or expiration dates.
What is Michaels' return policy?
Unopened merchandise can be returned for a full refund within 90 days with a receipt. Opened items can be returned within 60 days. Some exclusions apply.