Looking for cheaper alternatives to Dillards department store? You've come to the right place. This post covers 11 excellent stores like Dillards where you can find great deals on apparel, home goods, beauty products and more – without breaking the bank.
Whether you love their wide selection of clothing brands, home furnishings or makeup counters, Dillards can put a dent in your wallet. But there are many budget-friendly stores that offer similar products and styles at lower price points.
From Target to Ross to Kate Spade, keep reading to discover the top places to shop if you're a Dillards fan on a budget. We'll cover what each retailer is known for, popular categories, and key benefits so you can find your new go-to discount department store.
About Dillards
Dillards is an American publicly held organization that owns and controls a well-known department store chain. In 1938, the first Dillard's store opened in Little Rock, Arkansas, which is where the company is headquartered today. Dillard's Shops provide an extensive selection of designer apparel, bedding, footwear, kitchenware, and other items.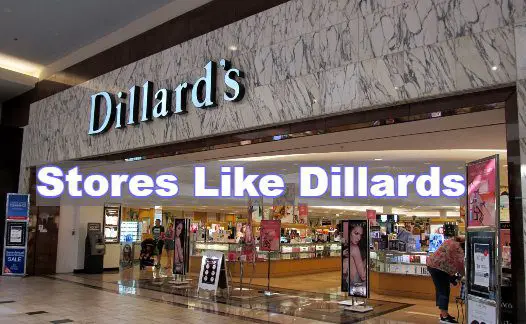 11 Best Stores Similar To Dillards for Less
From trendy fashion retailers to classic department store chains, here are 11 of the best Dillards competitors to shop at instead.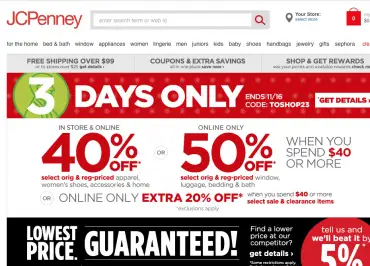 Founded: 1902
Target Audience: Middle class families
Categories: Clothing, shoes, accessories, home goods
Popular Products: Arizona jeans, St. John's Bay apparel
The OG department store, JCPenney has been around for over 100 years and offers budget-friendly prices on apparel, home goods and more. This mid-range retailer may not be as flashy as Dillards, but it's great for no-fuss family shopping.
Affordable prices on national brands
Huge selection of clothing for women, men and kids
Quality home goods like cookware, bedding and furniture
Easy online shopping and in-store pickup
JCPenney is ideal for shoppers who like the variety of department stores like Dillards but don't want to spend a fortune. You can often find great deals on name brands too. The store has lost some of its luster over the years, but remains popular for back-to-school and holiday shopping.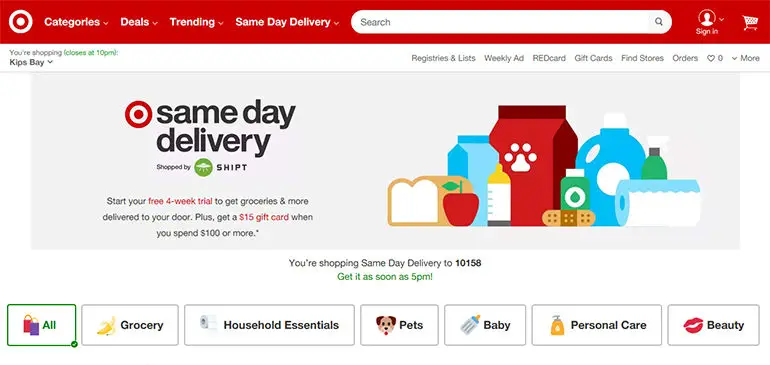 Founded: 1902
Target Audience: Families, young professionals
Categories: Clothing, home, electronics, groceries
Popular Products: Vineyard Vines, Universal Thread
Target has transformed itself from a discount retailer into a destination for stylish, affordable goods. Known for its iconic bullseye logo and "Tar-jay" nickname, this mega chain offers apparel, home decor, groceries and more.
Trendy, inexpensive clothing from brands like Universal Thread and A New Day
Popular designer collaborations, like Hunter and Vineyard Vines
Modern and vintage-inspired home decor and furniture
Grocery delivery and pickup options
Convenient one-stop shopping experience
While not a true department store, Target has something for everyone. Its chic in-house brands and designer partnerships make it a stylish Dillards alternative. RedCard members also get 5% off purchases.

Founded: 1858
Target Audience: Middle to upper-class shoppers
Categories: Clothing, beauty, home goods, furniture
Popular Products: Hotel Collection sheets, Charter Club Cashmere
The OG department store, Macy's offers a little something for everyone. This retail giant operates hundreds of stores across America stocked with apparel, shoes, accessories, beauty products, furniture and more.
Huge assortment of clothing, with brands like DKNY and Tommy Hilfiger
Massive beauty selection, including many high-end brands
Quality home goods and furniture at various price points
Old school shopping experience with modern conveniences
Major holiday events, like the iconic Macy's Thanksgiving Parade
For big assortments across all categories, Macy's is a classic department store choice. Frequent sales and coupons make it budget-friendly too.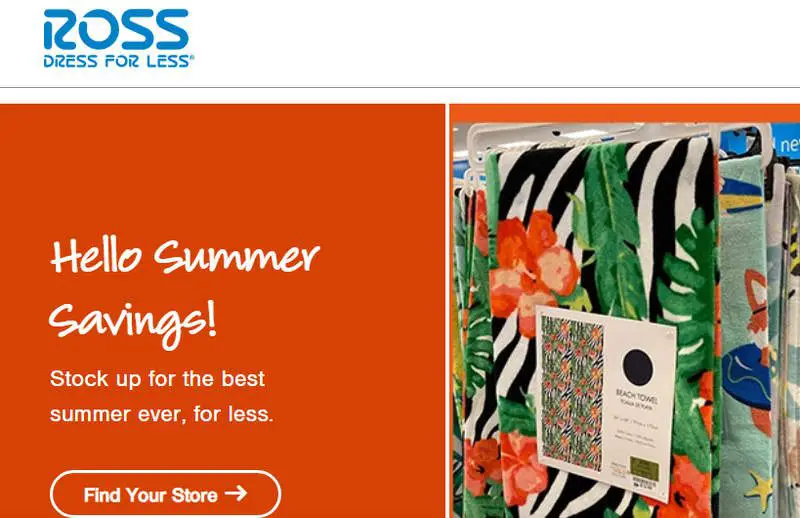 Founded: 1982
Target Audience: Bargain shoppers, families
Categories: Clothing, shoes, home goods, beauty
Popular Products: Designer handbags, side tables, boots
Ross is a discount retailer where you can find major deals on designer brands for your home and closet. Often called "the store where brands are cheaper", Ross offers savings up to 60% off department store prices.
Deep discounts on clothing, shoes and accessories
Brand name home decor, furniture, cookware marked down cheap
Surprisingly trendy dresses, handbags and jewellery
New markdowns and shipments every week – treasure hunt shopping!
Affordable prices on kitchen gadgets, bedding, luggage
For savvy bargain hunters, Ross is ideal for scoring designer brands on a budget. You can often find previous-season merchandise for much less. The treasure hunt experience makes shopping fun too!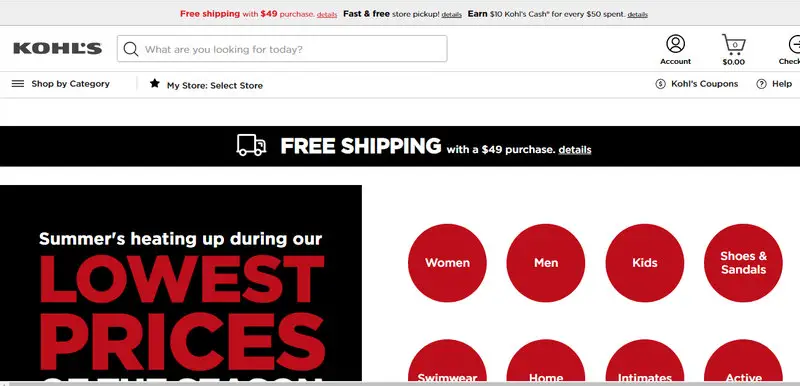 Founded: 1962
Target Audience: Middle class families, women
Categories: Clothing, beauty, home, toys
Popular Products: LC Lauren Conrad, Sonoma Goods for Life
Another traditional department store similar to Dillards is Kohl's. It is specializes in casual fashions and home goods. It's known for affordable pricing and its extensive coupons. Kohl's also carries big name brands and popular private label collections.
Wide range of clothing from brands like Nike, Under Armour and LC Lauren Conrad
Affordable prices, with frequent sales and coupon offers
Extensive juniors, women's, men's and kids sections
Cute home decor, small appliances, cookware and bedding
Convenient online ordering with free store pickup
It is perfect for moms needing to outfit the whole family. Its budget prices and constant deals make it an affordable brand similar to Dillards.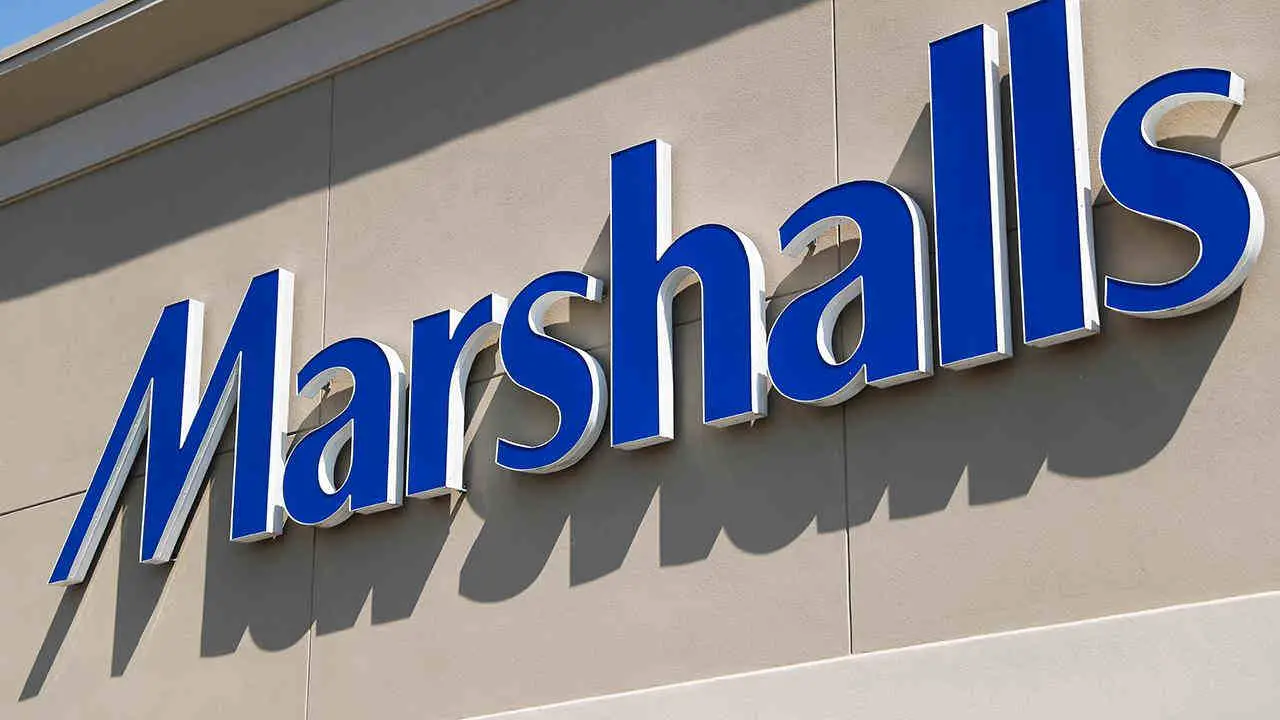 Founded: 1956
Target Audience: Bargain shoppers
Categories: Clothing, shoes, beauty, home goods, toys
Popular Products: Luggage, purses, dresses
Owned by TJ Maxx, Marshalls offers big name fashion and home goods at steep discounts. It's another treasure hunt shopping destination for brand conscious bargain hunters.
Major savings on designer brands, up to 60% off department stores
Huge shoe department with major brands for less
Surprise finds on clothing, handbags, luggage, beauty
Home goods like cookware, decor and furniture marked down cheap
Toys, pet items and fitness gear also available
Marshalls is ideal for shoppers wanting designer goods on a dime. You can find major deals if willing to search. Their clothing and shoe selection is especially impressive.

Founded: 1888
Target Audience: Middle class families in the South
Categories: Clothing, shoes, beauty, home, bridal
Popular Products: Home collections, party dresses
A staple in the South, Belk is a department store focused on style, service and value. This regional chain offers a bit of everything, with a focus on top brands and contemporary fashion.
Extensive apparel and shoe departments for women, men and kids
Top name cosmetics counters like Estée Lauder and Clinique
Formal wear and party dress shop for events and weddings
Monogramming and customization services
Sitewide sales throughout the year
Belk is ideal for Southerners who like the variety of a classic department store. The brand is devoted to gracious service and giving back to its communities.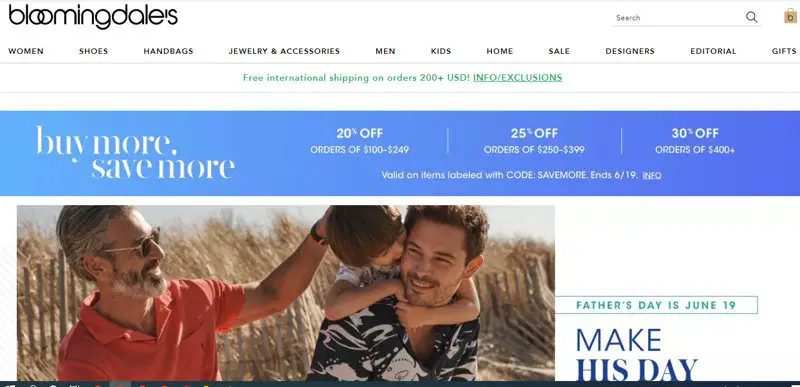 Founded: 1861
Target Audience: High-end shoppers, fashionistas
Categories: Designer clothing, accessories, beauty, home
Popular Products: Diamond jewelry, Burberry apparel
Owned by Macy's, Bloomingdale's has a more high-end focus than Dillards. Expect designer labels, luxury brands and modern style. This iconic store is based in New York but has locations nationwide.
Massive designer clothing and accessories assortment
Super trendy contemporary apparel for women and men
The place for all your luxury beauty needs
Swanky home decor and furniture from designer brands
High end services like registry and gift wrapping
Bloomingdale's offers an indulgent, high fashion shopping experience. Personal stylists and brand boutiques provide a luxe vibe. Be ready to pay designer prices though.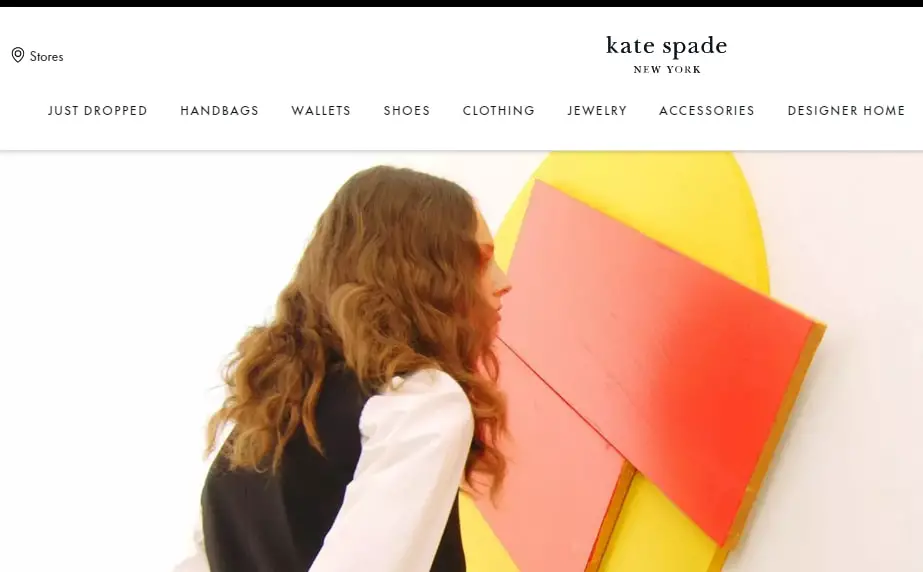 Founded: 1993
Target Audience: Women, handbag lovers
Categories: Handbags, clothing, shoes, jewelry, home
Popular Products: Iconic 'Sam' handbag, statement earrings
Originally a handbag brand, Kate Spade has expanded into a full lifestyle label known for its bold, feminine style. Expect cheerful patterns, creative designs and modern chic clothes and accessories.
Whimsical, on-trend handbags, wallets, shoes and jewelry
Cute dresses, tops, sweaters and pants in unique prints
Stylish home decor with graphic patterns and florals
Boutique vibe with excellent customer service
Semi-annual sales to score deals
For ladies who love playful florals, stripes and color, Kate Spade is among the fun fashion stores similar to Dillards. The brand mixes sophistication and whimsy for everyday wear.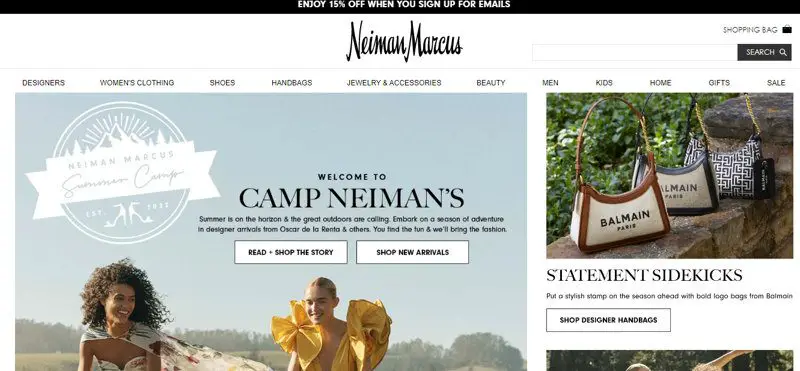 Founded: 1907
Target Audience: Wealthy and fashion forward shoppers
Categories: Designer clothing, beauty, home goods, jewelry
Popular Products: Christian Louboutin shoes, Prada handbags
For luxury shopping, it doesn't get more opulent than Neiman Marcus. Expect to find the biggest designer names, cutting edge brands and indulgent services. Make sure your credit card limit is high!
Extensive designer clothing edited by industry experts
The top handbags, shoes, sunglasses from iconic luxury brands
Hard-to-find beauty products and fragrances
Swanky home decor and furnishings from Versace, Jonathan Adler, etc
Exceptional customer service – they sell the Neiman Marcus experience
The prices are astronomical, but Neiman Marcus offers incredible high-end finds. Personal shoppers, styling services and cooking classes offer a truly lavish experience.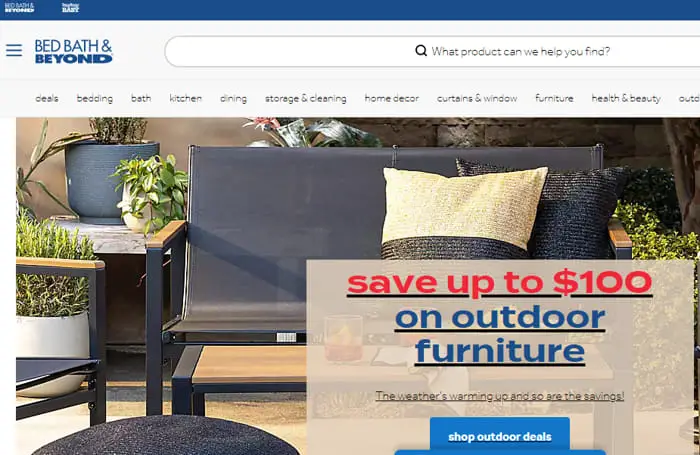 Founded: 1971
Target Audience: Homeowners, brides
Categories: Kitchen, bedding, bath, storage, furniture
Popular Products: Oxo gadgets, Dyson vacuums, The Ridge wallets
For outfitting your home in style, Bed Bath and Beyond should be your destination. This home store sells every appliance, decorative item and necessity you can imagine.
Massive selection of kitchen gadgets, small appliances, cookware
All the chic bedding and bath accessories your home needs
Furniture, rugs, storage solutions and cleaning products
Wedding and gift registry services
Frequent 20% off coupons to use in-store or online
Bed Bath and Beyond is ideal for affordable home upgrades. Between the coupons and selection, you're sure to check items off your home needs list.
FAQs about Dillards
What is Dillards known for?
Dillards is known for being an accessible department store with trendy and affordable clothing, shoes, cosmetics, and home goods. It offers both budget and designer options across all categories.
Does Dillards have sales?
Yes, Dillards has site wide sales throughout the year. There are also clearance sales in stores with items discounted by up to 60%. You can frequently find coupon codes online too.
What brands does Dillards carry?
Dillards carries brands like Nike, Levi's, Ralph Lauren, Michael Kors, Clinique, and Kate Spade across apparel, beauty and home categories. They have budget private labels as well as higher end designers.
Does Dillards price match?
Dillards does price match select online and local retailers. You need to present proof of the current lower price when requesting a price match in-store. There are some exclusions.
Can you return items to any Dillards store?
Yes, Dillards allows returns to be made at any store location, regardless of where you made your original purchase. You do not need a receipt.
Does Dillards allow online returns in stores?
Dillards does allow free in-store returns of items purchased online. Simply bring the packing slip to process the return. Refunds go to your original form of payment.
Does Dillards ship internationally?
Unfortunately Dillards only ships to addresses within the United States. They do not offer international shipping at this time.
Conclusion
Dillards has long been a favorite for convenient one-stop shopping – but why limit yourself? Branch out and explore these 11 excellent stores like Dillards for killer deals on apparel, home decor, beauty products and more.
So whether you're looking to save some extra cash or discover your new favourite fashion and home finds, be sure to check out these 11 ompanies like Dillards for serious savings. With a little shopping around, you can painlessly transition to cheaper Dillards alternatives without sacrificing style or quality. Happy bargain hunting!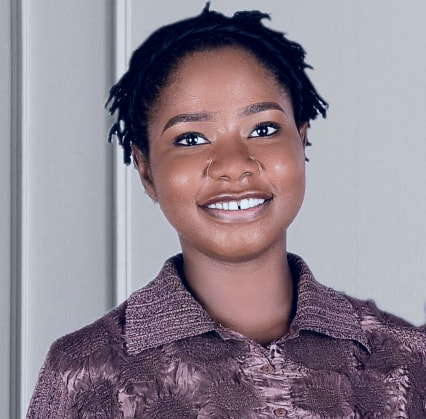 Blessing Bunmi is the founder and CEO of Blowra, the leading style guide providing insider fashion and shopping tips. With over 4 years of retail experience, She created Blowra to empower readers to confidently express their personal style.