Are you a fan of 5 Below and looking for similar stores where you can find incredible deals on fun products for just $1 to $5? You're in luck! There are lots of excellent discount stores like 5 Below that offer a wide variety of cool, trendy and useful items at incredibly low prices.
In this post, I'll share 14 of the best discount places like 5 Below where you can find amazing stuff for cheap. Whether you're looking for fashionable accessories, quirky home decor, party supplies, or unique gift ideas, these bargain stores have you covered. Keep reading to discover new favorite places to shop on a budget!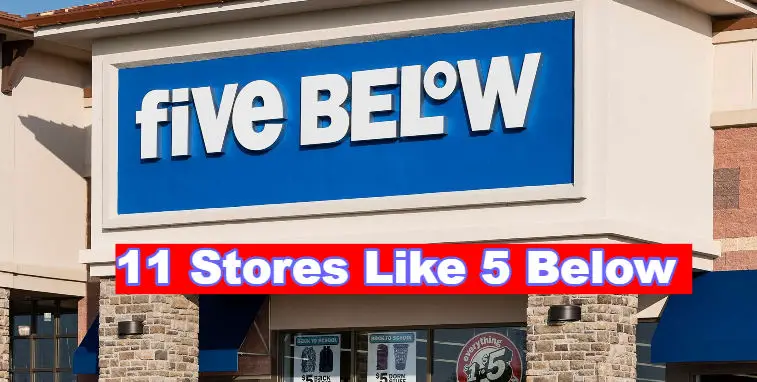 14 Best Discount Store Similar to 5 Below
Read on for the key details on each retailer along with their top perks so you can start saving today!

With over 8,000 locations across the U.S., Family Dollar is one of the largest places like five below. They offer a wide range of discounted merchandise including cleaning supplies, food, beauty products, toys, household goods, apparel, and seasonal items.
While they don't strictly stick to the $1 price point, almost everything in the store is under $10 so you can easily stock up on bargains. It also frequently runs promotions like "5 Days of Deals" with extra discounts on select items.
Key Perks:
Huge assortment of name brand and private label deals
Weekly ad with discounts and coupons
Special sales like 10 for $10 on food items
Accepts manufacturer coupons

Despite the name, deals at Big Lots are anything but big. Known for their tagline "Brand names, closeout prices," this discount retailer sells brand name merchandise at up to 40-50% off retail prices. From furniture and home décor to toys, pet supplies, beauty, clothing, and food, they have over 1,400 stores carrying an always-changing selection of hot deals.
It is similar to an outlet store, buying customer returns, overstocks, and discontinued products from major brands and manufacturers and passing on the steep discounts. You can easily furnish an entire room or stock the pantry for under $100 at Big Lots.
Key Perks:
Brand name closeout deals up to 50% off
$1 Dollar Days sales on select items
Frequent coupons, Early Bird Specials, and Saturday Morning Specials
Robust toy selection perfect for stocking stuffers
Accepts competitor coupons

With over 40,000 affordable products available online, Oriental Trading is a top source for party supplies, favors, crafts, toys, décor and more at budget prices. They offer everyday prices up to 40% off other retailers along with tons of sales, promos and free shipping offers.
It is a leading destination for party planning on a dime. You can pick up everything from balloons and piñatas to costumes and favors for just a few bucks each. They also have an entire section dedicated to crafts and activities for kids that cost $1-$3.
Key Perks:
Massive $1 party supply selection
Dollar Deals section with over 100 items at $1 or less
Free shipping frequently offered
Bulk pricing for large orders
Fun educational STEM and crafts for kids
If you're looking to save big on grocery essentials, head to your nearest Save A Lot. With over 1,300 locations across 36 states, this discount grocer provides bare-bones shopping on an affordable budget.
While selection is limited compared to regular supermarkets, it excels at the basics from fresh produce and meat to dairy, frozen foods, pantry staples and household necessities. Almost every food item is the store brand, enabling Save A Lot to offer prices up to 40% less than national chains.
Key Perks:
Produce prices up to 28% cheaper than competitors
Average savings of $36 per shopping trip
Additional coupons and weekly promotions
Accepts EBT and WIC
Lean inventory model keeps costs low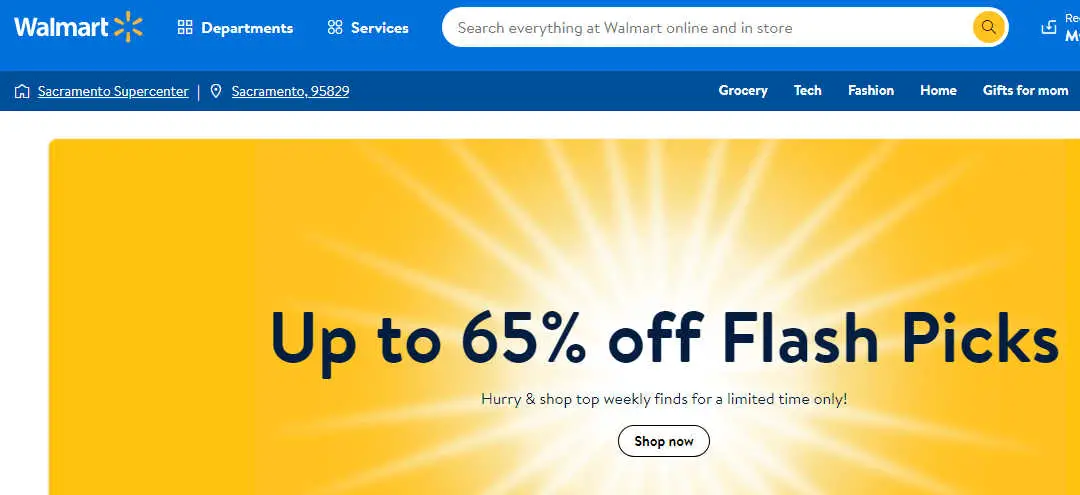 You can't talk about discount stores like 5 Below without mentioning Walmart. This retail giant built its empire on everyday low prices across virtually every category. Groceries, clothes, home goods, electronics, toys, beauty, and more are all available for less at Walmart.
In addition to price matching and being open 24/7, it has an entire section online for their Buy & Save Deals where you can score household items for $5 and under. They also offer free two-day shipping with no membership fee, a major perk over Amazon.
Key Perks:
Massive selection of affordable groceries and household items
Buy & Save Deals on home, beauty, toys, etc. under $5
Free curbside pickup and two-day shipping
Price matching guarantee
Open 24 hours for convenient shopping

Boasting over 100 million users worldwide, Wish has become a leading online destination for jaw-dropping deals on just about everything. This app and website partners with Chinese merchants and wholesalers to offer rock-bottom prices across apparel, electronics, home goods, beauty, and more.
While shipping times can be long given the items ship directly from China, it's worth the wait when you can buy phone cases for $1, leggings for $3-5, and fun gadgets for just a few bucks. It also frequently offers storewide discounts like 50-90% off sales.
Key Perks:
Prices up to 90% off retail
Huge selection of impulse buys under $5
Built-in coupon finder and daily promo codes
Fun discoveries tailored to your interests
Brand name overstock and clearance deals
Founded by YouTube beauty influencer Michele Phan, Miss A specializes in stylish beauty buys at just $1 each from skincare to makeup to tools and accessories. Stock up on eyelashes, sheet masks, brushes, nail polish, hair accessories, and much more without breaking the bank.
Beyond beauty, this online store like 5 below also carries an affordable range of jewelry, stationery, socks, cell phone accessories, dorm room essentials, gifts, and more. You'll be shocked at the quality given everything in the store is only $1.
Key Perks:
Huge makeup and beauty selection for $1 each
Trendy accessories and dorm room décor
New items added daily
Free shipping on $35+ orders
Satisfaction guaranteed
As the name implies, every single item at 5 Dollar Fashion costs just $5, from apparel to shoes to accessories and home goods. They operate over 100 stores across the southern and western U.S. stocking affordable seasonal fashion and basics for the whole family.
Similar to a cross between a clothing store and a dollar store, you can find wardrobe essentials like graphic tees, leggings, scarves, and flip flops starting at $5 alongside home decor, toys, pet items, health and beauty, party supplies, and more. You can try them as online sites like five below, to for new discount.
Key Perks:
Name brand and off-brand clothes and shoes all $5
Trendy accessories like sunglasses and handbags
Useful home items including kitchen gadgets and bathroom accessories
New inventory arrives weekly
Items ship for free on orders $25+
Formerly known as Everything For A Dollar, Dollar Days has 25+ locations across the central U.S. They are selling a variety of discounted goods covering home decor, party supplies, kitchenware, electronics, beauty, pet supplies, and seasonal items.
As the name implies, everything in the store costs just $1, making it easy to stock up without spending much. They get new inventory shipments 6 days a week so there's always something new to discover. You can also shop online and get free shipping on orders $25+.
Key Perks:
All items in-store are $1
Party supplies, crafts, and decorations
New arrivals multiple times a week
Online shopping with free shipping
Open 7 days a week
No list of discount stores similar to 5 Below would be complete without Dollar Tree, the most ubiquitous chain with over 16,000 locations worldwide. True to their name, everything in here is just $1, whether you're shopping in-store or online.
This similar brand has expanded their assortment well beyond party supplies and knickknacks. You'll now find pantry staples, frozen foods, personal care, home cleaning solutions, paper goods, toys, seasonal, and more. While selection is hit-or-miss, it's worth stopping in regularly to find amazing deals.
Key Perks:
True dollar store with all items at $1
Name brand overstocks like Dove, Pringles, L'Oreal, etc.
Extensive craft and party supplies
Seasonal items and holiday décor
Open 7 days a week for convenience
Houston-area chain Dollar Fanatics lives up to their name with 30+ locations packed wall-to-wall with incredible bargains on household essentials, décor, crafts, party supplies, toys, beauty products, gift items, and so much more.
Almost everything in the store is just $1, but they do have price points up to $10 for select merchandise including furniture, storage solutions, apparel, and more substantial kitchen wares. The inventory shifts quickly, so frequent trips are a must for scoring the best deals. You can also shop online.
Key Perks:
Family-owned Texas chain rapidly expanding
Deep assortment of crafts, party supplies, home goods, etc.
New shipments arrive daily
Online shopping available
Select items up to $10
Dollar Shave Club takes bargain personal care products to the next level. This subscription service is best known for their razors starting at $1 but also offers affordable oral care, skin care, hair care, and bath products.
Choose a monthly delivery schedule and Dollar Shave Club will automatically ship your discounted shave supplies, toothpaste, moisturizer, body wash, shampoo, and more. Subscriptions start at just $1 for their 2-blade razor and range up to $9 for a 6-blade executive razor.
Key Perks:
Razors, blades, and shaving supplies from $1/month
Toothbrushes and toothpaste only $1/month
Skin care, hair care, bath items all under $10
Customizable subscriptions
Cancel or skip months anytime
With over 18,000 stores in 47 states, Dollar General continues to grow by offering deep discounts on everyday basics and essentials. Food, cleaning supplies, paper products, home needs, clothing, home décor, seasonal items, and more are all available for less.
Selection focuses on private label brands enabling them to control the low prices. While not everything is strictly a dollar, you can easily outfit your whole home for less or stock up the pantry on a budget at Dollar General.
Key Perks:
National chain with widespread store locations
Prices 20-40% less than drug and grocery stores
Name brand overstocks and private labels
Coupons, promotions, and Dollar General app deals
Open 7 days a week; many are 24 hours

For big time discounts on brand name clothing and accessories, Burlington is a top destination for bargain fashion. They purchase excess inventories from designers and retailers and pass the savings onto shoppers with deals up to 60% off other stores.
While not a dollar store, it offers deep discounts on apparel, footwear, beauty, pet supplies, small appliances, home décor, toys, and more. Frequent trips are recommended since inventory changes over rapidly. For the best selection, sign up for emails and shop new deliveries on Wednesdays.
Key Perks:
Brand name clothes, shoes, accessories marked down up to 60%
Trendy fashions and designer brands for less
New arrivals every Wednesday
Home goods, pet supplies, beauty deals
Coupons and promotions sent via email
Get Your Bargain Hunt On!
If you love hunting for bargains and treasures at Five Below, be sure to check out some of these other excellent stores where you can find incredibly affordable products in just about any category you can think of. These discount stores like 5 below make it easy to shop on a budget.
With new arrivals hitting the shelves every week, you'll always have an excuse to pop in and see what surprises await in the aisles. Let us know your thoughts if you try out any new cheap shopping spots from this list! Happy bargain hunting!
Frequently Asked Questions
What kind of items can you find for $5 and under?
At stores like 5 Below and competitors, you can easily find deals under $5 on party supplies, crafts and activities, beauty products, accessories, toys, books, home décor, school supplies, snacks, and more. Stocking stuffers, impulse buys, and little indulgences are perfect $5 or less picks.
Are the products lower quality since they are so cheap?
Not necessarily! Many dollar stores sell brand name overstocks, discontinued items, excess inventory, and previous seasons' products purchased at a discount so they can pass on the savings. You can find genuine brand name items at these bargain retailers.
How often does the inventory change?
Inventory at dollar stores and discount chains tends to change frequently. Most get new shipments daily or weekly to restock clearance merchandise and seasonal goods. Popular items sell out quickly, so make frequent trips to find the best deals.
Is everything at Dollar Tree actually $1?
Yes! Dollar Tree lives up to its name with every single item in the store costing just $1. No need to read price tags when shopping at Dollar Tree. Everything from home goods and school supplies to groceries and decorations is available for a buck.
Can you return items or get refunds?
Dollar store return policies vary by retailer. Some offer hassle-free returns within 30 days with a receipt, while others only allow returns for defective/damaged merchandise. Know the return policy for price adjustments, receipts, timeframes, and conditions before purchasing.
Are dollar stores cheaper than Walmart or Target?
For some items, yes! Extensive private label products enable chains like Dollar General and Family Dollar to offer steeper discounts than even big box giants. However, Walmart and Target may beat dollar stores for higher ticket items with specialty features.
How do dollar stores offer such low prices?
By focusing on private labels, buying overstock inventory at huge discounts, minimizing operating costs, keeping store layouts simple, and purchasing directly from manufacturers in bulk, dollar stores can pass on dramatic savings to customers.
Is it safe to buy beauty products or medicine?
Beauty products are generally fine if they don't irritate your skin. When buying OTC medicines, always check expiration dates and seals for safety. Certain health and beauty items like sunscreen or vitamins may be better purchased at regular pharmacies or grocery stores.