Hollister is a popular clothing brand known for its casual, laidback California style. It caters to teenagers and young adults with its surf-inspired clothing. However, with high price points and limited sizing options, many shoppers look for affordable brands similar to Hollister's signature aesthetic and trends.
Luckily there are plenty of clothing Hollister alternative brands and stores that offer similar styles at different price points. Whether you're looking for casual everyday wear, cute dresses, swimsuits, athletic apparel or more, these Hollister competitor stores have you covered.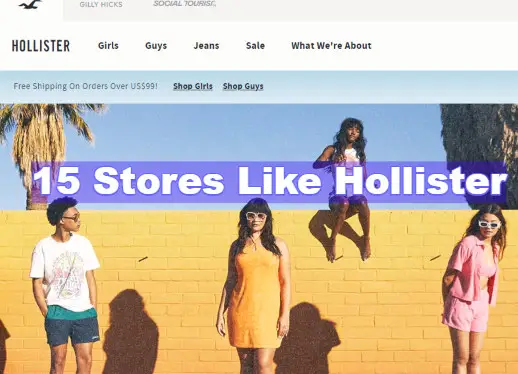 15 Best Hollister Alternatives For Clothing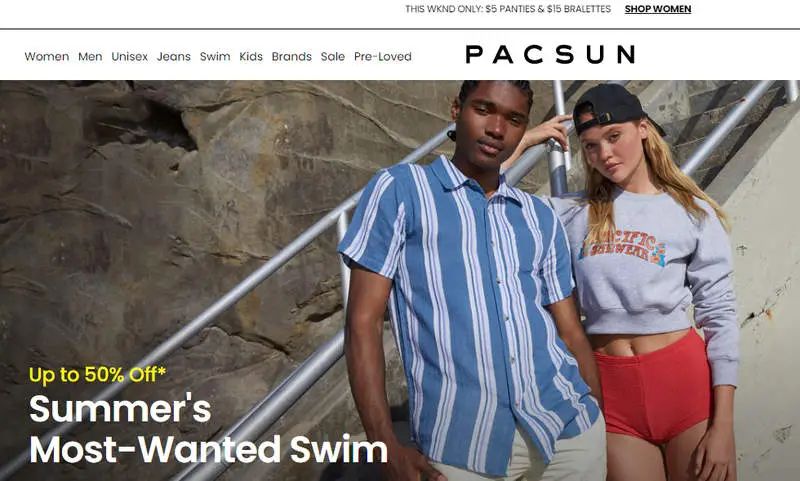 PacSun brings together the latest indie and action sports inspired fashion for an edgy California vibe much like Hollister's. With over 600 stores across America and an easy to navigate website, they makes shopping its mix of branded and boutique styles convenient.
It is known for its surf, skate, snow, and street style clothing, shoes and accessories. From swimwear to denim, customers can always find new arrivals of apparel and footwear brands like Vans, Adidas, and Volcom.
It offers an extensive selection of graphic t-shirts, joggers, board shorts and more for both guys and girls.
With frequent sales and promo codes available, it provides an affordable alternative to Hollister for staying on trend.
Key Benefits
Huge assortment of casual California-style apparel
Trendy and affordable mix of major brands and indie labels
Free shipping on orders over $50 and free returns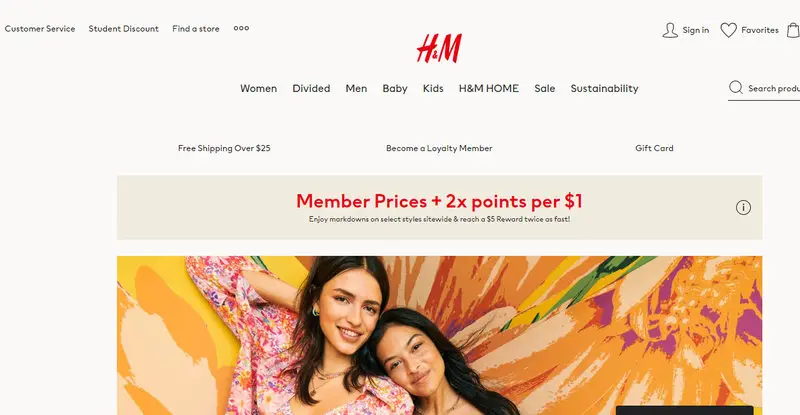 If you're looking for inexpensive, fashionable clothing, check out H&M. This Swedish fast fashion chain provides the latest trendy styles for men, women, teens, and kids.
Their stores are organized into divided sections like Divided for teens and young adults. The clothes have an edgy, modern aesthetic with lots of ripped details, logo prints and slouchy staples. It also sells cute basics, stylish dresses, swimwear, shoes, accessories and more to mix and match.
Why Shop Here
Runway-inspired looks and collabs with major designers
Sustainable practices and eco-friendly clothing options
Trendy pieces for the whole family at budget-friendly prices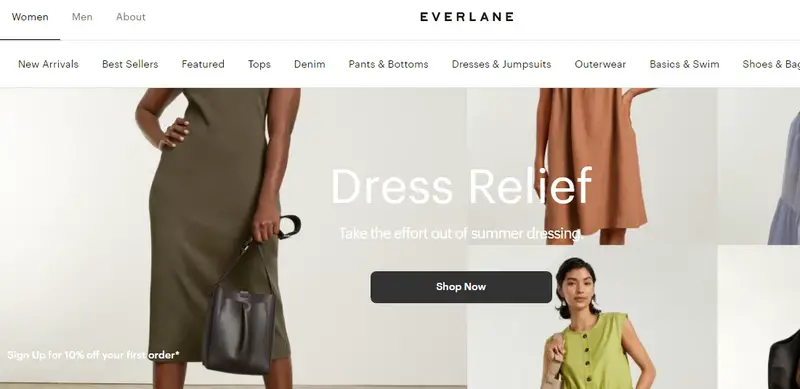 Based in San Francisco, Everlane is one of the e-commerce brand that bring luxury essentials directly to consumers. Known for its minimalist and timeless aesthetic, it elevates staples like t-shirts, denim and outerwear.
Focusing on quality over quantity, their ethical production standards and transparent pricing have made it a hit with socially-conscious shoppers.
Customers can even see breakdowns on the company's website detailing manufacturing costs.
For a more elevated take on Hollister's laidback fashion, this is the perfect alternative. Shoppers can find closet essentials like cashmere sweaters, everyday tees and jeans in clean, modern silhouettes.
Key Perks
Ethical manufacturing and radical transparency
Elevated basics and minimalist style
Free returns and exchanges on all orders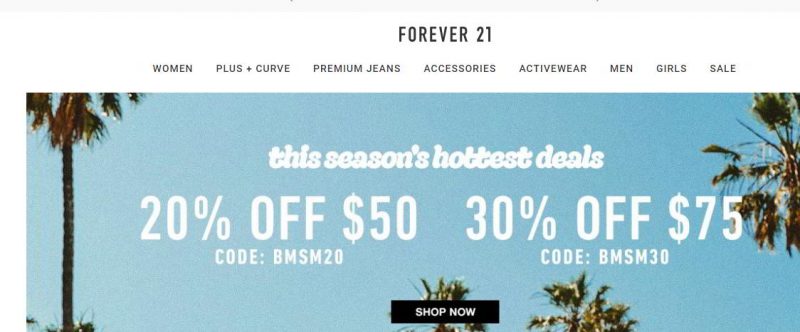 Forever 21 is a popular fast fashion destination for trendy clothes at low prices. It offers an extensive range of stylish pieces for casual everyday wear.
This retailer sells fashion-forward tops, dresses, bottoms, jackets and more for women, men and plus sizes. Expect to see lots of bold prints, edgy details like lace-up accents and ripped knees, logo graphics and slouchy tees. Most items cost under $50, so you can frequently refresh your wardrobe.
Why Shop Here
New arrivals updated daily for the latest trends
Super affordable pricing on own branded apparel and accessories
Styles inspired by LA fashion perfect for teens and young women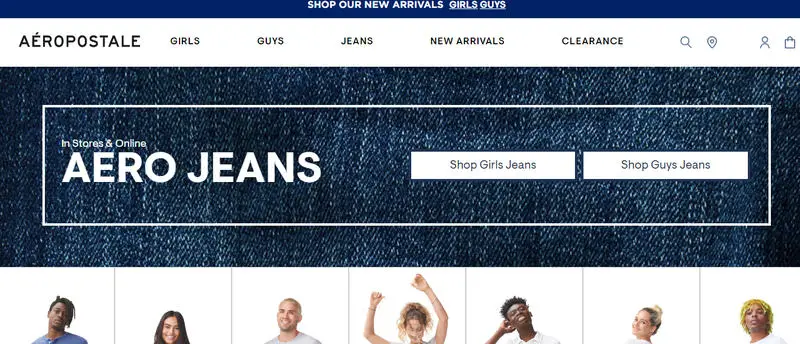 Aeropostale brings classic American style to teens and young adults across the country. Focusing on casual fashion and apparel for school, weekends and everything in between, the brand offers polished basics with a playful twist.
Known for its sweatshirts, tees, jeans and joggers, their outfits are perfect for a laidback vibe. The brand also offers trendy dresses, outerwear and loungewear so you can easily build a full head-to-toe look.
For Hollister shoppers wanting nostalgic styles, this similar brand delivers. With staple pieces focused on lasting quality and comfort, the brand provides an affordable alternative for casual American fashion.
Key Benefits
Classic American styles perfect for school and weekends
Staple basics and wardrobe essentials for a laidback look
Regular sales offering discounted prices on apparel

Owned by the same company as Zara, Pull & Bear brings a youthful, laidback vibe with its clothes for guys and girls. This high street brand is originally from Spain but has expanded worldwide.
This alternative store sells casual wardrobe staples along with edgy, rock and roll-inspired pieces. Its stores are organized similarly to Hollister with divided sections.
Expect printed tees, destroyed denim, minimalist dresses, slouchy shirts, cool outerwear and more. Most items cost $20-50.
Key Perks:
Global styles with new collections each month
Affordable prices to try bolder looks and fashion trends
Free returns within 30 days of purchase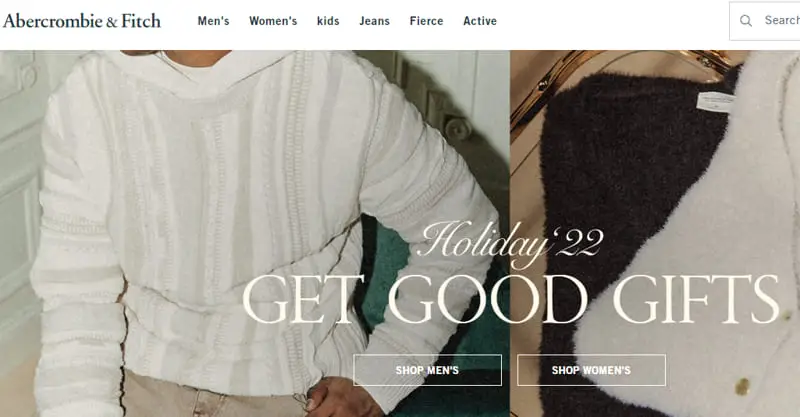 Abercrombie captures the quintessential American casual style with a preppy East Coast vibe. You can discover clothing staples like jeans, khakis, button-downs, tees, dresses, shorts and more. It also offers wardrobe must-haves for school, weekends and hanging out.
You'll recognize A&F's signature logo on many garments. Prices align with other premium mall brands.
It operates around 300 locations across the Americas, Europe, and Asia. The company sells online internationally with new U.S. arrivals shipping free. It also runs frequent sitewide sales, so you can often save 25% or more.
Why People Choose Them:
Classic American casualwear and wardrobe staples
Iconic A&F logo featured on many garments
300+ stores globally plus online ordering/delivery
Regular sales with 25%+ sitewide discounts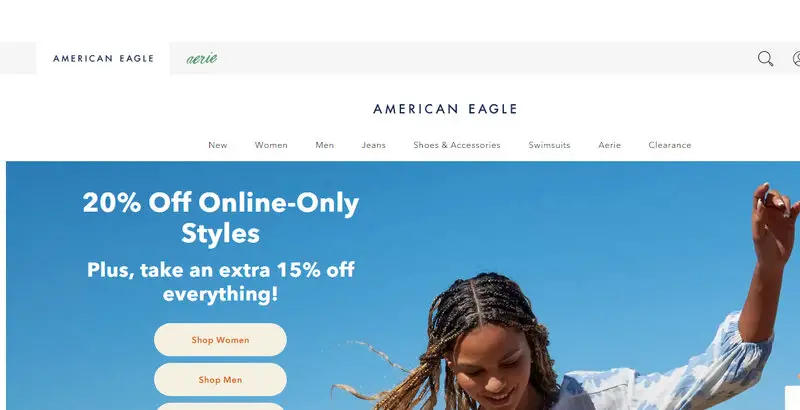 Similar to Hollister brand, American Eagle is a popular mall brand selling casual American style clothing for teens and young adults. Its clothes have a sporty, relaxed aesthetic with lots of soft fabrics.
The clothing company offers a wide selection of jeans, tops, sweaters, swimsuits and activewear for affordable prices. You will come across their fleece, terry, sherpa and knit fabrics along with lived-in washes.
Their signature AE jeans come in curvy, slim and loose fits to flatter different bodies. Customers can shop online or in stores to find quality wardrobe staples, plus new arrivals in casual fashion trends.
Key Advantages:
Huge selection of American fashion basics and denim
Quality fabrics and construction for durability
Affordable prices and consistent sales and discounts


Specializing in action sports inspired fashion, Tillys offers edgier casual wear with major street cred. The clothing company brings skate, surf, and festival fashions to a national audience online and in over 200 stores.
The store features all the top brands in the action sports world like Vans, Volcom and Zumiez so you can get an authentic laidback SoCal vibe.
For shoppers who enjoy Hollister's casual selections a little too preppy, check out this similar store.
Key Perks:
Major surf, skate and music festival inspired styles
Top action sports brands and indie labels
Free shipping on orders $49+ and easy returns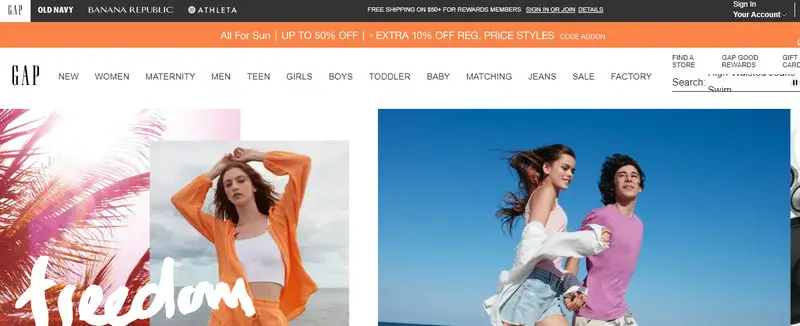 For casual wardrobe essentials, GAP is a go-to choice. This mall staple offers timeless closet basics along with trendy seasonal pieces.
As similar clothing brands, they sells denim, khakis, t-shirts, button-downs, sweaters, sweatshirts and more in a range of colors and prints.
The versatile clothes work for casual school, weekend and work outfits. Expect a mix of wardrobe basics along with on-trend tops, bottoms and jackets. Prices are affordable, especially with frequent 40% off sales.
Why Shop Here:
Iconic American basics and denim for the whole family
Investment pieces featuring great fabrics and construction
Sitewide sales offering 40% off or more on apparel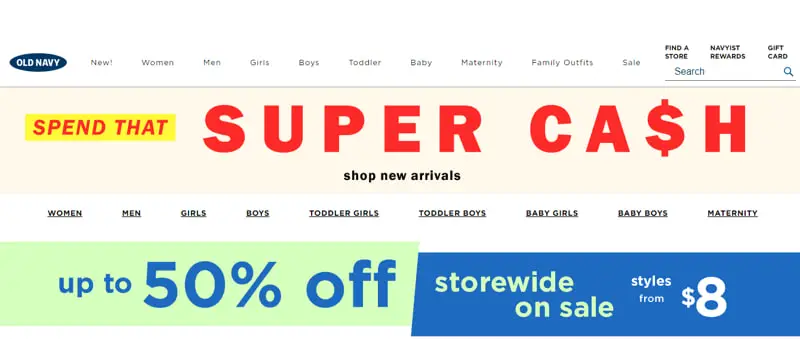 Owned by GAP Inc., Old Navy brings current fashion essentials to shoppers on a budget. Focusing on denim, tees, classics and trendier seasonal pieces, it outfits the entire family affordably.
With clothing sized from toddler to adult, it makes dressing laidback looks simple. You will find the season's top colors, prints and styles adapted for the whole family at accessible price points. The brand also offers clothing in extended sizes not readily available at Hollister.
Key Advantages
Budget-friendly prices on family apparel and basics
Extended sizes available for better fit and inclusivity
Easy browsing by category and seasonal fashion online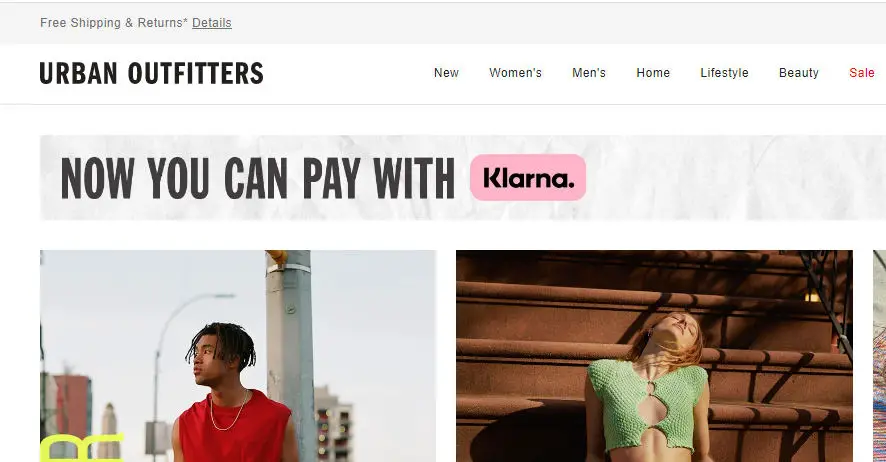 For trendy, edgy styles, Urban Outfitters is among the top stores to consider on this list. This bohemian-inspired retailer sells an eclectic mix of apparel along with home goods, beauty and more.
They offers unique women's and men's clothes from boutique brands rarely found elsewhere. They have laidback tops, graphic tees, destroyed denim, mini dresses, trousers, outerwear and shoes. Pieces tend to feature quirky prints, retro elements, whimsy details and rich textures.
Key Perks:
Constant rotation of indie brands and emerging designers
Curated finds celebrating personal style and creativity
Free shipping on all orders over $50, easy returns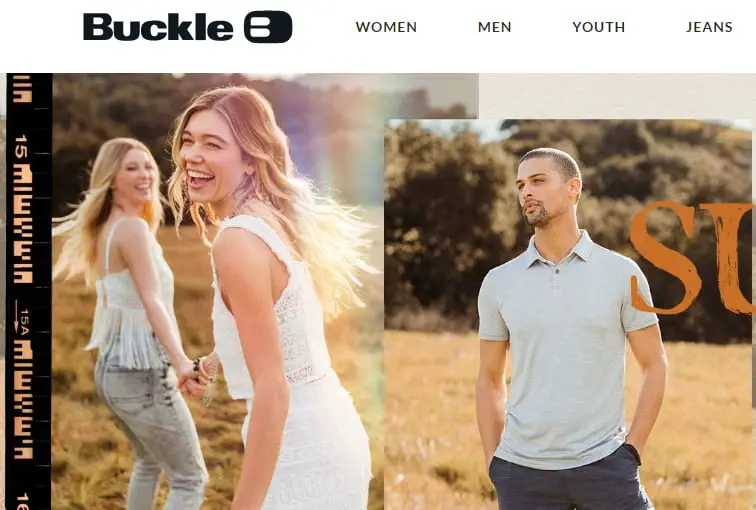 Specializing in denim, Buckle brings fashion-forward casual wear to teens and young adults across America.
It is known for its wide selection of denim fits, washes and styles from brands like Big Star, Rock Revival and Miss Me. To complete your laidback looks, the brand also offers tees, tops, dresses and accessories with a flirty edge.
Offering trendier denim and apparel than Hollister, this similar store makes shopping premium denim affordable. For casual Western inspired looks and feminine details, check out their selection of jeans, shorts and tees.
Why Shop Here:
Massive denim selection with top brands and custom washes
Western details and embroidery for a flirty casual vibe
Loyalty program offering points with purchase towards rewards
Wildfox provides super soft, slouchy staples with a laidback vibe. This LA-based brand creates dreamy pieces inspired by beaches, bonfires and good vibes.
They sells fleece tops, pullovers, tees, sweats, shorts and loungewear featuring whimsical graphics and phrases. The clothes are pre-washed for an extra soft feel to keep you comfy. Expect to see lots of pastels, vintage-inspired details, flower embroidery and discretely placed logos.
Key Perks:
Made in LA from premium fabrics and materials
Super soft tees, sets, and loungewear
Free returns within 30 days of purchase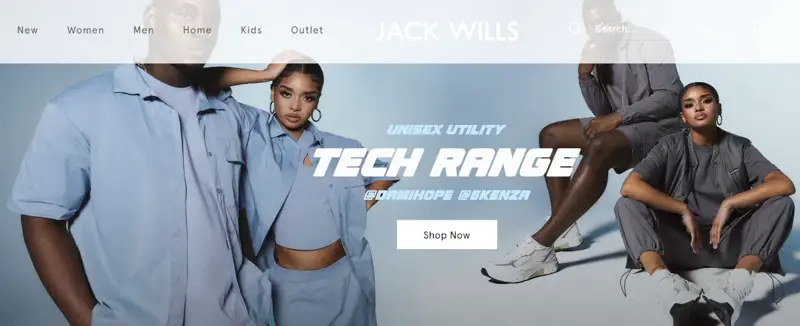 Jack Wills brings British-inspired casualwear and athleisure stateside. They have laidback staples like hoodies, sweatpants, tees, button-downs, pullovers, dresses and more. It offers unfussy wardrobe essentials for school, weekends and travel.
The target audience includes teens, college students and young professionals seeking classically casual styles.Their outfits make great grab-and-go options for busy, active lifestyles. While prices run above fast fashion, frequent sales let you snag deals.
So try out this Hollister competitor for unfussy preppy looks with the convenience of online shopping and delivery.
Key Benefits
Preppy casual essentials with British university inspiration
Athletic, sporty detailing on apparel and loungewear
Sitewide sales up to 70% off apparel and accessories
Conclusion
Expanding beyond your go-to label opens up new fashion possibilities. Instead of limiting yourself to just one retailer, take time to explore similar stores like Hollister with casual vibes and cool styles. You may discover the perfect pair of jeans, trendy tops or cozy loungewear somewhere new.
Take your time to explore the above Hollister competitors and see which alternatives really appeal to your tastes. Pay attention to the target demographics, pricing, quality and popular items that each brand offers. When you branch out, mixing and matching pieces from your fresh finds will feel fun and exciting.
The bottom line is don't get stuck buying from only one place. Widening your horizons leads to awesome new clothing discoveries. And taking advantage of sales, deals and free shipping makes building an amazing wardrobe a breeze. Go beyond your old staples and find fresh style – happy affordable shopping!
FAQs About Hollister
What age group does Hollister target?
Hollister mainly targets teenagers and young college-aged adults from ages 14 to 24. The brand creates casual clothing designed to appeal to high school and college students.
What clothing does Hollister sell?
Hollister sells casual fashions like jeans, skirts, tops, jackets, sweaters, outerwear, dresses, swimwear, shirts, shorts, and accessories. Pieces reflect a laidback SoCal vibe.
Does Hollister run small or large?
Hollister is known to run slightly smaller in sizes compared to other brands. It's best to try pieces on in store or order a size up when shopping online if you are between sizes.
Is Hollister affordable or expensive?
Hollister's price points fall into what's considered the middle bracket between budget fast fashion and designer brands. While not the cheapest clothing, Hollister runs sales frequently to make styles more affordable.
Does Hollister offer free shipping?
Yes, Hollister offers free standard shipping on all U.S. orders over $50. Expedited and international shipping rates apply below the minimum.
Can I return Hollister purchases?
Yes, Hollister offers free returns within 30 days by mail or at stores. Refunds are issued to the original form of payment once items are returned.
Does Hollister have sales or discounts I can use?
Hollister frequently hosts sitewide sales, category discounts like 20% off jeans, and other promos shoppers can take advantage of online or in stores. Signing up for emails provides access to exclusive offers.