Looking for sustainable and ethical clothing stores similar to prAna? When it comes to quality, eco-friendly yoga, hiking and outdoor gear, prAna is a popular choice. But there are many other excellent brands offering stylish, durable apparel made from recycled, organic materials and using responsible manufacturing.
In this guide, we cover 14 of the best sustainable clothing companies that can serve as solid prAna alternatives. Whether you need versatile travel clothes, weatherproof hiking gear, warm layers or workout wear, these ethical brands like prAna have you covered.
They combine performance with sustainability to create apparel you can both adventure and relax in, all while feeling good about where it came from.
They ship quality, eco-conscious designs right to your door so you can explore nature, break a sweat and walk city streets in conscience-free comfort.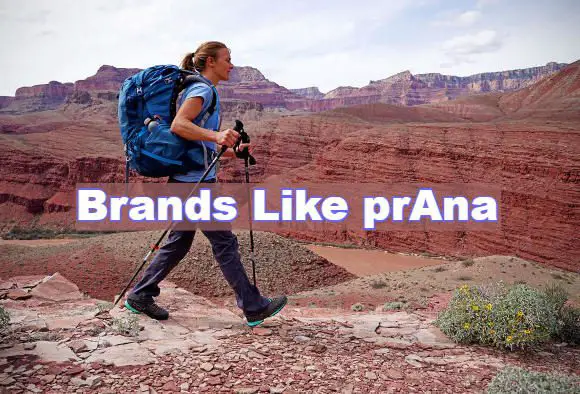 14 Best Clothing Brands Similar To prAna For Yoga, Hiking, & More

Manduka is an eco-friendly brand that makes high-performance yoga mats, towels, bags, and apparel. They use quality sustainable materials like organic cotton, natural tree rubber, and recycled plastic bottles. Their products suit various types of yoga, Pilates, and fitness.
They offers free shipping and returns in the US. They also plant a tree for every online order received. Their ethically made yoga mats, towels and attire are hugely popular. People love them for their superior quality, sustainability, and durability.
With inclusive sizing, distinctive prints and designs, and clothes built to move and breathe in, Manduka is a great prAna alternative.
Key Benefits:
Sustainable materials and manufacturing
Stylish, functional yogawear
Variety of tops, bottoms, layers
Organic cotton and recycled fabrics
Travel-friendly, stretchy styles

Toad&Co emphasizes nature-friendly fabrics and ethical production. This Prana similar brand are known for their sustainable casual clothing suitable for travel, hiking, and everyday wear. Most of their apparel uses organic cotton, hemp, TENCEL, recycled materials and low-impact dyes.
Toad&Co provides free carbon neutral shipping in the US. They aim for minimal environmental impact across their supply chain. While ensuring workers are paid and treated fairly. If you love both style and sustainability, Toad&Co is worth exploring.
Key Benefits:
Sustainable materials and processes
Relaxed, comfortable fits
Organic cotton, hemp, recycled polyester
Extended sizing options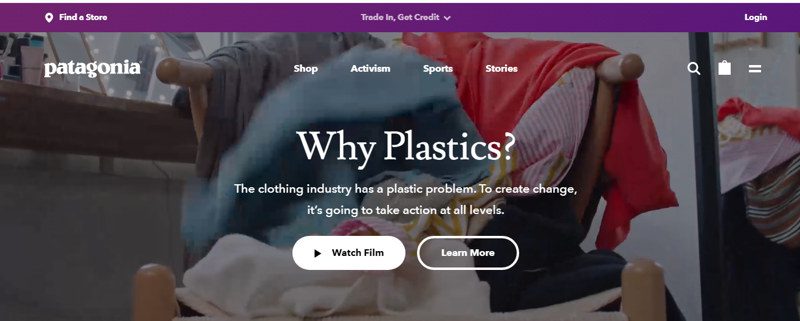 Patagonia is a hugely popular outdoor brand recognized for its environmental activism. They make high quality apparel and gear for climbing, skiing, snowboarding, surfing, fly fishing and trail running.
Patagonia sources sustainable fabrics like hemp, organic cotton and recycled polyester to make durable and versatile outdoor garb. They offer free repairs which makes their products worth the premium price. Patagonia also donates 1% of sales to environmental groups. Choose them for quality gear and efforts to protect nature.
Key Benefits:
Premium sustainable outdoor apparel
Ethical and eco-friendly business practices
Quality assurance with repairs and warranty
Environmental activism

Marmot offers sustainable performance wear for climbing, hiking, camping, snow sports and more. They use recycled and eco-friendly fabrics like hemp, organic cotton, and polyester. Marmot aims to responsibly source down and wool too.
Marmot's athletic outdoor apparel keeps you warm, dry and comfortable in the harshest conditions. They offer a lifetime guarantee against defects in materials and workmanship. Marmot also gives back via their charity partnership with The Conservation Alliance.
Key Benefits:
Sustainable and durable outdoor wear
High performance apparel for outdoor activities
Lifetime guarantee on materials and workmanship
Environmental giving via charity partners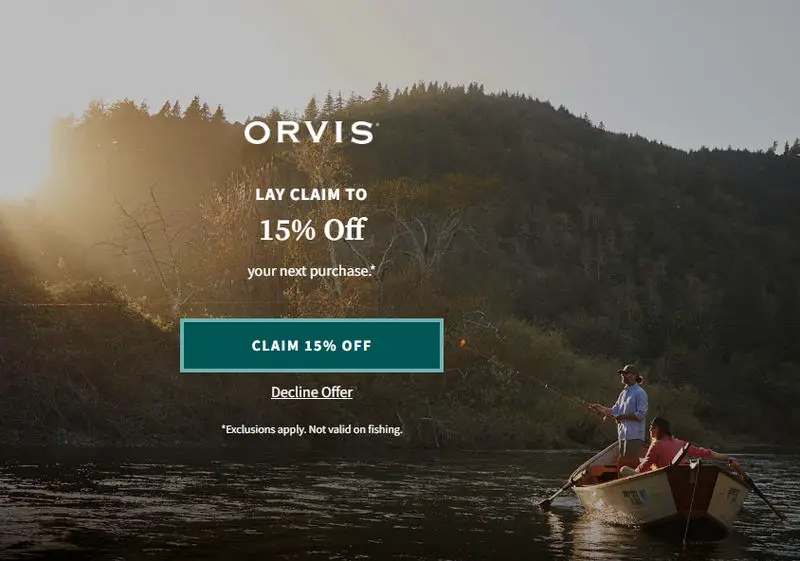 This heritage brand offers fishing, hunting and outdoor gear with sustainability in mind. Orvis utilizes recycled fabrics and humanely sourced down and leather. They aim to protect nature as customers explore the great outdoors.
Orvis has a range of field clothing, hiking apparel, and swimwear made from organic cotton, recycled polyester, and other environmentally preferred materials. They also connect customers to restoration projects that rebuild damaged ecosystems.
The extensive collection includes flannels, sweaters, vests, jackets, shirts, pants and accessories.
Key Benefits:
Classic, versatile outdoor style
Organic, recycled, responsibly sourced materials
Great for hiking, cool-weather activities
Travel-ready, durable clothing
Iconic field coats and barn jackets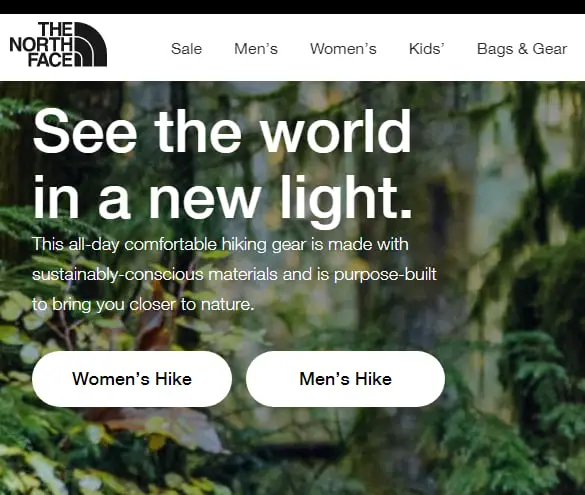 The North Face is a popular outdoor brand producing quality apparel, footwear and equipment. Though not exclusively sustainable. Since they use some eco-conscious materials like recycled polyester and down.
The North Face offers gear for hiking, trail running, climbing, camping and snow sports. They rate product sustainability to help costumers make informed choices. They also supports environmental non-profits protecting natural playgrounds.
They are offerings include waterproof, breathable jackets, fleece pullovers, and much more. With quality construction and versatility from trailhead to town, The North Face is a go-to for durable adventure apparel.
Key Benefits:
Innovative technology for outdoor performance
Waterproof, breathable, insulating
Extensive selection for all seasons
Recycled materials used
Durable, versatile style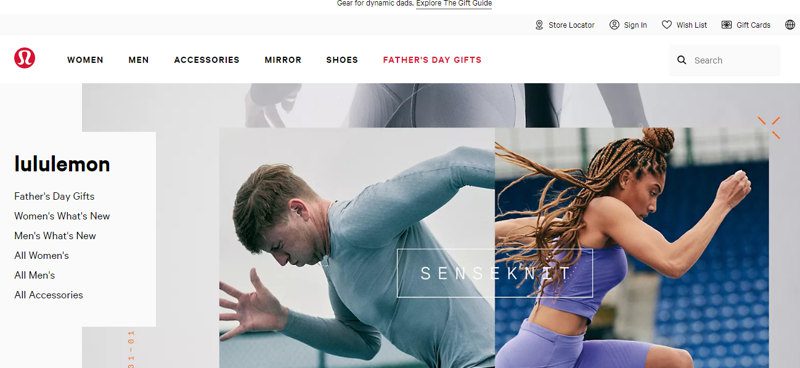 Lululemon makes premium athleticwear from sustainable fabrics, but is less explicit about ethical sourcing. Their yoga pants, tops, jackets and swimwear contain eco-friendly materials like recycled polyester, and more.
Customers love Lululemon for its technical fabrics that allow full mobility. Their clothes are stylish for both the gym and everyday wear. The company aims to move fully to renewable energy and sustainable materials to reduce environmental impact.
Made with innovative fabrics and thoughtful details, Lululemon clothes excel at moving with you.
Key Benefits:
High-quality, functional athleticwear
Flattering, fashionable style
Sustainably made workout clothes
Versatile tops, bottoms, layers
Contemporary, urban looks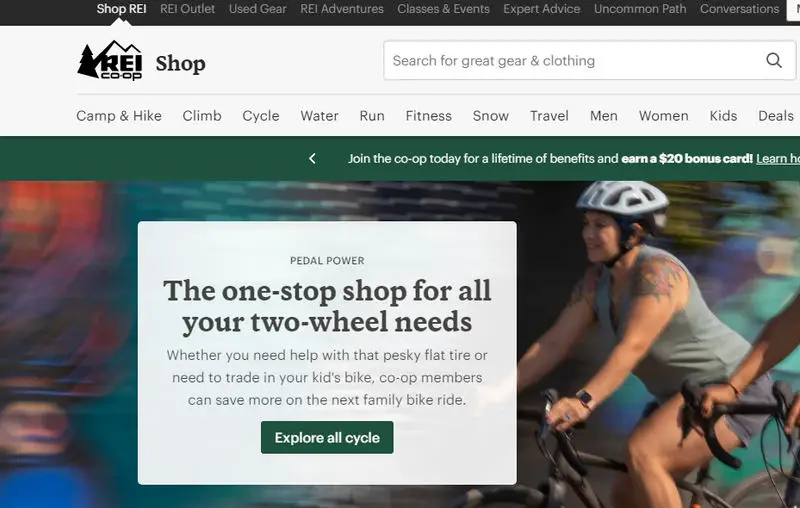 REI is the go-to outdoor co-op for quality gear, and its in-house apparel brand offers sustainable clothes. Also, their accessories are perfect for hiking, camping, snow sports and everyday life. REI designs functional, long-lasting styles using recycled, organic, and bluesign-approved materials.
As stores like Prana, you will see range of waterproof jackets to warm layers to casual shirts and pants. There are recycled polyester base layers, organic cotton tees and hoodies, and more. Great basics at reasonable prices make REI Co-op clothing a versatile choice.
Key Benefits:
Durable outdoor and casual styles
Affordable prices
Recycled, organic, bluesign fabrics
Waterproof and insulating outerwear
Tees, hoodies, layers, pants, shoes

Outdoor Research creates high-performance apparel and gear for hiking, climbing, skiing, and more. They utilize recycled and sustainable materials like repurposed wool, responsible down, and organic hemp.
Outdoor Research aims to build durable products that minimize harm to the environment. They engineer technical apparel to withstand tough alpine conditions. They offer a lifetime warranty and provides product care advice to lengthen gear lifespan.
The extensive line includes waterproof breathable jackets and bibs, insulated pieces, rugged bases and more. Their patented technologies and smart designs equip you for high-altitude trekking, winter sports, and more.
Key Benefits:
Technical, durable outdoor wear
Waterproof, breathable, insulating
Stretchy, weather-resistant fabrics
Helmets, gloves, gaiters, packs
Rugged materials and construction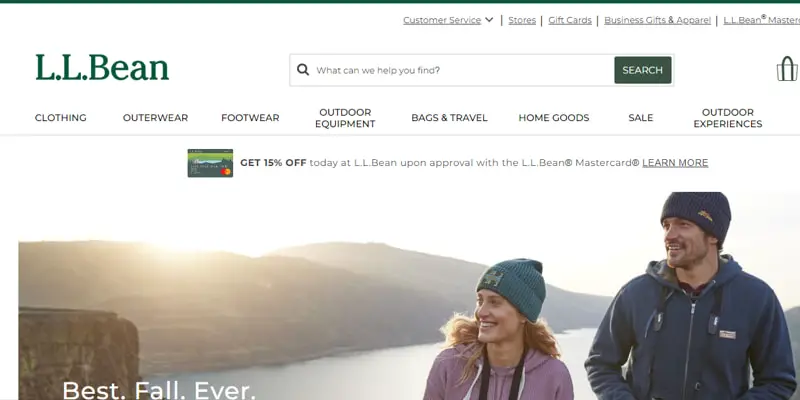 LL Bean has an extensive line of outdoor clothing and gear. While not exclusively sustainable as other brands like Prana. They incorporate recycled fabrics and responsibly sourced down into products like jackets, flannels and boots.
Their practical outdoor apparel keeps you warm and dry year-round. LL Bean offers free shipping, returns, and repairs to stand behind their products. Though not a budget brand, you pay for durable quality. Their commitment to sustainability is improving over time.
Key Benefits:
Timeless, classic outdoor style
Organic cotton, recycled synthetics
Affordable, long-lasting clothes
Versatile layers and casual staples
Beloved Bean Boots and pack boots

This LA-based brand is a leader in stylish, functional apparel for the studio and street. Alo Yoga incorporates high-tech, proprietary fabrics into its eco-friendly yoga-wear and activewear. Signature offerings like the Goddess legging and Airlift bra combine performance, comfort and on-trend style.
Beyond activewear, Alo Yoga offers sleek lifestyle apparel like moto jackets, hoodies, tops and pants crafted with sustainability in mind. With an urban athleisure aesthetic, the versatile clothes work from workout to weekend.
Key Benefits:
Trendy, functional yoga and activewear
Proprietary performance fabrics
Sleek tops, leggings, bras, layers
Moto jackets, bombers, hoodies
Modern, urban athleisure style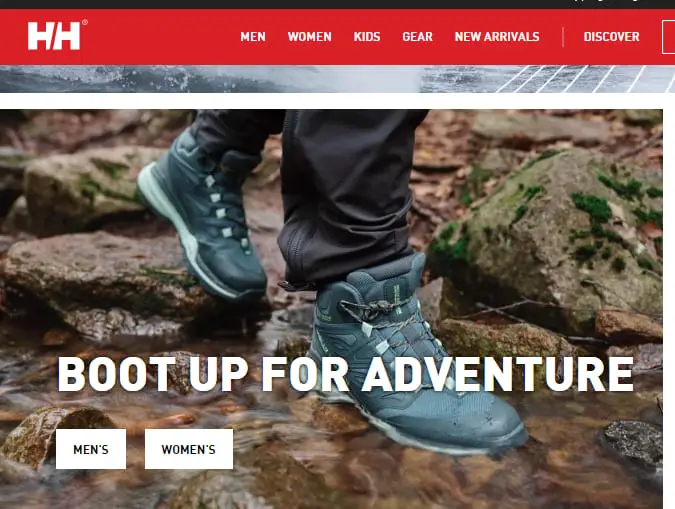 Helly Hansen creates technical outdoor and ski apparel utilizing solutions like recycled insulation and durable waterproof/breathable fabrics. They aim to incorporate more sustainable materials as technology advances.
This store similar to Prana focuses on high-performance rainwear, fleece, base layers, and ski gear to withstand harsh weather. They partner with organizations protecting oceans and mountain communities. They offer a limited lifetime warranty.
Key Benefits:
Weatherproof, protective outerwear
Durable waterproof/breathable fabric
Base layers, midlayers, footwear
Technical apparel proven effective
Rugged outdoor workwear heritage

Vuori makes eco-friendly workout clothes and loungewear from recycled and organic fabrics. Most of their joggers, tops, shorts and hoodies contain at least 50% sustainable materials.
As stores similar to Prana, they are gaining popularity for its super soft, durable athletic and casual wear. Prices are on the higher end but customers say Vuori clothes retain their quality. Expect a renewed focus on sustainable innovation from this brand.
Key Benefits:
Sustainable, technical fabrics
Stretchy joggers, shorts, shirts
Modern, minimalist aesthetic
Activewear crosses over to streetwear
Cool earth tones and prints

Hailing from the French Alps since 1947, Salomon creates performance-driven outdoor sports apparel. The brand's innovative technologies and designs help athletes and adventurers summit mountains, run trails and tackle all kinds of terrain. The clothes excel at moving with you.
Offerings span hiking, mountain sports, trail running, skiing and snowboarding. There are waterproof shells, insulated jackets, softshells, base layers, shorts, shirts and much more. While technical, many pieces also work great for everyday activities.
Key Benefits:
Innovative designs for outdoor adventure
Weather protection and insulation
Softshell jackets, stretchy layers
Alpine heritage since 1947
Blends performance with streetwear
Conclusion
prAna makes quality sustainable outdoor apparel. But many lesser-known brands like Prana that also offer great eco-conscious products for fitness, travel, and everyday wear. I hope this article provided some useful new brand suggestions that match prana's ethics and quality.
Do your research to find brands aligning with your values. Seek companies using recycled fabrics, organic cotton, safe chemicals, ethical sourcing and transparency. By supporting these labels, our clothing choices collectively influence how the industry operates.
When possible, buy less and choose well-made sustainable apparel that lasts. Repair, mend and care for your clothing to extend its lifespan. And buy secondhand when you can to further reduce fashion's footprint. By making informed purchases, we can build an ethical future for outdoor gear and activewear.
Frequently Asked Questions
What makes prana clothing sustainable?
Prana uses organic cotton, hemp, recycled polyester and other eco-friendly fabrics. They avoid harmful chemicals and aim for transparency in their supply chains. Prana also works to minimize water use, waste, and energy in production.
Are prana's products vegan?
While prana uses some animal-derived materials like leather and wool, they offer many vegan styles too. Look for pieces made with organic cotton, hemp, recycled polyester and nylon which contain no animal ingredients.
Where are prana clothes manufactured?
Prana works with factories around the world in places like China, Vietnam, Indonesia and Peru. They partner with facilities that meet their social and environmental standards.
Does prana use ethical down?
Prana aims to source down responsibly via suppliers with third-party certification for animal welfare. They avoid live-plucking and force-feeding. Prana audits supplier practices to ensure ethical standards.