As a fan of Monki's fun, trendy styles, I'm always on the lookout for other brands that have a similar vibe.
If you love their mix of basics and statement pieces but want to expand your wardrobe, here are 14 brands like Monki to shop for the latest fashion trends.

14 Trendy Clothing Stores & Brands Similar to Monki That You'll Love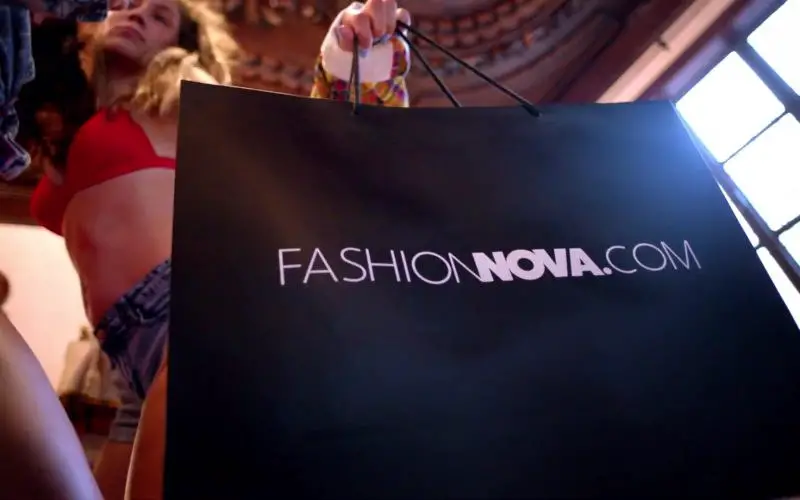 Fashion Nova is a fast fashion e-tailer beloved for its on-trend going out clothes. It provides exciting wardrobe updates for nights out and weekends.
The brand releases eye-catching new styles daily taking inspiration from IG influencers, celebrities and runway looks.
Curve-hugging jeans, bodysuits, and dresses dominate, styled for maximum sex appeal. The affordable prices and speedy delivery make refreshing your party wardrobe addictively easy.
Key Perks:
Affordable, sexy styles
Extended sizes up to 3X
Constant new arrivals
Hugs curves and celebrates the female form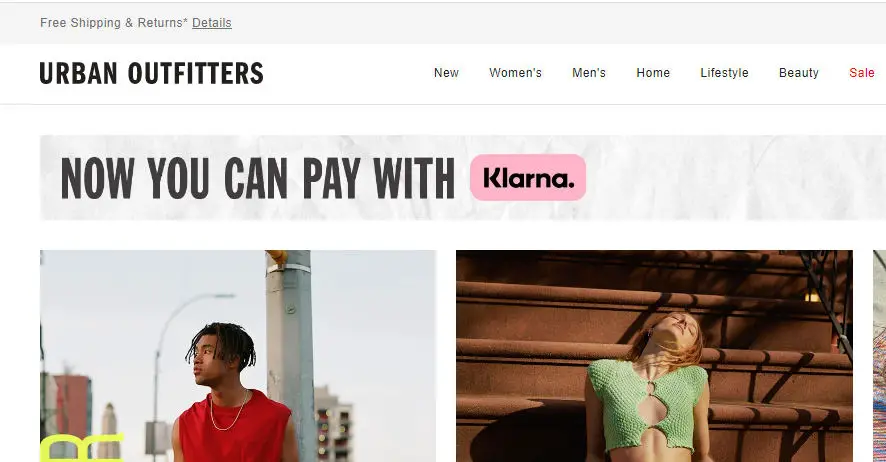 Urban Outfitters is an American retailer catering to hip millennials and Gen Z with indie and vintage inspired fashion. Known for their eclectic, cool vibe and affordable prices, it offers an alternative to mainstream mall brands.
It is popular for the wide selection of casual contemporary styles. Lots of boho dresses, graphic tees, denim and accessories. They also stock plenty of third party brands for variety. Prices are mid-range, making it an affordable option for the style.
Key Perks:
Large assortment of indie brands and styles
Vintage and boho inspired looks
Affordable pricing for the fashion-forward styles
Trendy, novel items perfect for layering and mixing

Studs is an online jewelry store based in Los Angeles offering affordable, dainty pieces with an edgy, indie vibe. The style is youthful, playful and retro-inspired.
They specialize in unique earrings, ear cuffs and body jewelry. The assortment includes basics like huggies and studs as well as bolder hoops, chains and ear stacks. Prices range from $12 – $58 making it budget-friendly.
In addition to jewelry, Studs sells accessories like hair clips, hats, bags and pins. They drop new collections monthly and also take custom orders.
Key Advantages:
Constant new arrivals to discover
Layerable jewelry for self-expression
Affordable pricing, most under $30
Youthful, indie styles beyond basic studs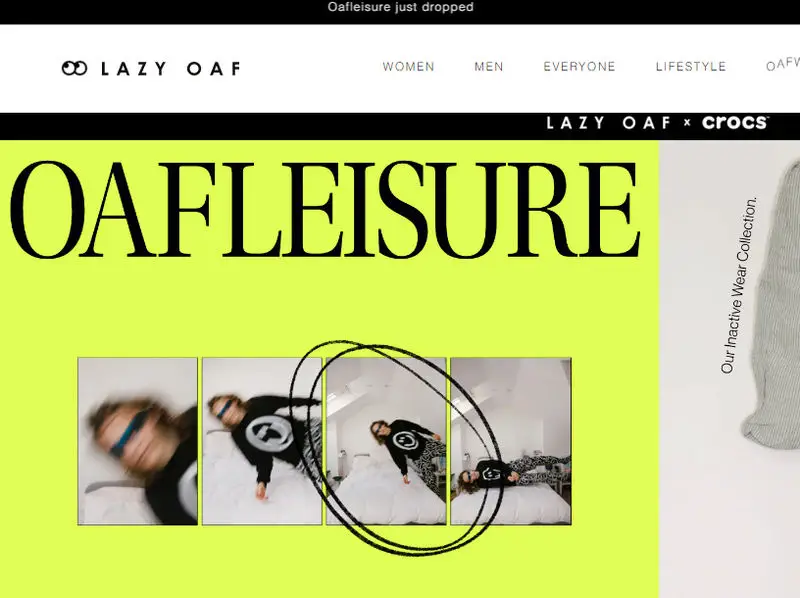 Lazy Oaf is a UK fashion label known for their playful personality and bold prints. The brand has a quirky, artsy vibe that appeals to creatives who love to stand out.
The brand is beloved for their unique prints featuring food, animals and pop culture. Graphic tees, sweaters, dresses and matching sets all feature the signature prints. The color palettes are bright and funky. Styles are casual, comfortable and made for fun personal expression. Prices are mid-range.
This clothing brand drops new collections every few weeks online and in their London shop. Some popular products include their fruit and veggie printed sweatshirts and colorful vinyl bags.
Key Benefits:
Playful, happy vibes
Unique food and character prints
Artsy styles for self-expression
Constant new drops to discover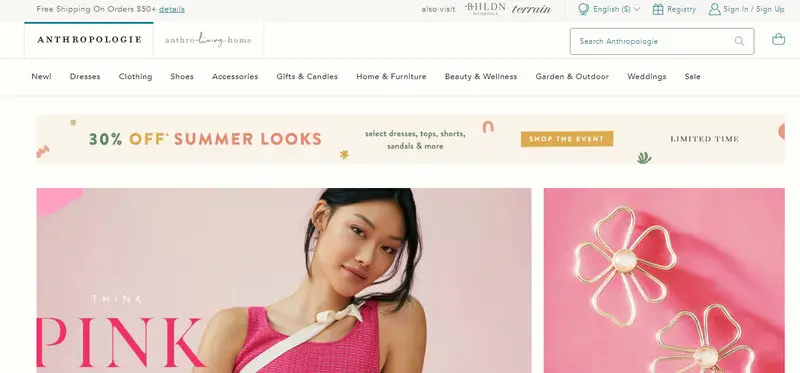 Anthropologie is a popular women's clothing and home decor chain. This clothing company offers its own collection of globally-inspired, bohemian-chic fashions.
It is known for feminine dresses, printed blouses, relaxed jumpsuits, and more in unique patterns and rich textures.
Their in-house brand has a romantic, vintage-inspired look while also carrying stylish contemporary labels. The stores also sell whimsical home goods and gifts across a range of prices.
Key Perks:
High quality, artisanal details
Whimsical, feminine styles
Vast assortment of prints and textures
Regular new arrivals across categories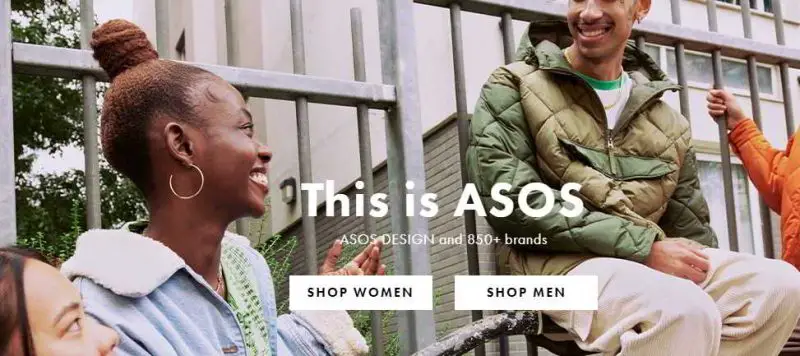 ASOS is a popular online fast fashion retailer based in the UK. They offer a wide range of contemporary styles catering to millennials and Gen Z. Known for affordable prices, vast selection and speedy delivery.
It offers women's, men's and beauty products. They stock thousands of styles across casual, dressy, basics, accessories, shoes and more.
Lots of current fashion trends and new pieces added daily. Prices are budget-friendly, usually under $50 per piece.
Key Perks:
Speedy delivery, especially in the UK
Affordable prices across thousands of styles
Broad size range
New arrivals constantly added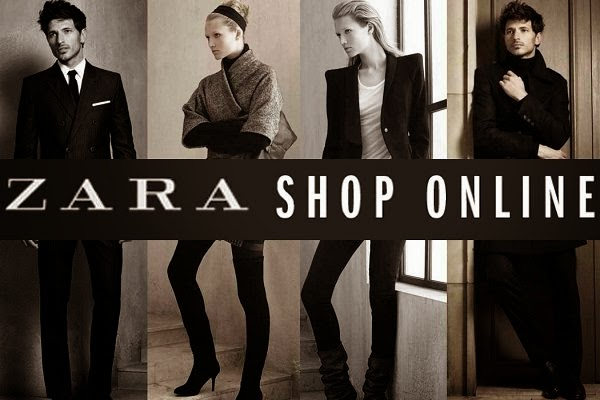 Zara is a popular Spanish fast fashion chain with locations worldwide. Like Monki, it sells contemporary clothing and accessories inspired by current runway and street style trends.
The clothing company constantly rolls out new arrivals multiple times a week, staying on top of the latest looks.
Style-savvy shoppers love them for its selection of trendy but wearable office to evening pieces like blazers, jumpsuits, tops and more at affordable chain store prices.
Key Advantages:
New inventory constantly arriving
Catwalk and runway-inspired looks
Broad range of styles and prices
International presence and availability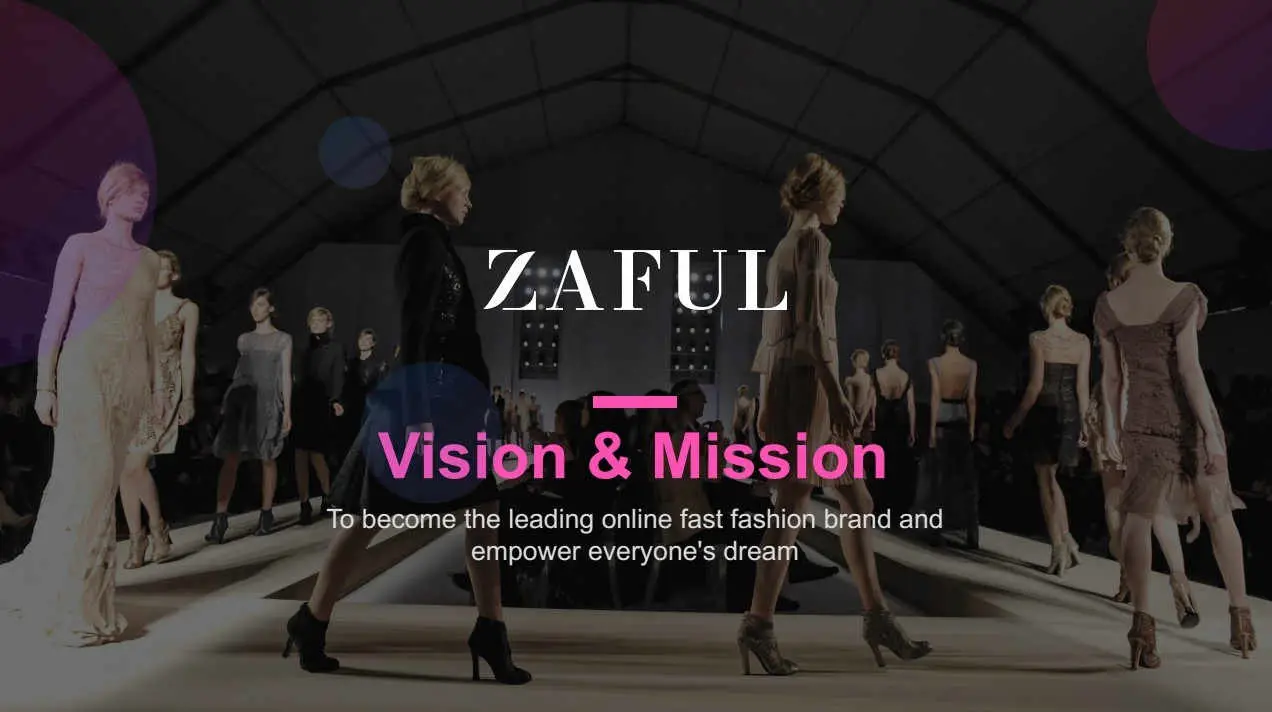 Zaful is a fast fashion ecommerce retailer catering to trendy youth looking for inexpensive clothing and swimwear.
It offers primarily women's fashion including dresses, swimsuits, clubwear, accessories and more. Styles are sexy, casual and on-trend. Most items are under $30, with new sales constantly happening. This brand goes up to size 4XL.
The site offers speedy processing and shipping from their China warehouses. Some popular picks include ruched dresses, bikinis and graphic tees.
Key Perks:
Budget-friendly pricing, most under $30
Broad size range up to 4XL
Lots of sales and deals
Quick order processing and shipping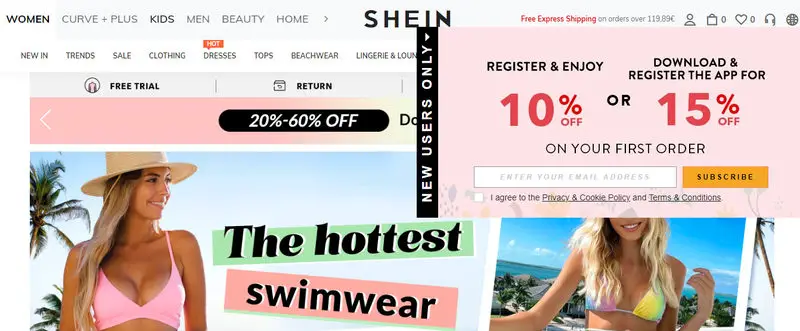 Shein is a massive fast fashion e-commerce company from China offering a vast selection of inexpensive, trendy women's clothing and accessories. Think ultra low prices starting at $5.
It has become hugely popular for their affordable take on current styles. Dresses, tops, bottoms, shoes, accessories – all for budget prices. New arrivals drop daily. It also carries plus sizes up to 4X.
Their customer wants to look stylish on a shoestring budget. Fans love the constant newness and dirt cheap prices.
Key Advantages:
Rock bottom prices, most under $20
New items added daily
Range of plus sizes up to 4XL
Quick processing and shipping from China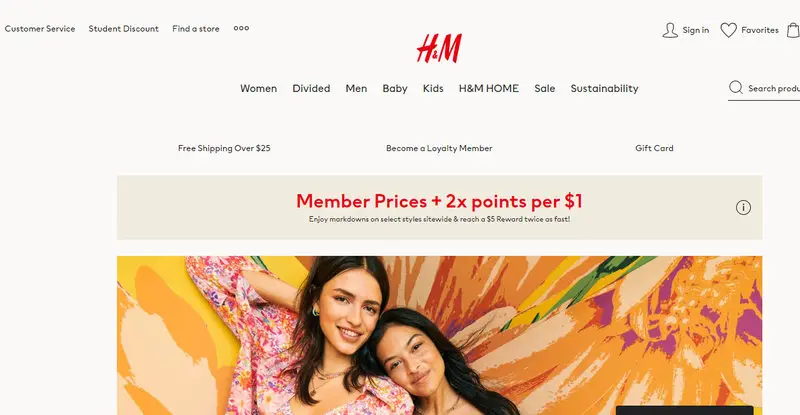 H&M is an affordable Swedish fashion brand launched in 1947. They now operate over 1,000 stores, offering clothing, accessories and homewares.
This fast fashion company carries women's, men's, teen and children's apparel reflecting current trends. Their versatile essentials and mixable seasonal pieces appeal to budget-conscious fashionistas.
Popular products include faux leather leggings, knit sweaters, satin midi skirts and relaxed denim. Customers love the style and low prices.
Key Benefits:
Affordable prices across all categories
Mix of basics and trends to build wardrobe
Youthful, casual style
Global presence and availability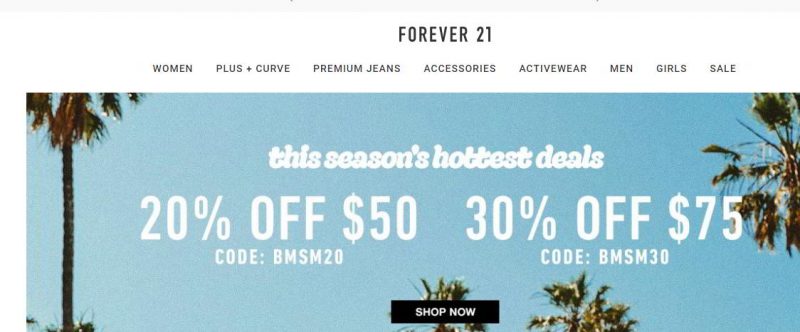 Forever 21 is a massive American fast fashion chain offering inexpensive, trendy clothing and accessories for women, men and teens. A go-to for statement pieces and bold trends on a budget.
It spans categories like dresses, activewear, swim, shoes, beauty and more. Styles skew young, playful and bold. Most items are priced under $40. New arrivals drop daily online and in stores.
The clothing company has locations throughout the US, Asia, Europe and Latin America. Some bestselling products include bodysuits, bomber jackets, cropped tops and biker shorts.
Key Perks:
Playful, bold styles and prints
New inventory added extremely frequently
Worldwide presence and availability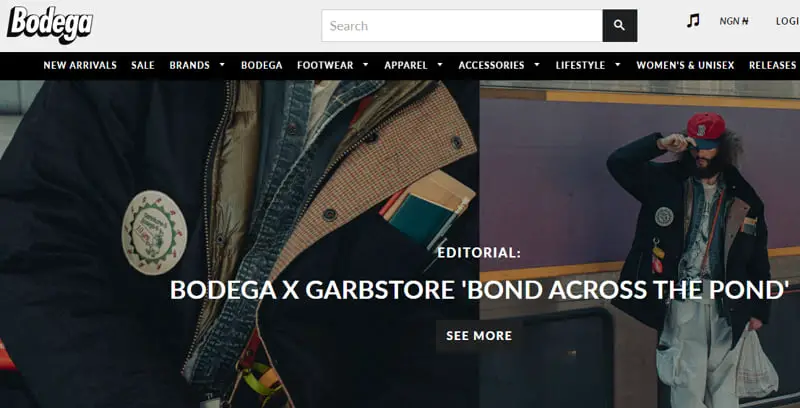 Bodega is a boutique shop and streetwear label. They describe themselves as a "constant work-in-progress" seeking the intersection between culture and commerce.
It designs avant-garde unisex clothing, shoes and accessories. Every item has an artistic edge, from graphic tees to futuristic sneakers. This brand also curates other underground brands for a visionary selection.
Popular products include oversized graphic hoodies, cargo pants and capsule collaborations with brands like New Balance. The unique streetwear attracts fashion-forward subcultures.
Key Advantages:
Curated mix of indie and luxury brands
Limited availability products
Artsy, edgy, avant-garde aesthetic
Stores in select trendsetting cities
Muji is a Japanese retailer known for its minimalist, high-quality basics. Like Monki, this brand sells a range of clothing, home goods, and more.
The clothes have a simple, timeless aesthetic with an emphasis on natural fabrics and soft colors.
Its items are affordably priced and perfect for stocking up on wardrobe essentials like tees, tanks, and underwear. The brand is especially popular among college students and young professionals looking for fuss-free, mix-and-match pieces.
Key Benefits:
High quality materials and construction
Understated, minimalist aesthetic
Natural, breathable fabrics
Affordable prices for the quality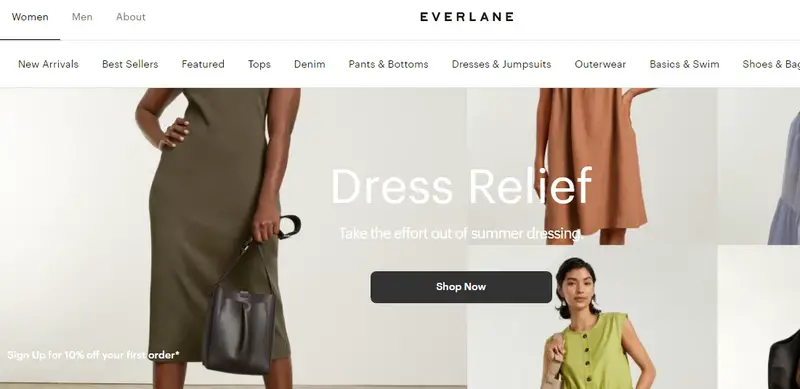 Everlane is an American basics and casualwear brand focused on quality, transparency and ethical factories. Their style is minimalist and timeless.
The store makes elevated basics like tees, denim, sweaters and dresses in high grade fabrics like Italian leather and Japanese denim. Silhouettes are relaxed and versatile. Prices are affordable compared to quality.
Their customer values quality construction and materials. They have a refined, minimal taste and want transparency from brands.
Key Benefits:
Simple, timeless, high quality basics
Radical transparency and ethical factories
Affordable pricing for premium materials
Sustainability initiatives
Conclusion
Monki has such a fun, playful perspective on fashion. When you want to branch out and explore similar brands, it helps to identify your priorities – whether that's super low prices, bold prints, indie brands, premium quality, or size inclusivity.
This list highlights 14 awesome clothing and accessory brands like Monki aligned with their aesthetic across a range of styles and price points.
The key is to pay attention to the unique vibe and benefits of each brand. Mixing and matching these different shops lets you curate your own diverse wardrobe reflecting your personal style. Happy treasure hunting for those special pieces that speak to you!
FAQs About Monki Competitors
What type of clothes is Monki known for?
Monki is known for their playful, quirky spin on fashion. Lots of bright colors, bold prints, and casual styles with an artsy, indie vibe.
What is the typical price range at Monki?
Monki's prices are quite affordable, with most items under $60. Tops average $30-50 and bottoms around $40-60.
Who shops at Monki?
The Monki customer base skews female, mostly ages 18-35. Fans appreciate the happy, youthful spirit and like to show their personality through fun prints and colors.
Does Monki have mostly womenswear or other categories too?
Monki focuses on womenswear including apparel, shoes, bags and accessories. They also have a small selection of jewelry and beauty items.
What materials and fabrics does Monki use?
Monki uses a mix of natural fabrics like cotton, linen and silk along with synthetics like polyester and spandex blends. Known for soft, comfortable fabrics.
Where are Monki stores located?
Monki has around 100 stores, mostly concentrated in Europe with some locations in Asia. Flagship stores are in Sweden, UK, Germany and Norway.
Does Monki offer worldwide shipping?
Yes, Monki ships worldwide from their online store. Shipping fees vary by country. UK and Europe have the lowest rates.
What is Monki's return policy?
Monki accepts returns and exchanges within 30 days of purchase. You can initiate returns by mail or at your local store.