Unif is a popular online clothing retailer known for its stylish, vintage-inspired women's fashion. From plaid miniskirts to embroidered denim jackets, Unif offers edgy, retro-chic designs you won't find anywhere else.
But what if you want to expand your wardrobe beyond Unif?  This article focuses on 12 awesome brands and stores to discover if you love Unif's aesthetic.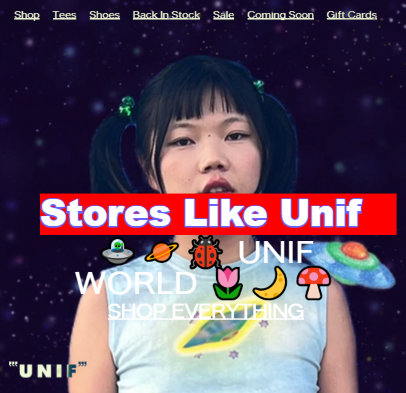 12 Best Websites Like Unif
If you love Unif's quirky, vintage-inspired style, check out these 12 brands and stores that offer similar cool, trendy designs.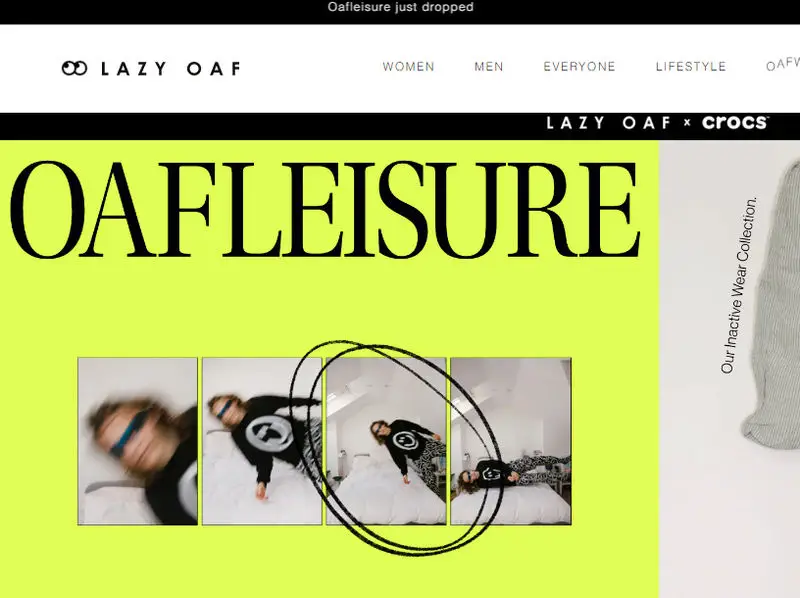 Founded: 2001
Categories: Women's clothing, accessories, shoes
Popular Products: Dresses, graphic tees, outerwear
Lazy Oaf is a UK-based brand with the same kind of kooky, artsy vibe as Unif store. Their products have a very distinct colorful, cartoonish look with lots of bold prints and patterns. Lazy Oaf carries eccentric dresses, graphic tees, jackets and more. With their irreverent styles and emphasis on self-expression, it is a top contender for Unif fans.
Key Highlights
Whimsical, artsy aesthetic
Signature bold prints and graphics
Vintage and 1990s inspired
Quirky dresses, tees and outerwear
Known for their playful, creative designs, it offers an edgy take on retro fashion. You'll find cool graphic tees paying homage to pop culture, movies and music alongside loudly patterned dresses and outerwear. Their lighthearted clothing promotes fearless self-expression.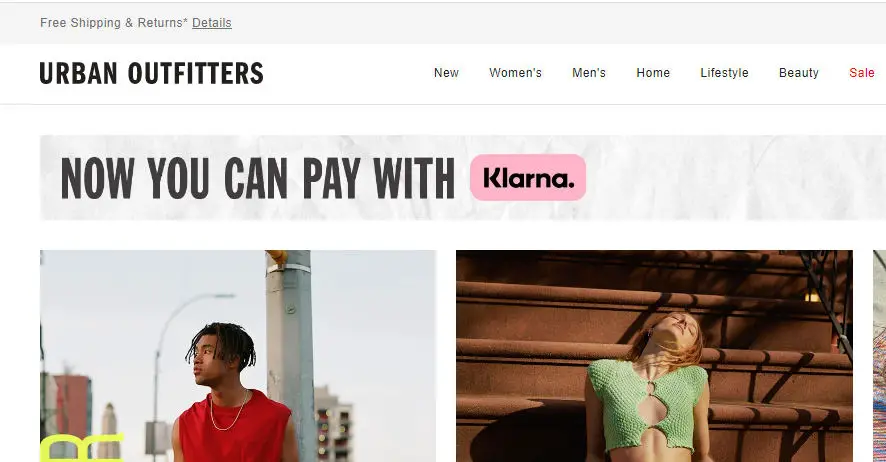 Founded: 1970
Categories: Women's and men's apparel, accessories, home goods
Popular Products: Dresses, tops, jeans, shoes, bags
Urban Outfitters is a popular bohemian-style retailer carrying clothes, accessories, furniture and home decor. Like Unif store, they offer an eclectic mix of vintage-inspired and contemporary pieces. Urban Outfitters stocks tons of dresses, graphic tees, pants, jackets and more with a laidback vibe. You'll also find funky accessories and housewares.
Key Highlights
Boho, hipster style
Vast assortment of apparel and accessories
Vintage inspired mixed with modern
Laidback aesthetic
Urban Outfitters features indie-cool fashions with a relaxed, carefree aesthetic. Their expansive selection includes on-trend dresses, graphic tees, boho accessories and beyond to outfit you in a mix of retro and contemporary pieces.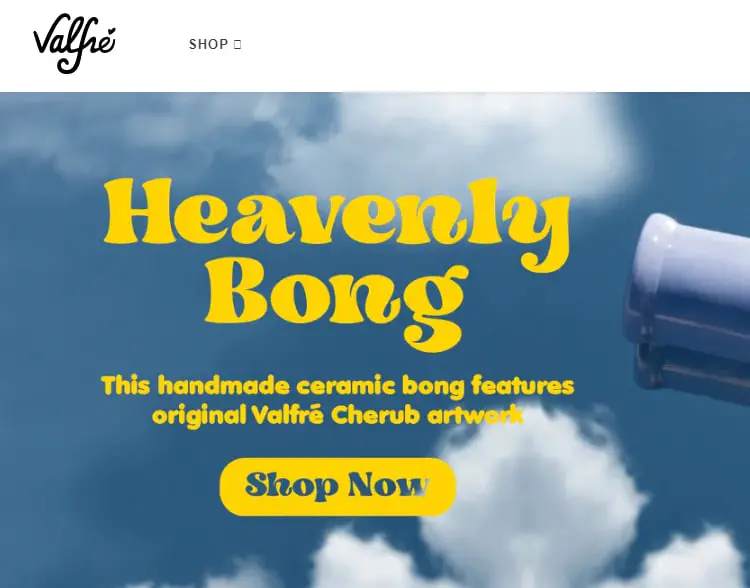 Founded: 2009
Categories: Women's clothing, accessories
Popular products: Kimonos, dresses, graphic tees
Valfré is an LA-based brand with bold, colourful designs centred around art and culture. Their vibrant printed kimonos, dresses, tees and pants have a cool bohemian vibe similar to Unif store. Valfré is especially known for its signature kimonos featuring artistic prints.
Key Highlights
Bold prints and patterns
Artistic, cultural designs
Signature kimonos
Boho inspired pieces
Valfré's lively graphic prints and boho silhouettes mimic Unif's aesthetic. Their products celebrate creativity, culture and self-expression. They add vibrant artistic flair to any outfit with their printed kimonos, dresses and tees.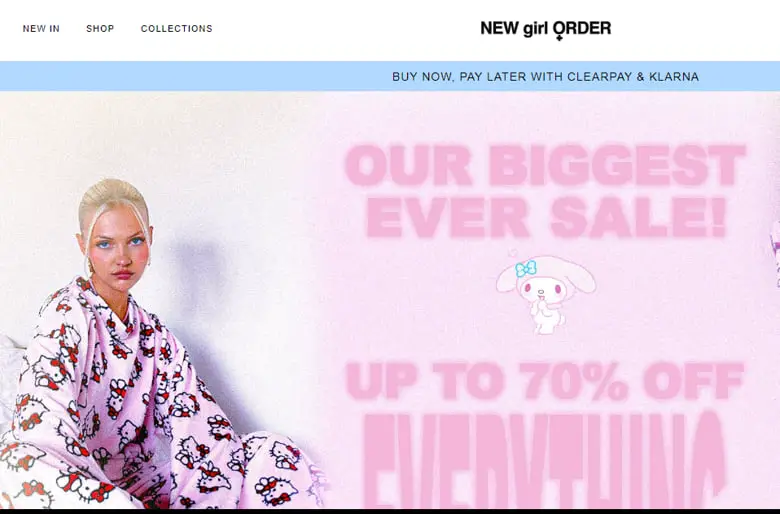 Founded: 2014
Categories: Women's clothing, accessories
Popular products: Dresses, rompers, graphic tees
New Girl Order is an indie retailer with a carefree, adventurous vibe evident in their trendy printed fashions. They design clothes for fearlessly stylish "new girls." With their youthful prints, graphics and silhouettes, it offers pieces reminiscent of Unif.
Key Highlights
Playful, youthful aesthetic
Fresh prints and patterns
Graphic tees and casual dresses
For the bold, adventurous
Channeling the free spirit of the "new girl," this brand dishes out playful prints on easy-wearing silhouettes. New Girl Order's lighthearted graphics and casual shapes mirror Unif's cheerful youthful style.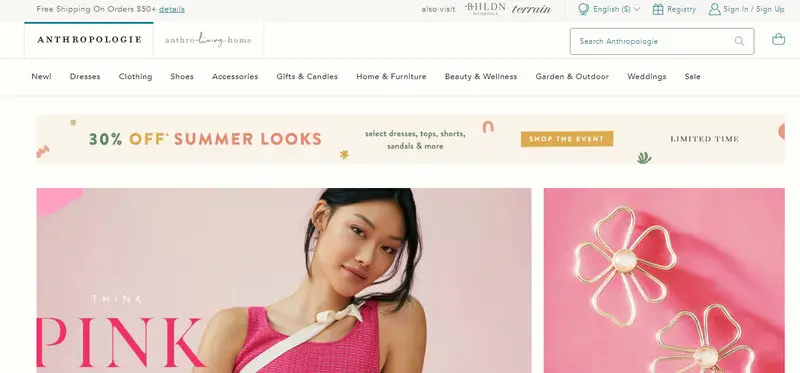 Founded: 1992
Categories: Women's apparel, accessories, home goods, gifts
Popular Products: Dresses, blouses, jeans, jewellery
Known for its bohemian feminine styles, Anthropologie offers plenty of printed dresses, blouses, pants and accessories with an artistic vibe similar to brands like Unif. Their clothing skews dressier but still has a quirky, artful aesthetic.
Key Highlights
Boho-inspired women's clothing
Whimsical prints and details
Flowy, feminine dresses and blouses
Eclectic accessories
Anthropologie applies creativity and artistry to their boho-chic women's apparel and accessories. From airy printed dresses to dangly statement earrings, they add whimsical flair reminiscent of Unif's aesthetic.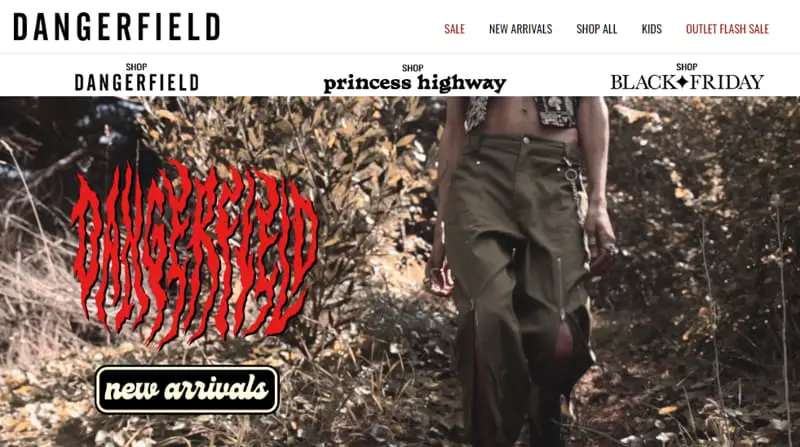 Founded: 1978
Categories: Women's and men's apparel
Popular Products: Dresses, graphic tees, jeans
Based in Australia, Dangerfield blends retro flair with punk edge styling. They're known for on-trend plaid designs, printed pants, band tees, and 90s inspired chokers. Dangerfield outfits add attitude to both daytime and nightlife looks.
Dangerfield shares Unif's funky retro vibes with way more edge. Beyond plaid, their t-shirts, necklaces, and accessories have punky, music-inspired graphics. Pair their joggers and jeans with edgy boots or platforms.
Key Highlights
Edgy, urban style
Bold graphic prints and tees
Ironic rock'n'roll inspired aesthetic
Australian brand
With ironic graphics and tongue-in-cheek slogans, Dangerfield injects rebellious attitude into fashion. Their boldly printed apparel captures the punk spirit Unif draws from.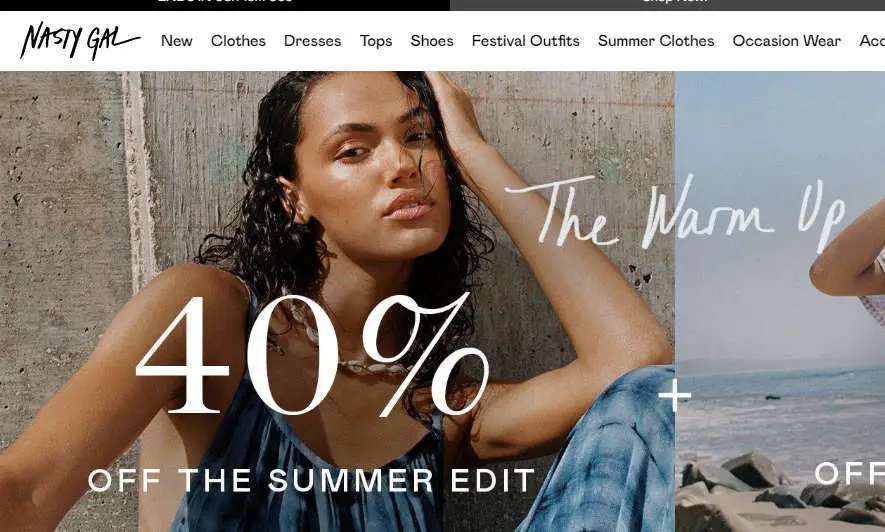 Founded: 2006
Categories: Women's apparel, shoes, accessories
Popular Products: Dresses, jeans, tops, jackets
Nasty Gal is one of the stores like Unif that offers trendy vintage-inspired clothing for edgy young women. Their laidback boho dresses, graphic tees, jeans and shoes carry the youthful stylish attitude of Unif. Expect to find cool casual pieces along with party dresses.
Key Highlights
Vintage and boho inspired
Trendy dresses, graphic tees, denim
Edgy, youthful aesthetic
Indie Los Angeles brand
With its indie LA roots, it designs fashion-forward vintage pieces for the cool cropped tops, graphic tees, boho dresses, and more, Nasty Gal captures the carefree edgy style of Unif.

Founded: 2009
Categories: Women's apparel, swimwear
Popular Products: Leggings, dresses, swimsuits
Famous for its bold printed leggings, BlackMilk also offers unique dresses, tops and swimwear that Unif fans will appreciate. Their energetic prints and patterns liven up any outfit.
Key Highlights
Wild, crazy printed leggings
Matching printed tops and dresses
Bold colours and dynamic prints
Australian brand
BlackMilk lets you show off your wild side with their famously crazy printed leggings paired with equally vibrant dresses and swimwear. The bold Aussie brand shares Unif's playful design aesthetic.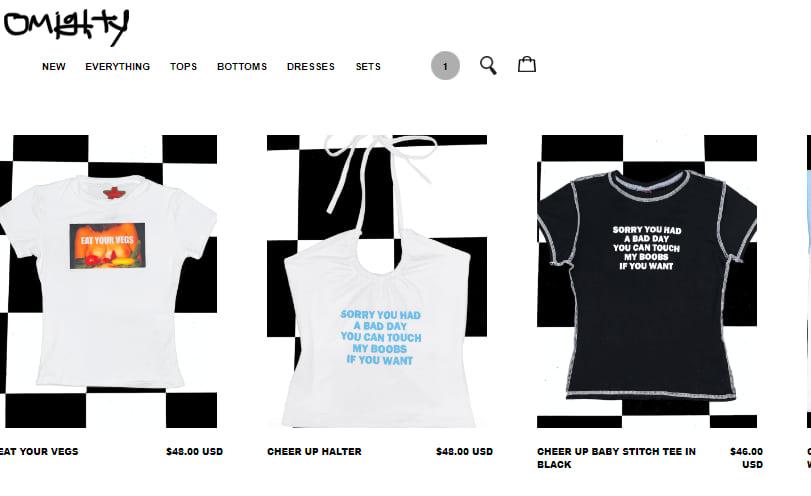 Founded: 2014
Categories: Women's apparel, accessories
Popular Products: Leggings, joggers, sweatshirts
Based in NYC, O-Mighty creates elevated athleisure with a focus on sustainability. They're best known for versatile tennis skirts, bike shorts, tees, and sweats made from recycled materials.
For Unif fans seeking sustainable style, O-Mighty is a sporty-chic choice. Mix their upcycled basics like bike shorts, logo tees, and racerback tanks for easy, eco-friendly looks.
Key Highlights
Graphic prints on activewear
Artistic leggings and tops
Loungewear with attitude
Made in USA
This similar store offers elevated, sustainable athleisure including tennis skirts, shorts, and tees made from recycled materials. A sporty-chic choice for eco-conscious Unif fans, their versatile basics make it easy to create laidback looks.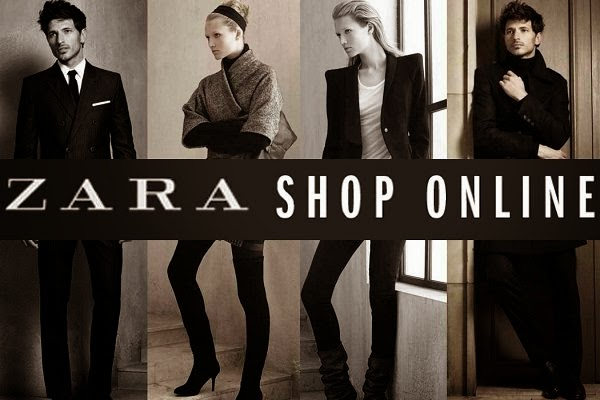 Founded: 1975
Categories: Women's, men's and kids apparel, shoes, accessories
Popular Products: Dresses, jeans, jackets, tops
Known for on-trend fast fashion, Zara delivers rapid-fire versions of catwalk styles at affordable prices. They're especially popular for chic essentials like blazers, denim, knitwear, and LBDs.
This similar store offers a trendier, more minimalist style than Unif's retro vibe. But fans will appreciate their affordable, fashion-forward basics in the latest silhouettes and colours.
Key Highlights
Affordable on-trend fashion
Chic casual dresses, tops, bottoms
New styles constantly
Spanish brand, worldwide stores
Global fast fashion giant Zara sells catwalk-inspired styles at wallet-friendly prices. Their selection provides trendier, more minimalist pieces than Unif, like blazers, jeans, and LBDs in the most of-the-moment silhouettes.

Founded: 1982
Categories: Men's and women's apparel, shoes, accessories
Popular Products: Tops, dresses, swimwear, shoes
Rooted in surf and skate culture, Tillys offers a laidback West Coast style for teens and young adults. They're a go-to spot for major brands like Levi's, Vans, and Adidas along with their own clothing lines.
Tillys will appeal to Unif shoppers wanting more casual, streetwear-inspired looks. Check out their graphic tees, hoodies, joggers, and denim in edgy prints and sporty silhouettes. You'll fit right in.
Key Highlights
Casual West Coast inspired apparel
Graphic print dresses, tops and swimwear
Trendy denim, shoes and accessories
Activewear and basics too
Tillys brings easy West Coast vibes through major surf/skate brands and their own edgy apparel lines. For more casual looks, Unif fans should check out their printed tees, joggers, and denim in sporty, graphic styles.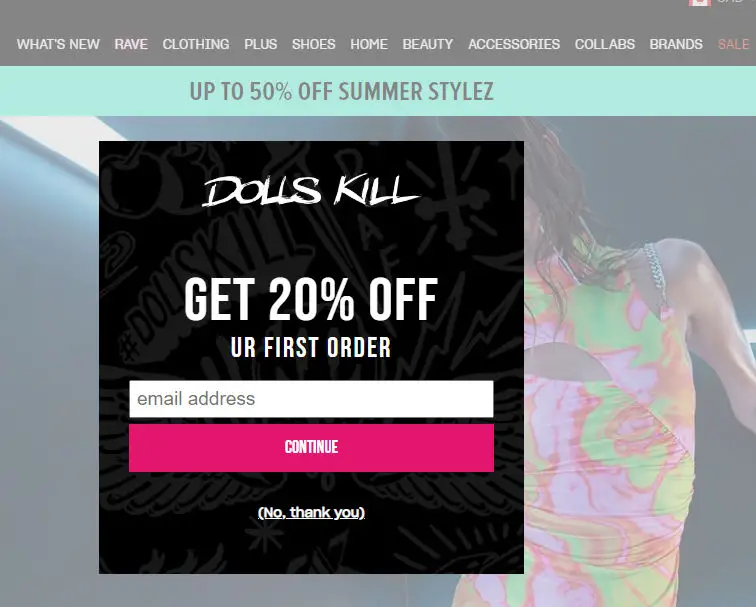 Founded: 2011
Categories: Women's apparel, shoes, accessories, beauty
Popular Products: Dresses, tops, jackets, shoes
Dolls Kill amps up alternative, e-girl style with a bold, reckless edge. They offer a mix of major alt brands and their own Dracula-chic clothing. Shop graphic corset tops, holographic minis, and mega platform shoes.
For Unif fans who lean extra femme or goth, Dolls Kill takes risks with dramatic, statement-making pieces. It's sexy-meets-witchy style at its boldest.
Key Highlights
Edgy punk-inspired aesthetic
Graphic prints and cool graphics
Nightlife ready apparel
Sizes 00-4X
This clothing company like Unif pushes the limits on daring alternative styles – think graphic corset tops, hosiery, and more. For Unif fans craving an edgier look, they offer the most femme, gothic, rock-n-roll vibes out there.
Conclusion
Unif fans looking for new shops to explore will love these 12 trendy retailers offering their own takes on playful printed fashion. From Lazy Oaf's quirky designs to Dangerfield's urban punk-rock style, discover brands that share Unif's youthful spirit and bold aesthetic with plenty of graphic dresses, tees, and casualwear.
Whether you prefer retro or modern offbeat looks, indie LA vibes or major fast fashion players, you'll find the perfect store for your unique personal style.
FAQs About Unif
When was Unif founded?
Unif was founded in 2009 by Bob Bland, Gloria Lee, and Ted Kim. The brand debuted at its first trade show in 2010.
Where are Unif clothes made?
Unif clothing is designed in Los Angeles and produced in factories worldwide. Specific garment origins can vary.
What sizes does Unif carry?
Unif offers sizes XS-XL for most styles, or numeric sizes 00-12 equivalent. Some pieces like outerwear may be more limited.
How would you describe Unif's aesthetic?
Unif has a quirky, artsy, vintage-inspired aesthetic. Their clothes feature bold prints and colours with a laidback vibe.
What are Unif's most popular products?
Unif is known for their unique printed dresses, graphic tees, denim jackets, and accessories like hats and jewellery.
Does Unif operate any brick-and-mortar stores?
No, Unif is currently only available online through their website as well as select online retailers. They do not have any physical stores.
What is Unif's price range?
Unif's prices range from around $50 – $300. Most items fall in the $100 to $200 range. They offer both higher and lower-priced products.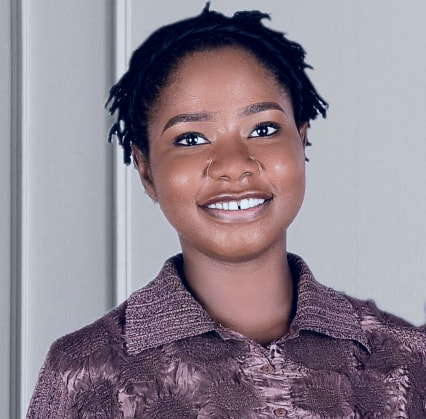 Blessing Bunmi is the founder and CEO of Blowra, the leading style guide providing insider fashion and shopping tips. With over 4 years of retail experience, She created Blowra to empower readers to confidently express their personal style.