Looking for electronics stores and websites similar to Sharper Image? Sharper Image was the place to buy innovative gadgets, tech gifts, and electronics back in the day. Then sadly, all the Sharper Image stores closed down in 2008, leaving fans missing their unique selection of drones, massage chairs, air purifiers and other hard-to-find electronics.
Fortunately, there are now many great stores like Sharper Image for cool tech and electronics. From retailers like Target to RadioShack, all offer similar products to what Sharper Image used to carry. From smart home devices to fun gadgets to discounts on cutting-edge tech, these stores help fill the void left by Sharper Image.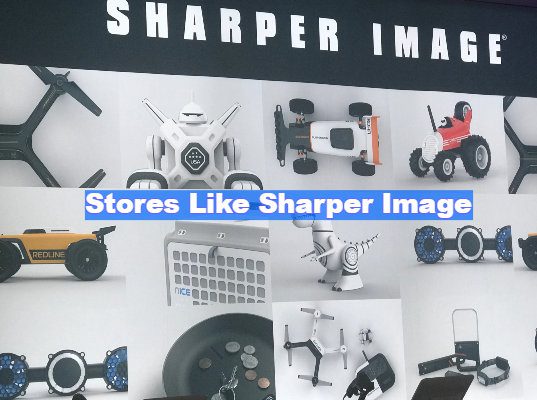 In this article, we'll highlight 14 fantastic electronics stores and sites that are comparable substitutes for Sharper Image. Keep reading for the inside scoop on product selection, prices, and perks at these Sharper Image alternatives.
14 Best Brands & Companies Like Sharper Image for Electronics
If you miss the experience of browsing Sharper Image catalogs or stores. Check out these best Sharper Image competitors for comparable selections of electronics, gadgets, and gizmos for the home, office, or just for fun.

Home Depot is known for hardware, home improvement supplies, and appliances. But many shoppers don't realize they also offer a wide range of electronics and tech gadgets.
Browse categories like home automation, home theater, home security cameras, robot vacuums, and the latest smart home tech. This online site like Sharper Image often features new product demos in stores so you can try before you buy.
They offer free shipping on orders over $45 and easy online returns by mail or at your local store. They also price matches with select retailers, and offers special financing, rebates, and savings opportunities.
Key Benefits:
Wide selection of popular electronics and smart home devices
In-store demos and display models
Free shipping over $45
Easy returns by mail or in store
Price matching and special financing

Brookstone stores closed in 2014, but the brand lives on through airport stores and its website Brookstone.com. They continue to offer unique gadgets, travel accessories, massage products, electronics, toys and games, and more.
Brookstone is a great source for finding one-of-a-kind electronics, tech accessories, and gadgets you won't see anywhere else. Gift ideas include smart home devices, wireless speakers, drones, digital cameras, massage products, travel pillows, luggage, and more.
Key Benefits:
Unique, hard-to-find electronics and gadgets
Travel accessories like pillows, luggage, headphones
Toys and games, drones, cameras
Massage and wellness products

RadioShack is another chain that filled the electronics niche left by Sharper Image company. They focus on DIY electronics, hobby gear, and innovative gadgets.
Just as other stores like Sharper Image, they carry things like drones, robot kits, VR headsets, electronics components, and more. You'll also find smart home devices, headphones, speakers, and novelty tech gifts.
They offers free shipping on online orders over $25. They have around 500 stores still operating, primarily in small towns. So RadioShack is convenient if you prefer buying electronics in person.
Key Benefits:
Electronics components, tools, hobby gear
DIY and STEM kits
Specialty electronics for makers and hobbyists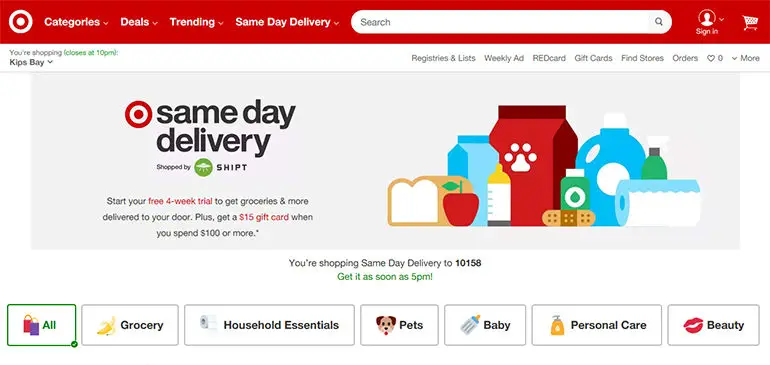 You might not think of Target as an electronics store. But their tech department offers a wide range of electronics and gadgets for good prices.
At Target you can find things like smartphones, smartwatches, tablets, laptops, headphones, speakers, home security cameras, video game systems, drones, and more. They carry all the major electronics brands.
Target offers free shipping on orders over $35. They have nearly 2,000 stores across the U.S. making it easy to shop electronics in person.
Key Benefits:
Affordable prices on popular electronics
Trendy, novelty tech gadgets
Smart home and gaming accessories
Free shipping over $35
Heyday brand accessories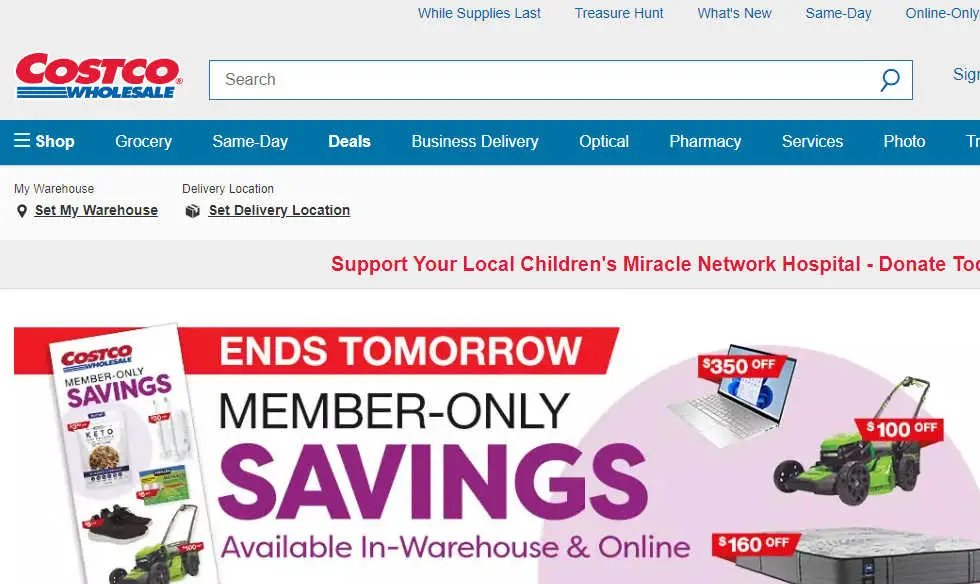 Costco is another discount store similar to Sharper Image with a great electronics department. They offer low prices on TVs, computers, tablets, smartphones, cameras, headphones, video games, printers, and more.
Many Costco locations have specialty tech sections featuring smart home gadgets, fitness trackers, electric scooters, massage chairs, and other electronics.
The store has nearly 800 warehouse club locations in the U.S. They offer free shipping online with no minimum purchase. Costco's target audience is deal-seeking bulk shoppers. Costco has great deals on TVs, laptops, security systems, fitness trackers, drones, printers, and more.
Key Benefits:
Deep discounts on name brand electronics
New gadgets and devices added frequently
Generous return policy
Extended warranties available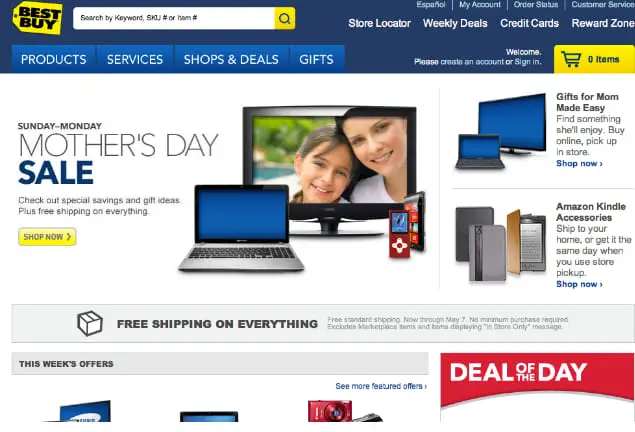 Best Buy remains one of the top electronics stores like Sharper Image with the widest selections of laptops,  smart home tech, and more. But they also offer fun gadgets and specialty electronics that make great gifts.
They also offer hands-on demos and expert advice to help you find the right electronics and gadgets. You can try out things like drones, electric scooters, massage chairs, and more at Best Buy stores.
Browse categories like drones, cameras, electric transportation, gaming accessories, novelty tech, and more. Try out display models in-store and get free standard shipping on everything. The store also price matches with select retailers.
Key Benefits:
Huge selection of electronics and tech
Specialty gadgets and novelties
Display models to demo products
Free standard shipping and price match guarantee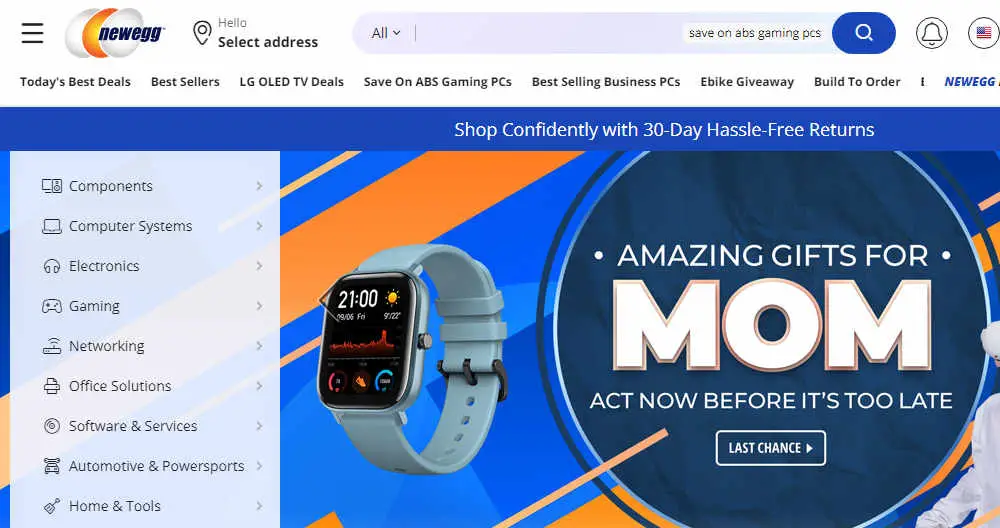 Newegg is an online electronics company like Sharper Image with one of the largest selections anywhere. Along with computers and components, you'll find everything from drones to 3D pens to robot vacuums.
Newegg is a gadget lover's paradise, with categories like MakerHub, drones, hobby gear, STEM toys, novelty tech, and smart home. Narrow results by brands to find favorites. Score discounts with daily deals and coupons.
Newegg provides free shipping sitewide. They are online only, so more tech-savvy shoppers are their target audience.
Key Benefits:
Massive inventory of electronics and tech gadgets
Top brands and hard-to-find specialty items
STEM toys and hobby electronics
Daily deals and coupons for savings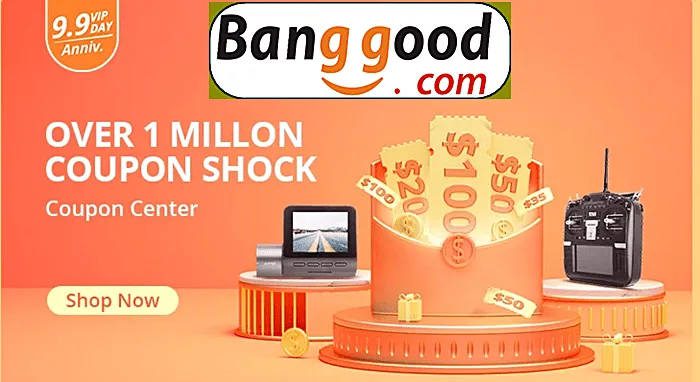 Banggood is a Chinese online retailer with a huge catalog of affordable gadgets and electronics. You'll find quirky products difficult to find elsewhere, often at shockingly low direct-to-consumer prices.
Banggood offers free shipping from their China warehouses. Just beware longer shipping times of 2-3 weeks. Pay close attention to reviews and descriptions before ordering.
Their prices are hard to beat, drawing in deal-focused shoppers. Top purchases include smartwatches, drones, novelty toys and gadgets, 3D printers, and hobby electronics.
Key Benefits:
Obscure, unique electronics and gadgets
Super affordable direct pricing
Massive catalog of fun finds
Longer shipping times from China

Overstock carries big name electronics alongside more unique gadgets and specialty tech finds. Shop categories like drones, hovering boards, massage tech, personal cameras, fitness devices, and more. Their inventory rotates frequently creating a treasure hunt feel.
Overstock offers name brand electronics at discount prices. You'll also find quirkier devices like massage guns, electric bikes, night vision goggles, metal detectors, and motion-activated toys. Get free shipping on everything.
Key Benefits:
Discounted prices on major electronics brands
Fun, novelty electronics and gadgets
Free shipping on all orders
Easy returns up to 1 year later
Swappa is an online used electronics marketplace where you can score deals on gently used tech and gadgets. Shop categories like smartphones, tablets, laptops, smartwatches, drones, cameras, and gaming.
Swappa has quality standards and verifies all listings, so you can buy used electronics with confidence. Save money over new prices, while still getting solid value. All purchases are covered by Swappa warranty. Their core audience is bargain hunters and tech enthusiasts.
Key Benefits
Used and open box tech at discount prices
Quality verified listings only
Warranty on every purchase
Huge selection of popular electronics

Micro Center is a tech superstore with 25 locations mostly on the US coasts. Stores are packed with aisles of electronics, components, accessories, toys, drones, STEM kits, and more. They are a computer specialist but also offer a broad range of electronics.
They offers deep discounts on TVs, computers, gaming gear, DIY electronics, hobby equipment, and more. You'll also find specialty gadgetry not available through mass retailers. Get expert advice in store.
Key Benefits:
Massive in-store selection
Discount prices on tech and components
STEM toys, hobby gear, specialty electronics
Expert tech advice and support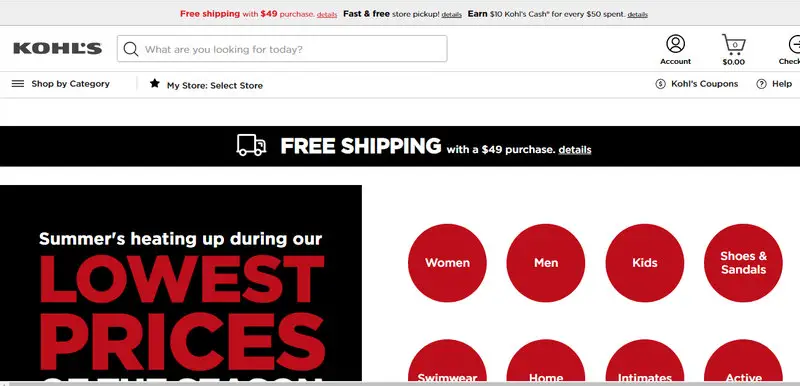 Department store Kohl's has an underrated electronics department with all the latest gadgets and gizmos along with major brands like FitBit, Ring, JBL, and more.
Browse categories like smart home tech, fitness and activity trackers, drones, cameras, gaming accessories, portable speakers, headphones, and toys. Get free shipping on orders over $75. They also offers promos like Kohl's Cash to save more.
Key Benefits:
Top brand electronics and gadgets
Toys, drones, gaming accessories
Fitness trackers and smartwatches
Free shipping over $75
Savings opportunities like Kohl's Cash

Five Below is among rapidly growing discount sites like Sharper Image focusing on products under $5. Their selection includes some fun electronics, gadgets, accessories, toys, games, and more geared towards kids and teens.
You can score deals on things like headphones, phone cases, Bluetooth speakers, chargers, drones, gaming accessories, STEM toys, and novelty tech items. Just don't expect advanced features at these bargain prices. But it's a nice source for stocking stuffers and small gifts.
Key Benefits:
Fun electronics and accessories under $5
Kid and teen-focused selection
STEM toys and novelty items
Bargain prices but more basic functions
Hammacher Schlemmer is a long-running catalog retailer known for carrying unique, innovative products not found in typical stores. Their selection includes electronics, smart home, outdoor, wellness, entertainment, travel, and more.
You'll find things like electric bikes, massage chairs, air purifiers, emergency radios, night vision goggles, metal detectors, telescopes, specialty kitchen gadgets, and more. Most products come with a satisfaction guarantee.
Key Benefits:
Unique selection not found in regular stores
Innovative products for home, health, tech, travel
Satisfaction guarantee on all items
High-end niche gadgets and electronics
Conclusion
Sharper Image left behind big shoes to fill when it closed up shop. For decades, it was the premier destination for electronics, gadgets, and tech that dazzled the imagination. But today's consumers still crave that injection of innovation and wonder.
Luckily, there are plenty of Sharper Image competitors carrying the torch with unique, hard-to-find products that deliver a similar spark. These stores like Sharper Image allow you to explorer cutting-edge gadgets, novel electronics, and specialty tech in fresh new ways – whether in-store or online from the comfort of home.
Whatever type of electronics or gizmos strike your fancy, you can uncover them across these diverse retailers. Seek out bargains, premium brands, niche hobby electronics, or future collectibles. Finding the next curiosity to surprise and delight is just a browse away.
Don't mourn the loss of Sharper Image for too long. The search for the latest invention or must-have gift goes on thanks to so many quality alternatives. Satisfy your appetite for the novel, ingenious, and advanced without breaking the bank at stores that share that same innovative spirit.
FAQs
What made Sharper Image unique?
Sharper Image curated novel, innovative products not widely available elsewhere. Catalogs showcased new gadgets in engaging ways. Retail stores let shoppers experience products hands-on.
What were some popular Sharper Image products?
Best-sellers included the air purifier Ionic Breeze, massage chairs, luggage, razors, robotic vacuums, telescopes, kitchen tools, light therapy visors, and electronic muscle stimulators.
Did Sharper Image sell online?
Yes, SharperImage.com launched in 1998 for online catalog sales. But the website couldn't sustain the company once in-store sales declined. Outdated tech and lack of digital marketing also hampered their ecommerce.
Where were Sharper Image stores located?
At its peak, Sharper Image had over 180 retail stores globally, mostly located in malls. But declining mall foot traffic was a factor in the chain's downfall. Only a few airport stores remain today.
Who founded Sharper Image?
Richard Thalheimer founded Sharper Image in 1977 as a mail-order gadget catalog. He led the company to rapid growth and cultural relevancy before resigning in 1993. Subsequently, there was high executive turnover.
Why did Richard Thalheimer leave Sharper Image?
Thalheimer exited over disagreements on how aggressively to expand the business. He advocated for high-end products and catalogs, while successors pushed mass market retail. This shift ultimately proved ruinous.
What happened to remaining Sharper Image inventory?
When stores closed in 2008, Sharper Image auctioned off remaining inventory through liquidators and online sites. Limited products are still available new through SharperImage.com and previously owned items pop up on resale sites.
Where can I find Sharper Image products secondhand?
Try eBay, Craigslist, OfferUp, and thrift stores for used Sharper Image products. Massage chairs, luggage, air purifiers, and grills are commonly resold items. But product availability varies by region and timing.
Why does Sharper Image have lasting appeal and nostalgia?
For many, Sharper Image catalogs and stores represented discovery and wonder. Their products captured the imagination and defined 1980s and 90s tech innovation. Nostalgia remains for this defining brand of its era.