Are you in Asain style or searching for the best sites like YesStyle? If Yes, this article is for you, browse thru this article and discover a list of Korean brands like YesStyle.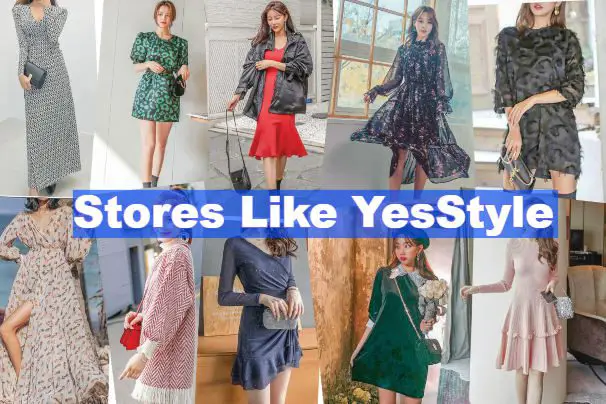 YesStyle is among the most popular online retailers of Asian clothing, beauty, and lifestyle supplies, shipping to over 150 countries. YesStyle was created in 2006 and is headquartered in Hong Kong. If you spend $35 or more at YesStyle, you get free standard international shipping. In case you want to discover something new, we have compiled a selection of YesStyle alternatives where you can decide to purchase comparable or cheaper items of the same quality.
1o Best Shops Like Yesstyle For Asian Clothing
1. Kooding
Kooding sells products from Korea's most famous fashion labels. The online shop features a wide variety of Korean-designed clothes, from casual shirts to sophisticated suits, and uniforms. The shop also sells premium beauty products, such as Korean skincare, natural hair products, and more. If you want to know which Korean beauty brands to add to your beauty regime, its cosmetic section offers a detailed guide to Korean beauty products.
2. Banharu
Banharu is among the fashion websites like YesStyle that looks like a visual magazine, with a large selection of Korean fashion. It has a wide variety of clothes for women, men, and kids, and the website is packed with trendy and cute outfits you can't find anywhere else. Plus, you can find the best and latest Korean brands and designers here.  here.
3. Cherryspoon
Cherryspoon is also part of those international online Korean stores like YesStyle that sell comfy and affordable clothes for the working woman. Its collection of office wear staples includes casual shirts, blazers, and joggers. You can also look forward to playful pieces like graphic T-shirts and dresses that are bound to look good with your everyday office attire.
Whether you are looking for a casual, professional, or formal outfit, is a wide range of clothes and accessories will help you achieve the look you want.
4. StyleNanda
StyleNanda is among the fast-rising online Korean clothing stores like YesStyle that is selling trendy pieces for women. It features a wide range of women's clothing, from embellished dresses to simple but chic T-shirts. It also has a section called Dressing for Men, where it sells men's fashion pieces such as hipster T-shirts, fitted hoodies, baseball caps, and denim jackets. What's more, it offers international shipping with a minimum spend.
5. Chuu
Chuu is another one of the best online Korean stores like YesStyle in Asia. Its website is dedicated to girls and women, but you can find a wide variety of fashion pieces that can be easily mixed and matched to create different outfits. It has a separate section called K-beauty for people who want to invest in some Korean skin care products.  If you're after an active lifestyle, then this store is one of the best choices for you. It sells casual clothes for both men and women.
Read also:
6. Uniqlo
Uniqlo is a Japanese clothing brand that is also known for its affordable fashion clothes. You can shop here for the hottest styles within your budget. You can also shop online for their products and avail Free Shipping. It is also known for its trendy casual clothes for men that is more affordable. It has a wide range of men's and women's fashion essentials and you can shop for at a much cheaper price than other YesStyle alternatives.
7. MixxMix
MixxMixx has a unique position in the online shopping market, With its wide array of eclectic Asian fashion, it has a slew of products that you wouldn't find at any other online shopping site. It offers styling essentials for women, ranging from casual clothing to formal wear. It offers a wide selection of products for all occasions and offers free shipping on selected orders.
8. Sthsweet
Sthsweet is yet another Korean clothing website like Yesstyle that sells fashion-forward and fun-to-wear clothes, they carry a wide range of clothing for women including Pants, shirts, jeans, dresses, jackets, etc. I love this website for its wide range of clothing and fun-to-wear clothes for all types of women. The company also offers free standard shipping for orders over $100.
9. Dark victory
Dark victory is a huge online retailer that is one of the best Korean fashion brands like YesStyle. This shop mainly focuses on women's clothing as well as accessories and outerwear. The website is a one-shop stop for all your fashionable needs. They have a wide variety of clothing and accessories that is sure to make you purchase a few items.
The best part of this website is that it is extremely easy to navigate. You can easily search through a variety of items, and if you find a particular item that you like, you can easily purchase it as well. They offer free worldwide shipping, and you can also choose to return the item if you are not satisfied with it.
10. KYE
KYE is one of the largest and most trusted fashion websites like YesStyle to shops in Korea. It provides fashion solutions to consumers and businesses. They have a large and diversified catalogue of Korean products and services, such as clothing, shoes, bags, cosmetics, and accessories. It also has a large collection of Korean-style clothing. Their clothing comes in a wide selection of cuts, sizes, and styles. The selection is quite diverse, and you will find clothing for both men and women.

Dhare is a popular blogger and also runs a boutique business. He has a lot of years of experience, so he knows a lot about fashion in general. So, he is sharing his information and technical stuff in this diary.