Are you looking to spruce up your wardrobe? Have you been wondering if the denim jacket still in fashion in 2023? In this piece of content, we'll be exploring why denim jackets are still in style and how you can style them for the summer of 2023. We'll also be taking a look at the benefits of owning a denim jacket and providing some style tips on how to wear one. Keep reading to find out more about this versatile piece of clothing!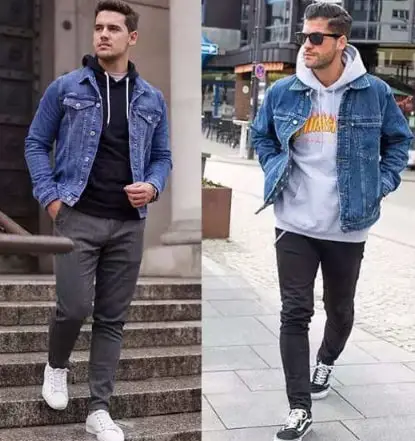 Is Denim Jacket Still in Fashion for 2023?
The answer is a definite yes. denim jackets are still very much in fashion in 2023. Whether you are a sheeple that follows fashion influencers or a man who knows how to dress well, denim jackets have been around for decades and will always remain a fashion staple. Not only is the denim jacket a classic wardrobe mainstay, but it is also incredibly versatile.
Why Denim Jackets are Still in Style
 Because they are a versatile and comfortable staple piece in any wardrobe. Denim jackets are classic and stylish, yet relaxed, and can be worn with almost any outfit. The lightweight material is also perfect for transitional weather, providing warmth without the bulk of a coat. Plus, there are so many styles to choose from, from traditional blue denim to colored, distressed, and even embroidered options.
How to Wear a Denim Jacket for Summer 2023
The denim jacket never goes out of style, and for good reason! It's a great way to add a bit of style to any outfit. For summer 2023, there are plenty of ways to wear a denim jacket to make it the perfect addition to any outfit. Whether you're looking for a casual look or something dressier, the denim jacket can be your go-to piece. Here are some great tips on how to wear a denim jacket for summer 2023.
To start off, layer your denim jacket over a lightweight cotton or linen shirt for a casual yet put-together look. You can also pair a denim jacket with a dress for an effortless summer look.
Make sure to choose a dress in a light fabric such as chiffon or linen to keep cool. To finish off the look, add a pair of strappy sandals and a large tote bag for a stylish weekend look.
For a more dressy look, pair your denim jacket with a simple dress or jumpsuit and add a pair of heeled sandals. A midi-length dress or jumpsuit is perfect for this look, as it will show off your sandals while still keeping you cool. Finish off the look with some statement jewelry and a clutch bag for a polished evening look.
Don't be afraid to experiment with different colours and textures when it comes to denim jackets. A classic blue denim jacket is always a great choice, but bright colored jackets or ones with interesting details such as embroidery or patches can add some extra flair to your look.
You can also mix and match different denim pieces such as long skirts or shorts with your jacket for an eye-catching summer look.
No matter how you choose to style your denim jacket, you can be sure that you'll be cool and fashionable all summer long!
The Benefits of Owning a Denim Jacket
When it comes to fashion, denim jackets are timeless. Not only are they a classic style staple, they also offer a lot of practical benefits.
Denim jackets are incredibly durable and long lasting, perfect for those who need something to stand the test of time.
They can be worn all year round, either on their own in summer or layered with long sleeve shirts for extra warmth in winter.
They come in a variety of styles and washes, and can be easily matched with other pieces in your wardrobe. Not to mention, they look great with a pair of jeans! So if you're looking for something that will last you for years, a denim jacket is the way to go.
Final Thought
The denim jacket has been around for over a century and they are still in style for 2023. With its versatility and evergreen style, you don't have to worry about going out of fashion. With a little creativity, you can wear your jean jacket year after year, as a timeless wardrobe staple that will evolve with the rest of your outfit without changing itself. So go ahead and grab yourself a denim jacket – you won't regret it!
FAQs About Denim Jacket
Are jean jackets still in style for 2023?
Yes! Jean jackets are still in style for 2023. This timeless classic is just as popular now as it was decades ago. You can find a variety of styles, colors, and fits of jean jackets to suit your personal style.
What is a denim jacket?
A denim jacket is a type of jacket typically made from a sturdy cotton twill fabric and characterized by its denim blue color. It is typically designed with a collar, button closure, and pockets.
What styles of denim jacket are available?
Denim jackets come in a variety of styles, including long, short, cropped, oversized, and fitted. They can also be found in a range of colors beyond the classic blue.
How should I care for my denim jacket?
Denim jackets should be washed in cold water with mild detergent. It is important to avoid chlorine bleach and fabric softeners, as they can damage the fabric. Air drying is the best option to prevent shrinkage.
Are denim jackets suitable for all weather conditions?
Denim jackets are lightweight and breathable, making them suitable for spring and fall weather conditions. For colder temperatures, layering a denim jacket with other pieces of clothing is recommended.
How Is a Denim Jacket Supposed to Fit?
When choosing a denim jacket, consider fit, style, and color to ensure you get the best look for your body type and personal style.
Can I wear a denim jacket in the office?
Yes, you can wear a denim jacket in the office. Opt for a fitted or tailored style in darker colors and pair it with dressier items such as slacks or a skirt to create a smart casual look.
Are denim jackets suitable for formal occasions?
Depending on the occasion, you can dress up a denim jacket with dressier pieces to create an appropriate look. Choose a tailored style and pair it with dressy slacks or a skirt and heels to achieve an elegant