Killstar is a popular online retailer known for its edgy, gothic-inspired fashion. But with long shipping times and limited sizes. Many shoppers are looking for similar alternative brands like Killstar to buy affordable gothic clothing and accessories from.
I've searched high and low and found 12 of the best sites & stores like Killstar that offer cool gothic styles for men and women. From dresses and corsets to platform boots and chokers, these Killstar competitor stores have you covered whether you're into punk, goth, emo, or metal fashion.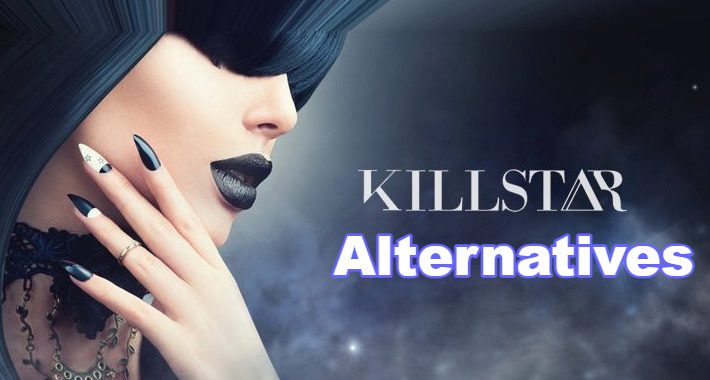 12 Best Websites Like Killstar To Shop For Gothic Apparel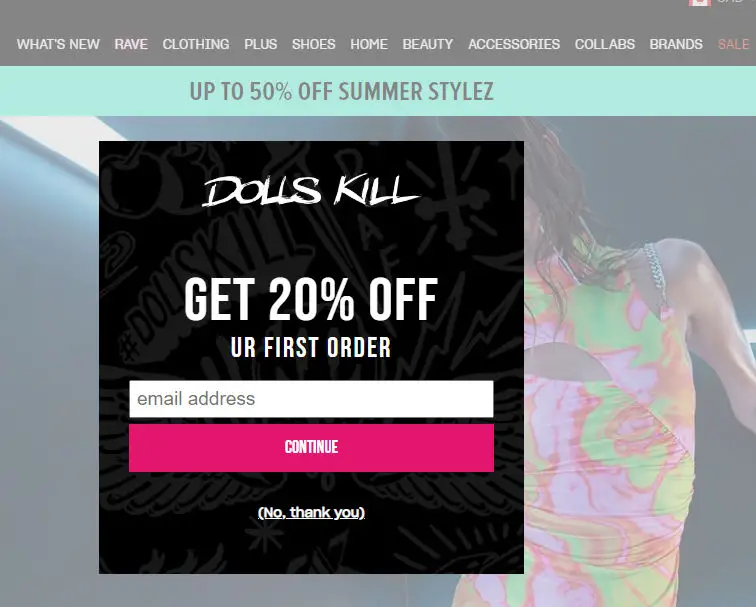 Dolls Kill is one of the most popular alternative clothing sites like Killstar. It has a huge selection of edgy women's fashion inspired by music subcultures like goth, punk, rave, and emo.
They are quite known for its dresses, shoes, and accessories in dark romantic and punk rock styles. You'll find chokers, fishnet tights, studded tops, mini skirts, and more. The accessories section also has some cool gothic jewelry and bags to complete an outfit.
Compared to Killstar, the brand has faster shipping within the US and great sales like "$10 Thursdays" where select items are only $10. The model photos on the site really showcase how to style the clothes too.
Key Perks:
Huge range of edgy punk and gothic dresses
Fast shipping in the US
Good sales and deals

Gothic Plus exclusively sells Gothic-style clothing in plus sizes, making it one of the top brands like Killstar for curvy women.
You can shop by category for dresses, tops, outerwear, bottoms, shoes, accessories, and jewelry in all different colors and materials like velvet, lace, denim, PVC, satin, and faux leather. There are also coveted Killstar designs sold here at lower prices.
The store has affordable pricing with items under $50, and new arrivals coming in each week. They even ship worldwide from the UK with standard delivery in 7-14 days.
Key Perks
Specializes in plus size Gothic fashion
Affordable pricing under $50
New styles added weekly


Dress Lily is a wholesale online store that offers really affordable alternative gothic and punk rock inspired women's fashion.
The dresses and tops section has a ton of romantic Gothic Lolita-style options with lace-up corset tops, off-shoulder ruched dresses, bell sleeves, and more. You can also find distressed denim pieces, graphic tees, fishnet tights, chokers, and accessories to complete the edgy look.
Sizes range from XS to XXL. Delivery times can be long since the clothes ship directly from China, but the incredibly low prices make it worth the wait.
Key Perks:
Gothic fashion for under $20
Huge range of affordable dresses and tops
Free worldwide shipping

No list of stores like Killstar is complete without Hot Topic. This mall staple and online store carries alternative fashions for emo, scene, punk, goth, and metal fans.
It aimed primarily at teenagers, but they do sell adult sizes too. You can shop by interest including Disney, Harry Potter, horror, anime, and gaming. Of course, the Gothic fashion is what Hot Topic is most known for.
They carry band tees, Tripp pants, studded accessories, fishnets, combat boots, black dresses, chokers, and more mall goth essentials. Their licensed band merchandise like Nirvana, Misfits, and Pink Floyd tops are always popular too.
Key Perks:
Caters to emo/goth teenagers
Band merch and pop culture apparel
Stores across the US
Tragic Beautiful lives up to its name with romantic Gothic clothing and rock 'n' roll inspired styles. It's a great alternative to Killstar for bohemian blouses, maxi dresses, and skirts.
The dresses combine feminine details like floral prints, lace trim, and flutter sleeves with edgy distressed details on denim and leather. There are also widow's walk dresses, kimonos, corset tops, graphic tees, and jackets.
Their in-house brand also includes Gothic-inspired jewelry, purses, and home décor like candles and tapestries. Tragic Beautiful offers free returns and exchanges on US orders.
Key Perks:
Boho Gothic clothing and accessories
Affordable own brand
Free US returns
Mystic Crypt is a UK-based Goth clothing brand offering affordable alternative womenswear and menswear like Killstar.
Their selection includes crushed velvet dresses, romantic blouses, draped cardigans, tailored wool coats, frock coats, steampunk accessories, and men's button-downs. There are also shoes like heeled boots, creepers, and brogues to match the Victorian Gothic vibe.
Mystic Crypt provides worldwide shipping and currently offers 15% off dresses. Their items are around the £20-60 price range making it very affordable for the style and quality.
Key Perks:
Own brand of Gothic-inspired fashion
Affordable pricing £20-60
Ships worldwide
RebelsMarket is an online wholesale marketplace specializing in alternative clothing and accessories. They feature hundreds of independent designers and custom makers.
It's among the great stores similar to Killstar to discover under the radar goth, punk, rock, metal and emo fashion brands from around the world. Find handmade corsets, demonia boots, tattoo-inspired designs, leather jackets, band merch and more.
If you're looking for unique statement pieces, Rebels Market offers an extensive selection. The site also stocks alt wardrobe basics like fishnets, chokers, baggy jeans, and studded accessories.
Key Perks:
Connects shoppers with indie brands
Unique handmade gothic designs
New styles added daily
Punk Rave is also creating fashion and accessories for punks, goths, and alternative subcultures.
Punk Rave is known for their high quality, high fashion Gothic clothing that mixes punk, military, and Victorian influences. Shop punk inspired coats, lace-up trousers, corsets, suiting, dresses,mourning veils, top hats, riding boots, and other striking designs.
Expect to pay high price points for the premium materials and detail work. Punk Rave also sells unique accessories like canes, goggles, and jewelry.
Key Perks:
High-end Gothic punk fashion
Luxe fabrics and detailing
Unique accessories
EMP is one of Europe's most popular alternative clothing and entertainment stores. They have 150 brick-and-mortar shops across Germany and Austria, along with their online store shipping globally.
The Gothic fashion selection includes accessories like studded belts/bracelets, fishnet gloves, chokers, and wallets with skull, dragon, and occult prints. There are also t-shirts, dresses, skirts, and jackets in cybergoth, romantic Gothic, and vampire hunter styles.
EMP's main focus is their licensed rock and movie merchandise. You can also find CDs/DVDs, home decor, gaming collectibles, and gifts for the rocker, gamer, or horror fan in your life.
Key Perks:
Gothic clothing and accessories
Huge range of band/movie merch
150+ stores in Europe
Zone Rock is a the perfect Killstar alternative store for the punk rock and heavy metal lover. Based in the UK, this edgy streetwear brand makes band tees, biker jackets, hoodies, joggers, and accessories fit for a hardcore gig.
The selection includes branded tops representing rock bands like Metallica, Iron Maiden, ACDC, Black Sabbath, and more. You can also shop by subculture including emo, gothic, vaporwave, and Harajuku streetwear.
The store does worldwide delivery with standard shipping in 5-8 days. Their affordable prices and consistent sales make it easy to stock up on music merch. Use code WELCOME10 to save 10% off your first order.
Key Perks:
Rock and metal band tees
Biker jackets, hoodies, joggers
Worldwide shipping & discounts
11. Calluna
A small independent UK brand, Calluna comes up as a unique alternative clothing brand for anyone looking for stores like Killstar for women's medieval and Victorian-inspired fashion. Their collection focuses on romantic pieced together dresses, skirts, tops, and coats taking cues from medieval, wartime, and Victorian influences.
Made from fabrics like velvets and silks, the old-world dresses and skirts are trimmed in vintage laces and ribbons for a mystical charm. Each piece has intricate details ensuring no two are exactly the same. In addition to women's clothing, it also sells finely crafted pewter Gothic jewelry.
With fair pricing and worldwide shipping, this indie brand is perfect for finding rare, romantic Gothic pieces. Everything is made-to-order in their UK studio.
Key Perks:
Made-to-order medieval and Victorian inspired clothing
Intricately detailed, one-of-a-kind pieces
Handcrafted Gothic jewelry
Regal Rose is a UK-based Gothic and alternative fashion brand that makes a great Killstar dupe. The store is owned by tattoo model Becky Holt and reflects her signature vampy Victorian Goth style.
Shop Victorian-inspired dresses, lace blouses, velvet tops, duster cardigans, corsets, and skirts in jewel tones and romantic fabrics. Regal Rose also has an accessories collection with chokers, garters, headbands, gloves, and jewelry.
The detailed designs and affordable prices under £50 make this brand a hidden gem. Regal Rose offers worldwide shipping and runs frequent sales on their site.
Key Perks:
Owned by Gothic model Becky Holt
Victorian-inspired clothing & accessories
Affordable prices under £50
Conclusion
Killstar has earned its popularity among the goth and alternative subcultures for its stylish, affordable fashion. But long delivery times and limited sizes prevent many fans from buying Killstar.
Luckily, there are now so many great sites and stores like Killstar that provide similar edgy Gothic clothing and accessories. The 12 alternative brands featured here were chosen for their cool gothic styles, affordable prices, wide size ranges, and reliable shipping.
No matter your style or location, you can now find the perfect gothic clothing from retailers that ship quickly and offer extended sizing. So don't settle for long wait times and limited options – explore these Killstar competitors for your new favorite pieces!
FAQs About Killstar
What is Killstar?
Killstar is an alternative clothing brand from the UK that sells Gothic, punk, and heavy metal inspired fashion. They are known for their dark romantic dresses, tops, skirts, and accessories.
When was Killstar founded?
Killstar launched in around 2000. The founders started by selling Gothic designs on eBay before expanding into a full ecommerce store.
What sizes does Killstar carry?
Killstar's size range is limited. Their standard women's sizes only go up to XL or a US size 12. Some styles are now available in Plus sizes up to a US 22/24 but selection is limited.
How long does Killstar shipping take?
Shipping times are slow and can take 2-3 weeks for delivery. Killstar ships from the UK worldwide which causes delays, especially around sale periods when order volumes are high.
What are some of Killstar's most popular products?
Some of Killstar's best selling products include:
Band tee shirts like Nirvana, Pink Floyd, Guns N Roses
Gothic dresses like the Widow Walk Dress
Vegan leather pants, skirts, and jackets
Choker necklaces
Platform boots and creepers shoes
Does Killstar offer discounts or sales?
Yes, Killstar has seasonal sales around Black Friday, Halloween, and Christmas where many items are discounted. You can get 20-60% off select styles during these major sales.
What is Killstar's return policy?
Killstar accepts returns of unworn items within 14 days of delivery. You need to email them first to receive a return authorization before sending items back.
Does Killstar ship worldwide?
Yes, Killstar delivers worldwide to over 80 countries. Shipping rates and delivery times vary greatly by location. US customers can expect 7-14 day shipping.