Welcome to our blog post about the longevity of Doc Martens! Whether you're a long time fan of the brand or just getting into them, you're probably wondering how long they last. In this post, we'll cover what makes Doc Martens so durable, how to break them in, the best ways to care for them, and tips on repairing scuffs and scratches.
We'll also cover if they're waterproof, suitable for all weather conditions, and the different styles of Doc Martens that are available. Finally, we'll talk about their price tag, warranties, and if they have a lifetime warranty.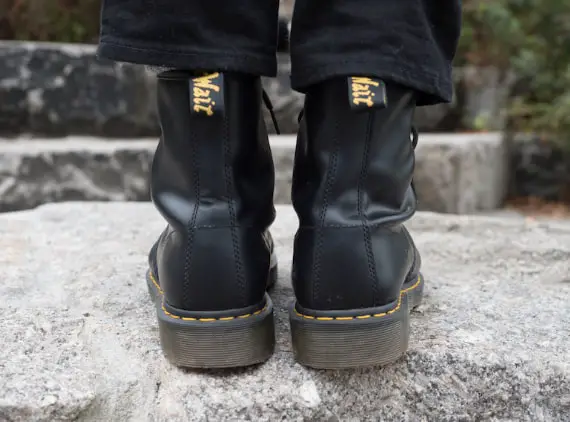 About Doc Martens
Dr. Martens is an iconic footwear brand that has been around for decades, offering a range of shoes, boots and accessories for men, women and kids. The brand is also vegan friendly, with a range of synthetics. With free delivery on orders over £50 and up to 40% off selected styles, shoppers can find something that fits their style and budget.
They can also take advantage of their next-day delivery service. Dr. Martens also has a huge presence on Instagram, with 9 million followers and counting.
How Long Do Dr. Martens Last?
They are known for their durability and long-lasting quality, but the exact lifespan of any pair depends on how they are cared for and how often they are worn. Regularly cleaning and conditioning of the leather, as well as avoiding getting them wet, can help extend the life of your Doc Martens. Generally, with good care and regular wear, a pair of Doc Martens can last anywhere between 5 and 20 years, depending on their level of use, care and how they are stored.
What Makes Doc Martens so Durable?
Doc Martens are renowned for their durability, thanks to the unique air-cushioned sole created by Klaus Maertens. This sole provides cushioning and shock absorption, which makes them comfortable to wear for long periods of time.
Also, the classic leather upper is tough and long-lasting, ensuring that these shoes will stand the test of time. To top it off, the iconic yellow stitching that features on Doc Martens gives them a timeless style that many people love.
The soles of Doc Martens are also designed to last. They're constructed using a combination of rubber, PVC, thermoplastic polyurethane and air cushioning which makes them extremely flexible and resistant to wear and tear.
How to Break in Doc Martens
Breaking in a pair of Doc Martens can take some time, but it's worth it in the long run. Here are some tips on how to do it:
• Wear thick socks while you break in your Doc Martens. This will help to cushion the shoes and soften the leather over time.
• Wear it for short periods at first. Wearing them for just a few hours at a time will help to gradually shape the shoes to your feet.
• Apply a leather conditioner or wax to the leather. This will soften the leather and make it more flexible.
• When you're not wearing the shoes, put a shoe tree or a pair of foot forms in them. This will help them stay in shape and break them in faster.
• Walk around in your Doc Martens as much as possible. This is the best way to break them in and ensure that they fit perfectly.
• Keep an eye out for any signs of discomfort and adjust accordingly. Blistering or rubbing may occur, which is normal when breaking in new shoes but should be monitored closely.
• Be patient. Breaking in a pair of Doc Martens can take some time, but it's worth it for the long-term comfort and durability they provide.
•  Another way to break in Doc Martens is to use a hairdryer on the leather at a low setting. This will help to loosen up the leather and make it more comfortable.
What's the Best Way to Care for Doc Martens?
1. Clean your Doc Martens regularly with a damp cloth and mild detergent.
2. Apply a leather conditioner to keep your boots soft and supple.
3. Use a protective spray to keep the leather waterproof.
4. Use a shoe brush or soft cloth to buff away scuffs and scratches.
5. Keep your boots away from sources of heat, like radiators, fireplaces, and direct sunlight.
6. Keep your boots in a cool, dry area when you're not wearing them
7. Avoid wearing your Doc Martens in wet conditions, as this can lead to water damage and discoloration of the leather.
8. Stuff your boots with newspaper when not in use to help maintain their shape and prevent creasing.
How to Repair Scuffs and Scratches on Doc Martens
Start by cleaning the area with a damp cloth to remove any surface dirt
Use a leather conditioner to soften the leather
Rub a small amount of shoe polish into the scuff or scratch
Buff the area with a soft cloth until the scuff or scratch disappears
If the scuff or scratch is still visible, you may need to apply a thicker layer of polish
Once you are satisfied with the results, apply another layer of leather conditioner to keep the leather supple and protected from further damage
If your Doc Martens are suede, use a suede eraser or brush to remove any surface scuffs or scratches.
Can You Waterproof Doc Martens?
Yes, you can waterproof Doc Martens! To do so, you can use Dr Martens Wonder Balsam wax to revive and rejuvenate your boots and help keep them water-resistant.
The wax is applied directly to the leather upper of the boot and will help protect them from water damage. It's important to note that the wax should not be applied to any fabric, synthetic or metallic components of the boot.
Are Doc Martens Suitable for All Weather Conditions?
Doc Martens are designed to be suitable for all weather conditions, however it is important to keep in mind that certain styles of Doc Martens are better suited for certain weather conditions. Many of the boots and shoes in the Dr. Martens range are made from waterproof materials, such as leather or synthetic materials, and feature sealed seams to protect against the elements.
For colder weather, styles with Thinsulate insulation or a padded lining can provide warmth and comfort. For warmer weather, styles with breathable linings and lighter materials can help to keep feet cool and comfortable.
It is always a good idea to check the individual product descriptions for details about the materials used and features included in each style. When selecting a pair of Doc Martens, make sure to choose the style that is best suited to your climate and personal preferences.
How Long Do Different Styles of Doc Martens Last?
– Doc Martens classic 8 eyelet lace up boots last between 5-20 years, depending on their level of use.
– Doc Martens Brogue shoes usually last between 6-10 years.
– Its air-cushioned sole shoes can last up to 15 years with proper care and maintenance.
– Doc Martens Chelsea boots can last up to 10 years or more if properly cared for.
– Its sandals and flip flops are known to last approximately 5 years with regular wear.
– Its  boots with zipper fastenings are usually more durable than the lace up versions and can last up to 20 years or longer.
Are Doc Martens Worth the Price Tag?
Yes, Doc Martens are worth the price tag. The company has been making quality shoes and boots since the 1940s, and its products are renowned for their durability and comfort. The iconic design of the shoes is timeless, and the styles remain popular year after year.
Do Doc Martens Have Warranty?
Yes, items bought from their official online store or retail locations have a one-year warranty against problems with the way they were made. They also have a lifetime warranty collection for certain products.
Does Doc Martens Do Repairs?
Doc Martens does not offer repair services for their shoes. If your shoes need repair, it is best to take them to a local cobbler or shoe repair shop. Depending on the type of repair needed, they may be able to help. It is also possible to purchase replacement parts from Doc Martens, such as soles, heels and laces.
Can You Resole Doc Martens?
Yes, you can have your Doc Martens resoled. Many shoe repair specialists have the skills and experience needed to restore worn footwear to its former condition.
What skills are needed to resole Doc Martens?
Resoling it requires a wide range of skills, including reading, working through the tasks, and creating journeys. It is also important to have knowledge of the vocabulary associated with the task.
Do Doc Martens Have a Lifetime Warranty?
No, Dr. Martens no longer has a warranty that lasts forever on their shoes. There is a one-year warranty on all products against manufacturing faults for those who purchase them through the authorised web store or retail locations.
Are these boots Slip Resistant?
Yes, these boots are designed to be slip resistant. They are designed with a strong, non-slip sole that provides maximum traction and grip on any surface. These boots also feature steel toe protection which helps guard against any potential workplace hazards.
Final Words
It's clear that Doc Martens are a great investment when it comes to footwear. Not only do they last for years, but they are also incredibly comfortable and stylish. With proper care, your Doc Martens should last for many years.

Dhare is a popular blogger and also runs a boutique business. He has a lot of years of experience, so he knows a lot about fashion in general. So, he is sharing his information and technical stuff in this diary.