Welcome to our comprehensive guide on Doc Martens! For years, these iconic shoes have been a staple of fashion and style. But are they also good for your feet? In this blog post, we'll explore the ins and outs of Doc Martens and answer most of the queries. We'll also provide some FAQs about Doc Martens and discuss whether or not they're good for people with flat feet. So, let's get started!
What Are Doc Martens?
Doc Martens, or "Docs", are a type of shoe that has become iconic of the punk and grunge subcultures. They're known for their thick leather, air-cushioned soles, and various types of construction. The classic Dr. Martens boot was invented by German doctor Klaus Marten in the 1950s and is still popular today.
It also come in a variety of styles, including boots, oxfords, sandals, and work boots. Not only do they look great, they're also incredibly durable and comfortable. Whether you're looking for a stylish pair of shoes to wear out on the town or a reliable pair of boots to wear on the job, it can meet your needs.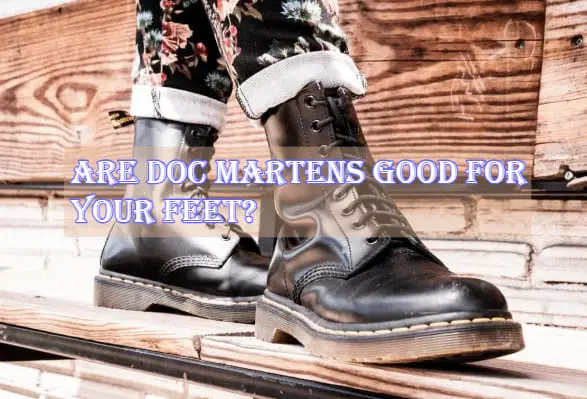 Are Doc Martens Good For Your Feet?
Yes, Doc Martens are generally considered to be good for your feet, as they provide excellent arch and ankle support. Additionally, the leather material of the boots is breathable and does not cause discomfort or sweating. However, it is important to note that the boots tend to run small, so make sure to get a size up when ordering.
How to Fit Your Doc Martens Properly
Getting the right fit with Doc Martens is essential for comfort and longevity. To ensure a perfect fit, always try on your new Doc Martens in store. That way, you can take your time and get the perfect size for you.
When trying it on, make sure that you wear the same type of socks or hosiery that you would wear with them regularly. You should also walk around the store in them to make sure they fit well and are supportive.
They are known for their break-in period. This means that when you first wear them, they may feel tight or uncomfortable. This is normal and will pass after a few wears. To speed up the process, wear your Doc Martens around the house instead of just wearing them to go out. This will help to speed up the break-in process.
If you find that your Doc Martens are too tight even after wearing them in, then it may be time to try a different size. It is important to remember that Doc Martens are not like regular shoes, which tend to stretch a little bit over time. The fit should be snug but not uncomfortable when you first put them on and wear them around the house.
Are Doc Martens Good For Wide Feet?
If you have wide feet, you know that finding the right shoes can be a challenge. You want something comfortable and supportive, but it can be hard to find shoes that fit. Fortunately, they are an excellent option for those with wide feet. The boots offer plenty of wiggle room for your toes and their roomy design allows for extra space for a wider foot.
Plus, the tough construction of the boots helps provide additional protection and support for your feet. The boots also feature GripTrax soles that provide plenty of grip and traction, making them ideal for those who are on their feet all day. So, if you're looking for a comfortable and supportive boot that is suitable for wide feet, yes Doc Martens are an excellent choice.
Are Dr. Martens Bad for Your Feet?
Generally speaking, Dr. Martens are not bad for your feet. They are designed with comfort and durability in mind and are made with quality materials. While they may not be the best choice for those with certain medical conditions, they can provide good arch support and cushioning.
It is important to ensure that the size you select is appropriate for your feet, as an ill-fitting shoe can cause discomfort and even injury. It is also advisable to alternate your shoes regularly to avoid overuse injuries.
The most common complaint about Doc Martens is that they can be uncomfortable and cause pain if worn for long periods of time. This is because the boots have a stiff sole and lack cushioning, which can lead to heel and arch pain.
Why Do Doc Martens Hurt My Feet?
The truth is, Doc Martens can hurt your feet if you don't take the time to break them in properly. The shoes are stiff and need to be molded to the shape of your feet for them to be comfortable. With the right amount of care, however, you can make sure that your Docs are comfortable and fit your feet perfectly.
To break in your Docs, wear them as often as you can and gradually increase the amount of time you spend in them until they become supple and comfortable. Additionally, you can also add an extra insole or insoles if your feet are particularly sensitive. If your Docs still hurt after breaking them in, consider getting a new pair or buying a different model as different styles may fit differently.
Final Words
When it comes to comfort, Doc Martens boots definitely have their pros and cons. While they do provide excellent arch support and cushioning, some people find them too tight or not breathable enough. Moreover, the break-in period can be quite long and painful.
However, if you're looking for reliable work boots or just want to add a bit of style to your wardrobe, Doc Martens are a great choice. They offer plenty of protection and good grip, making them suitable for all kinds of activities.
FAQs About Doc Martens
Doc Martens are a classic style of shoe, but with their hard sole and tight fit, there are some common questions about whether they're good for your feet. To help answer that question, here are some common FAQs about Dr Martens:
Are Doc Martens Good for Standing All Day?
Yes, you can wear Doc Martens to stand all day. Their cushioned soles, supportive design, and break-in period make them comfortable to wear throughout the day.
Are Doc Martens Good for Orthotics?
Yes, Doc Martens are a great option for custom orthotics. The Doctor who designed them, Klaus Marten, had therapeutic intentions in mind when developing the sole.
Are Doc Martens Good for Walking?
Yes, Doc Martens are good for walking and everyday use. They provide good ankle support and will cushion your feet as you walk.
Are Doc Martens Good for Flat Feet?
Yes, Doc Martens are good for flat feet. Their GripTrax sole provides excellent traction and their SoftWair cushioning gives your feet plenty of wiggle room.
Do Doc Martens Hurt Your Feet?
Though it may feel tight when you first try on a pair of Docs, this is normal. Once you break them in, they should feel comfortable on your feet.
Are Doc Martens Good for Flat Feet?
Flat feet can make it difficult to find shoes that are comfortable and supportive. Doc Martens are a great option for those with flat feet. They offer a solid arch support, and the cushioned insoles provide extra padding for flat feet, making them an ideal choice for those with this condition.
Do Doc Martens Hurt Your Feet?
Answer: It depends on the individual. Generally, Doc Martens are known for being a sturdy and comfortable boot. However, they are typically heavier than other shoes and have a stiff sole, which some people may find uncomfortable. To reduce the risk of discomfort, it is important to break in a new pair of Doc Martens by wearing them for short periods of time and gradually increasing the wear time.
Do Doc Martens make your feet smell?
Wearing Doc Martens or any type of shoe that is not well ventilated can cause your feet to sweat and smell. Sweaty and moist feet can cause an unpleasant odour, which is why it is important to wear shoes that fit properly and allow your feet to breathe.
They are also made of thick leather, which can trap sweat and moisture, leading to smelly feet. To reduce foot odour, you should change your socks daily and wear shoes that are made of breathable fabric, such as canvas or mesh.
Are Dr Martens Good For Narrow Feet?
Dr Martens are a popular and iconic brand of footwear, and can be a great choice for those with narrow feet. The brand offers a range of styles that are specifically designed for narrow feet, featuring a slim last and a range of widths. Additionally, many styles also feature a removable insole, allowing extra space for narrow feet.
Are Doc Martens good for Plantar Fasciitis?
Yes, Doc Martens can be a good choice for people with Plantar Fasciitis. The supportive construction of the boots can help to reduce the pain and discomfort associated with the condition.
In addition, the insoles and EVA footbeds used in the boots can provide additional cushioning and support. It also have a technology that focuses on the insole area for more than just comfort, but also for stability and support.

Dhare is a popular blogger and also runs a boutique business. He has a lot of years of experience, so he knows a lot about fashion in general. So, he is sharing his information and technical stuff in this diary.