Are you wondering if ripped jeans are still in fashion for 2023? If you've been wondering if ripped jeans will still be fashionable this season, then you're in the right place. Here we will explore they are still in style and how they can add style and flair to your wardrobe. So read on and learn how to rock this iconic style!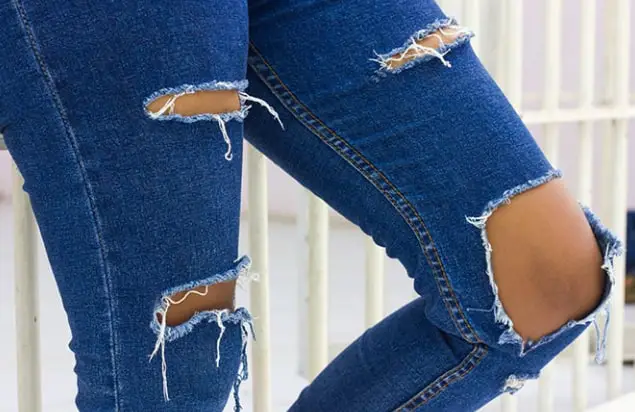 Are Ripped Jeans Still in Style for 2023?
The answer for distressed jeans still in style is yes! Ripped jeans are still in fashion and will be for the foreseeable future. In fact, they are one of the hottest trends of 2022 and will continue in 2023.
 Designers have been getting creative with distressed denim, and we're seeing ripped jeans with patches, raw hems, 70s-inspired styles, and earthy neutral tones, among many other styles.
It's not just women who will be jumping on this trend either; men's ripped jeans have been making a comeback as well! So, if you're looking for a stylish way to stay on trend throughout the year, ripped jeans are definitely the way to go.
How to Wear Ripped Jeans Without Overdoing It
When it comes to wearing ripped jeans, it's important to make sure you don't go overboard. To accomplish this, it's best to pair your ripped jeans with pieces that are more structured.
This can help to ground the look and create a more balanced look overall. For example, you can pair your ripped jeans with a blazer or a tailored jacket. This will help to give your outfit a more polished and put-together look without looking too dressy.
Additionally, you can also pair your ripped jeans with a blouse for a more feminine and girly look.
How to Style Ripped Jeans for Different Occasions
When it comes to styling ripped jeans for different occasions, there are endless ways to make them look chic and stylish.
For a smart-casual look, you can pair ripped jeans with a structured blazer and a cami top for a polished yet casual look. If you work in a more relaxed office environment, you could even wear them with a shirt and loafers.
For date night, try wearing your ripped jeans with a dressy blouse and heels or wedges. If you want to dress them up even more, consider adding a statement belt or jewellery to your outfit.
No matter the occasion, you can style your ripped jeans in an array of ways to create an effortless and chic ensemble.
Popular Ways to Wear Ripped Jeans
There are many ways to wear ripped jeans. Whether you choose to go for a subtle look or something bolder, there are plenty of options to choose from.
From Balenciaga to Givenchy, there are plenty of designer choices, or you may opt for something more affordable. You can even pair them with other pieces to create an entirely new look. Let's take a look at some of the most popular ways to wear ripped jeans.
The Benefits of Wearing Ripped Jeans
Ripped jeans have been a fashion staple for decades, and it's easy to understand why. Not only do they make an outfit stand out, but they also offer a range of other benefits.
For starters, they are extremely comfortable due to the relaxed fit, making them ideal for everyday wear. Additionally, the pre-ripped look gives off an effortless vibe that allows you to look great with minimal effort.
Finally, ripped jeans can easily be dressed up or down depending on the occasion, making them perfect for any situation. From casual days out to formal events, ripped jeans offer a versatile and stylish option that won't let you down.
Conclusion
Yes, ripped jeans are still on trend for 2023. They are a great way to add an edgy look to any outfit. Whether you're going for a casual, dressy, or streetwear look, there is a style of ripped jeans that will fit your needs. From skinny jeans to boyfriend jeans, you can choose the style that best suits your body and fashion sense.
FAQs
What are ripped jeans?
Ripped or distressed jeans are a style of denim jean characterized by intentional tears, holes, and other forms of distress. They are highly popular among teenagers and young adults and are commonly seen in casual and streetwear fashion.
Is Ripped Jeans Casual?
Yes, ripped jeans are considered casual attire and are often part of a laid-back, comfortable look. They can be paired with a variety of tops and accessories to create a unique style. When wearing ripped jeans, it is important to keep the rest of the outfit relatively simple and not too busy.
Why is ripped jeans so popular?
Ripped jeans have become increasingly popular due to the fact that they are fashionable, comfortable and versatile. They are a great way to express individual style and can be dressed up or down depending on the occasion.
What types of ripped jeans are there?
Ripped jeans come in a variety of styles, including light wash, dark wash, boot cut, skinny fit, and even flares. They also come in many different levels of distress – from subtle frays to large, gaping holes.
How should I care for my ripped jeans?
To keep your ripped jeans looking their best, it's important to wash them inside out in cold or lukewarm water. Avoid using harsh detergents or bleaches to prevent further damage. Additionally, it's best to air dry your jeans rather than putting them in the dryer.
Is it possible to repair ripped jeans?
Yes, it is possible to repair ripped jeans. Depending on the size and severity of the rip, you may be able to use an iron-on patch or a specialized denim repair kit to fix the damage. For more extensive damage, you may need to consult a professional tailor.
Can I make my own ripped jeans?
Yes, you can make your own ripped jeans if you have the right materials and tools. You will need a pair of scissors or a razor blade, sandpaper or a cheese grater, and fabric glue. It is also helpful to have a few reference images for inspiration

Dhare is a popular blogger and also runs a boutique business. He has a lot of years of experience, so he knows a lot about fashion in general. So, he is sharing his information and technical stuff in this diary.