What Are Slip On Shoes?
Slip on shoes are a type of footwear that can be easily slid onto the foot without needing to tie laces or fasten straps or buckles. They offer convenience and versatility for daily wear. In this comprehensive guide, we'll explore what defines slip on shoes, the different types available, their intended uses, and benefits of wearing slip ons.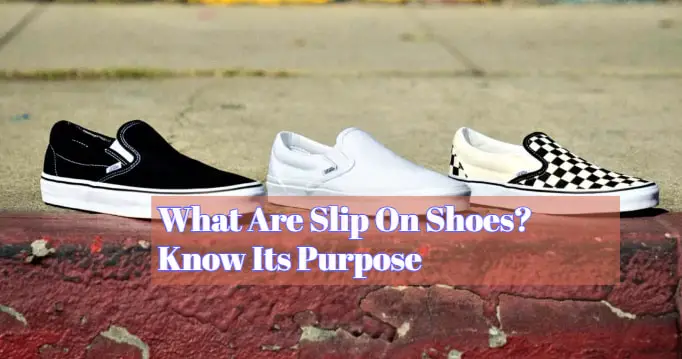 What Defines a Slip On Shoe?
So how do you identify a true slip on shoe versus a lace-up lookalike? Here are the defining features:
No laces or fasteners: The hallmark of a slip on is the lack of laces, buckles, straps, or any type of fastening system. Your foot simply slides right in.
Low cut ankle: Slip on shoes typically have a low cut ankle line to facilitate quick on-and-off wear. High tops or boots are not considered true slip ons.
Heel support: Proper slip ons will have a closed heel to keep your foot in place as you walk. Backless styles like mules or slides do not qualify.
Secured fit: Despite the lack of fasteners, your foot should feel relatively secure in a slip on. This is achieved through design elements like goring panels or elasticized collars. Ill-fitting slip ons will flop up and down as you walk.
Minimal break-in period: The beauty of slip ons is the ability to just slide them on and go about your day in comfort, without a tedious break-in period.
When a shoe meets all these criteria – no-fuss wear, low cut ankle line, closed heel, and instant comfort – you've got yourself a true slip on!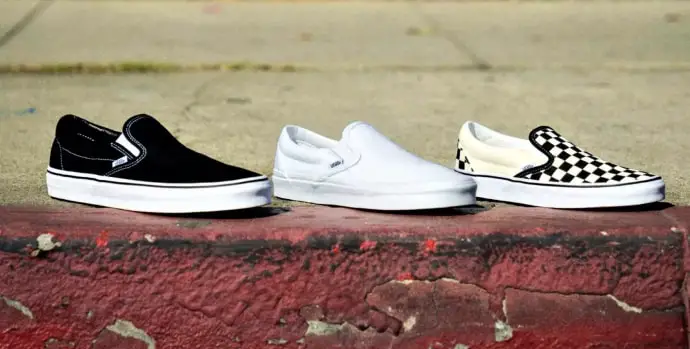 Types of Slip-On Shoes
While all slip on shoes share the defining features above, there are two main categories: loafers and slip-on sneakers. Each come in a variety of styles with distinct purposes.
Slip On Loafers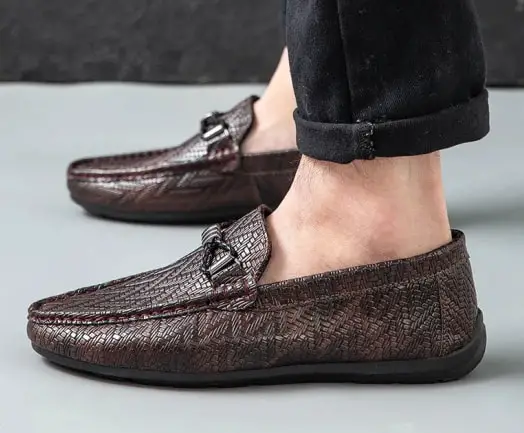 The loafer is a classic slip on shoe silhouette stemming back to 1930s Norway. Loafers are known for their easy slip-on style and casual, preppy vibe.
There are a few popular styles of slip on loafers:
Penny loafers: The most iconic loafer features a strip or "saddle" across the vamp. Penny loafers are preppy and polished.
Tassel loafers: These loafers have a decorative front tassel in lieu of a saddle. Tassel loafers skew casual.
Driving loafers: Inspired by car shoes, these loafers have rubber nubs on the sole for grip. Meant for casual wear.
Gucci loafers: The Italian brand made the loafer a status symbol with their high-end Horsebit and Velvet styles.
Loafers work well in the office with trousers or dresses. Stick with leather or suede styles in classic brown, black, or burgundy. Avoid loud prints or embellishments for professional settings.
Slip-On Sneakers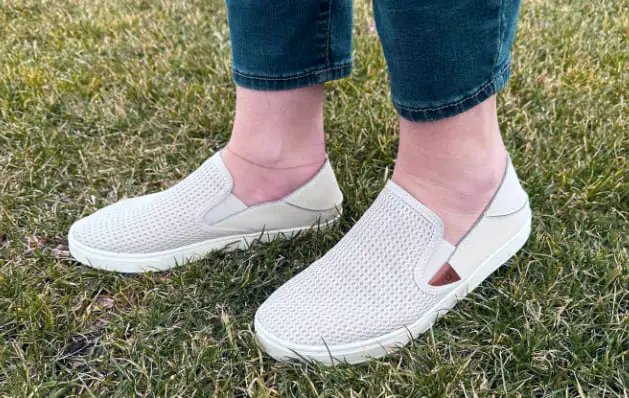 Slip-on sneakers combine the fuss-free ease of a slip on with the sporty appeal of a tennis shoe. These casual shoes work for active pursuits and everyday wear.
Popular styles include:
Vans: The checkered slip on Vans are a wardrobe basic for a laidback casual vibe.
Keds: Keds Champions epitomize the classic American tennis shoe in a slip on form.
TOMS: Known for their simple canvas slip ons with exposed stitching. TOMS are a comfortable, casual style.
Nike/Adidas/Puma: Athletic brands now offer slip on versions of iconic sneakers like the Adidas Stan Smith.
Opt for slip-on sneakers in canvas, jersey, or leather when you want a sporty look with the functionality of a slip on. Great for travel days, running errands, or casual Friday.
| | Loafers | Slip-On Sneakers |
| --- | --- | --- |
| Origins | 1930s Norway | Tennis shoes adapted to slip ons |
| Styling | Polished, preppy, smart casual | Sporty, laidback, casual |
| Popular Materials | Leather, suede | Canvas, jersey, leather |
| Ideal Settings | Work, business casual, weekends | Travel, errands, casual occasions |
| Brand Examples | Gucci, Allen Edmonds, Cole Haan | Vans, Keds, Converse, TOMS |
What Are Slip On Shoes Used For?
So when and where should you wear your slip on shoes? Here are the most popular use cases:
Work or business casual settings: Loafers pair perfectly with trousers, suits, or dresses for an office-friendly look. Polished leather penny loafers are a smart choice.
Weekend wear: Both loafers and slip-on sneakers work for casual daytime hangs on weekends. Try a preppy tassel loafer or laidback canvas Vans.
Travel days: Slip ons make airport security and long travel days a breeze. Slip-on sneakers offer more cushioning if you'll walk a lot.
Quick errands: For short trips to the market or coffee shop, slip ons allow you to pop out the door fast. No need for socks.
Driving shoes: Slip on loafers with rubber driving soles provide flexibility behind the wheel or for summer drives.
Going sockless: Many opt to wear their slip ons without socks when the weather permits. Extra breathability!
Boat shoes: Slip ons work well as boat shoes for traction onboard. Just be sure to avoid leather soles.
So in summary – slip on shoes deliver comfort and ease anywhere from the boardroom to the boat deck!
Are Slip-Ons Meant to Be Worn Without Socks?
This is a point of debate among slip on enthusiasts. Some styles explicitly advise going sockless, while others recommend light socks for sweat absorption and odour control. Here are a few guidelines:
Loafers: High-quality leather loafers with a smooth interior lining can safely be worn sockless during warm weather. For extended wear, try invisible no-show socks to help with moisture. Leather soles can get slippery without hose.
Sneakers: Cotton canvas slip-on sneakers or shoes made of jersey material should always be worn with socks. The fabrics don't breathe as well and can cause blisters, odor, and moisture when bare.
Boat shoes: To avoid soaked feet, wear boat-style slip ons with moisture wicking socks. Helpful on the water.
Office shoes: Stick with dress socks in a matching shade when wearing slip ons with business attire. Prevents sweat stains and enhances comfort for all-day wear.
Consider fit, breathability, occasion, and your personal comfort when deciding on socks or sockless with slip on shoes. Test out different options to see what works best for your needs!
What Are the Benefits of Wearing Slip On Shoes?
Slip on shoes offer many perks beyond just their easy-on fit. Here are some key benefits that make them a staple for many:
Convenience: No need to fuss with laces or straps when you're ready to head out. Just slide your feet in and go!
Versatility: Slip ons transition seamlessly from casual hangouts to business meetings. Wear them with jeans or dress pants.
Security: Your foot remains comfortably in place thanks to features like heel counters and elastic goring. No flopping around as you walk.
Comfort: Quality slip ons mold perfectly to your foot. Minimal break-in time required. Great option for all-day wear.
Lightweight: Canvas and leather slip on styles keep your feet cool during warm weather. Less bulky than shoes with tongues.
Easy to pack: Slip ons take up less space in luggage. No laces to tangle.
Airport friendly: Breeze through airport security slip ons. No need to remove for scans.
Sockless wear: Circulates air around your feet during hot weather or quick errands. Feet can breathe easier.
So if you value comfort, convenience, and flexibility in your footwear, make slip ons your new go-to shoe style!
The Difference Between Slip On and Pull On Shoes
Slip on and pull on shoes sound nearly identical in description. But there's an important distinction between the two.
Slip on shoes feature elastic goring panels or collars that mold to the shape of your foot for a secure fit. You simply "slip" your foot inside and walk comfortably.
Pull on boots lack the elastic features of slip ons. They slide on, but must be "pulled" into place and may have some heel slippage. Cowboy boots are a classic pull on style.
So in summary:
Slip ons stretch to hold your foot in place without fasteners required. The fit feels customized.
Pull ons slide onto the foot but lack stretch panels. Wearers need to tug the boot/shoe into position.
Bottom line – every slip on is a pull on, but not every pull on can be classified as a true slip on!
Are Slip On Shoes Good for Walking?
If you'll be pounding the pavement on foot all day, are slip on shoes a good option? Or will they flop around and fail to offer arch support?
Here are tips for choosing slip ons optimized for extensive walking:
Prioritize arch support: Well-cushioned insoles are essential. Avoid flat, flimsy soles. Or add supportive inserts.
Pick stretchy materials: Elastic goring and collars prevent heel slippage as you walk. Jersey or neoprene are good choices.
Go for proper fit: Ill-fitting slip-ons will chafe and rub. Make sure they conform to your feet.
Check the sole: Look for textured rubber soles to prevent slips. Avoid smooth leather. Traction is key.
Consider sneakers: Slip on sneakers have more shock absorption for all-day wear than dressier styles.
With the right design features and materials, slip ons can absolutely provide the support needed for extended walking. Test out different brands and cushioning levels to find your perfect pair!
Are Slip On Shoes Business Appropriate?
In many offices, polished leather loafers are considered acceptable for business or business casual attire. Their refined styling elevates them beyond casual canvas slip ons.
Here are a few tips for wearing slip ons professionally:
Stick with leather: Leather penny loafers or tassel loafers add smart flair. Avoid suede, patterns, or embellishments.
Match metal hardware: Any buckles or metal bits should coordinate with your belt buckle for a polished effect.
Wear socks: Opt for dark dress socks rather than going sockless in the office. Prevents sweat and odour issues.
Keep formal lines: Avoid chunky rubber soles or heavy stitching. Seek a sleek silhouette.
Shine them: Keep the leather properly shined to maintain their refined look.
Add shoe trees: Using shoe trees at night extends the life of your pricy leather loafers.
With the right conservative styling, leather slip on loafers can absolutely look professional and pulled together at the office. They offer ease paired with polish.
Conclusion
Slip on shoes have become so popular thanks to their effortless versatility – dressing up for work or going casual for weekends. Now that you know how to identify true slip ons, the varieties available, and their many uses, it's time to give this no-fuss footwear a try!
From laidback canvas sneakers to posh Italian leather loafers, slip ons can fit any personal style or occasion. Just be mindful of fit, arch support, and materials if you plan to walk extensively.
So embrace the convenience and comfort of slip ons. Your feet will thank you! No more fumbling with laces or straps before you head out the door. Simply slide on a pair of loafers or sneakers when you're ready to go.
FAQs About Slip On Shoes
What's the difference between slip on and loafers?
Loafers are a specific type of slip on shoe known for their low vamp and preppy styling. But not all slip ons are loafers – tennis shoes and boots can also be designed as slip ons. However, all loafers are a type of slip on.
Are slip on shoes bad for your feet?
Well-made slip ons that fit properly and offer arch support are not inherently bad for your feet. However, cheaply-made, flat, non-breathable styles can cause discomfort. Test brands and cushioning levels to find the right slip ons for your needs.
Can you exercise in slip on sneakers?
Canvas slip-on sneakers generally lack the arch and heel support needed for intense exercise like running. Opt for lace-up athletic sneakers instead. That said, slip on sneakers are fine for light exercise like walking.
How long do slip on shoes last?
With proper care, high-quality leather slip on loafers can last 3-5 years or more. Casual canvas slip ons last about 1-2 years on average. Hand wash canvas shoes and use shoe trees with leather to extend their lifespan.
Should slip on shoes be tight or loose?
They should grip your foot without pinching or rubbing. Pick stretchy slip ons that mold to your feet rather than pulling on loose styles. But steer clear of overly tight fits that restrict circulation or cause blisters.
When should you replace slip on shoes?
Look for signs of excess wear like holes, tears, paper-thin soles, or cracked leather. Slip-ons with no cushion left will also need replacement. Ideally replace them every 12-18 months if worn frequently.
Can you wear slip on shoes all day?
It depends on the brand and style. Well-cushioned leather loafers or sneakers with comfortable insoles can be worn for extended periods. Try different slip ons to identify ones that provide all-day support and comfort.
Are slip-on shoes professional?
Polished leather loafers are acceptable with business attire in many offices. Avoid loudly-patterned canvas slip-ons. For a professional look, shine and care for leather slip ons and wear coordinated socks.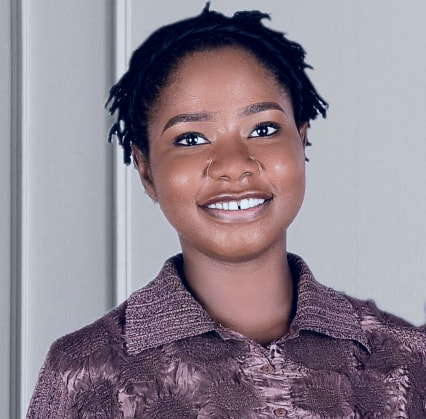 Blessing Bunmi is the founder and CEO of Blowra, the leading style guide providing insider fashion and shopping tips. With over 4 years of retail experience, She created Blowra to empower readers to confidently express their personal style.