Canvas shoes, with their simple styling and laidback vibe, have been wardrobe staples for over a century. Lightweight and breathable, these casual sneakers are perfect for everyday wear. But what exactly are canvas shoes? What types are available and how are they used today? This complete guide has all the details on these iconic kicks.
A Brief History of Canvas Footwear
Canvas shoes date back to the mid-1800s. Before rubber vulcanization, shoes were quite expensive, made from leather by individual cobblers. The new rubber technology enabled factory production of cheaper footwear with canvas uppers and rubber soles.
The first canvas sneakers emerged in the 1916 when the United States Rubber Company (now Converse) introduced the Featherweight model designed for basketball. In 1917, they debuted the iconic All Star, quickly becoming the shoe of choice for athletes.
Keds launched its canvas Champion shoe in 1916, bringing affordable and durable sneakers to the masses. Soon canvas sneakers shed their athletic image, becoming casual wear for men and women across society. Their popularity boomed post-war in the 20s and 30s.
Today, canvas sneakers remain fashion staples, with classic and new varieties available from brands like Converse, Keds, Vans, and Adidas. The timeless appeal and versatility ensure canvas shoes stay on trend year after year.
What Defines Canvas Shoes?
Canvas shoes have a few key characteristics that define them:
Canvas or cotton uppers – The upper part of canvas shoes is made from cotton canvas or a cotton blend rather than leather or synthetic materials. Canvas is soft, lightweight and breathable.
Rubber soles – Modern canvas sneakers have a rubber outsole and toe cap for grip, traction and durability. The rubber also provides flexibility and shock absorption.
Low ankle cut – Most canvas shoes are low tops, below the ankle. This allows freedom of motion. High top canvas sneakers are also available.
Simple, minimalist design – Canvas sneakers are unfussy. The style showcases the canvas upper with minimal stitching and overlays. Recent styles add some embellishments while retaining the pared back look.
Lace-up closure – Canvas shoes usually fasten with cotton laces threaded through metal eyelets or grommets. Slip-on canvas shoes are also available.
These key features make canvas footwear lightweight, flexible, breathable and comfortable for casual wear. The iconic canvas sneaker style remains instantly recognizable today.
Why Are Canvas Shoes So Popular?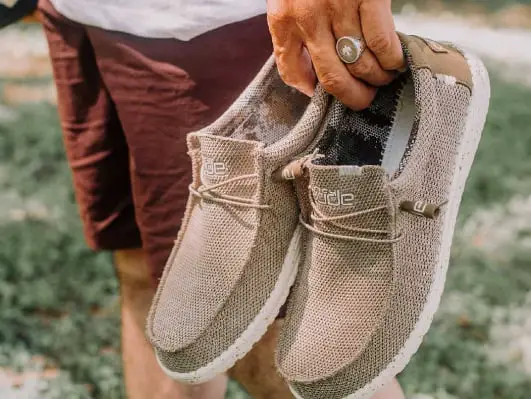 Canvas sneakers have been wardrobe staples for over a century now. What makes them such a perennial favorite? There are several reasons behind the ongoing popularity of these casual kicks:
Affordability
One of the main appeals of canvas shoes is their affordable price, especially compared to leather footwear. The simple canvas uppers and rubber soles cost less to manufacture. The price point makes canvas sneakers accessible fashion.
Breathability
Canvas uppers allow airflow to the foot, making them cool and breathable for warm weather. Leather and synthetics can't match the lightness and ventilation of canvas material.
Versatility
Canvas shoes literally go with everything in your closet, dressing up or down seamlessly. Their classic styling transcends fashion trends and passing fads. You can wear canvas sneakers year-round for nearly any casual occasion.
Comfort
The combination of lightweight canvas uppers and flexible rubber soles offers daylong comfort. Cushioned insoles provide arch support. The low ankle cut allows freedom of motion. For pure wearability, canvas sneakers can't be beat.
Style
While utterly simple in design, canvas sneakers have an effortless stylishness. The pared back look provides the perfect blank canvas for self-expression. Many brands offer customizable options to create your own signature style.
Nostalgia
For many, canvas sneakers are synonymous with fond childhood memories. Converse and Keds conjure up playgrounds, gym class, and lazy summer days. The old school vibe gives canvas shoes a feel good factor.
With affordability, comfort, style and nostalgia on their side, it's easy to see why canvas sneakers remain so popular decade after decade. These casual kicks have earned their reputation as true classics.
The Types of Canvas Shoes
When most people think of canvas shoes, the iconic Converse All Star comes to mind. But canvas sneakers actually come in an array of styles with distinct features that suit different needs. Here's a quick look at some popular options:
Low Top Sneakers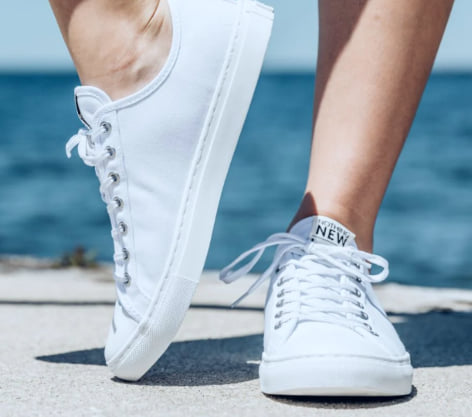 Epitomized by the classic Converse Chuck Taylor, Keds Champion and Vans Authentic, the low top is the most common canvas shoe style. The ankle-height design allows maximum mobility. Flat rubber soles offer stability and traction. Low tops work for nearly any casual outfit and activity.
High Top Sneakers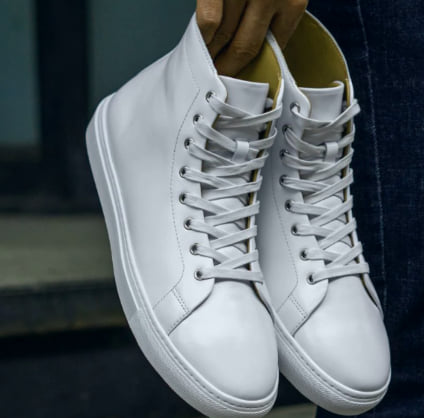 High top canvas sneakers like the Converse All Star provide ankle support and stability. The extra canvas hugs the ankle bone for a snugger feel. Basketball players favour high tops for foot protection. The style also has an old school vibe.
Slip-On Sneakers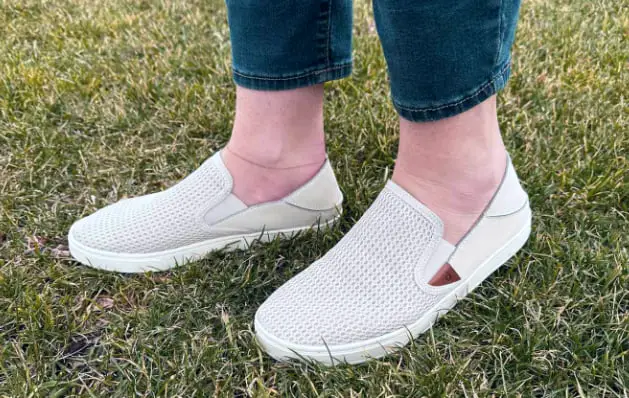 Want the casual cool of canvas shoes without laces? Check out slip-on styles like the Vans Classic Slip-On. An elastic gore lets you easily slide your foot in and out. Prints and patterns liven up the canvas upper. Slip-on canvas sneakers pair well with slim jeans.
Platform Sneakers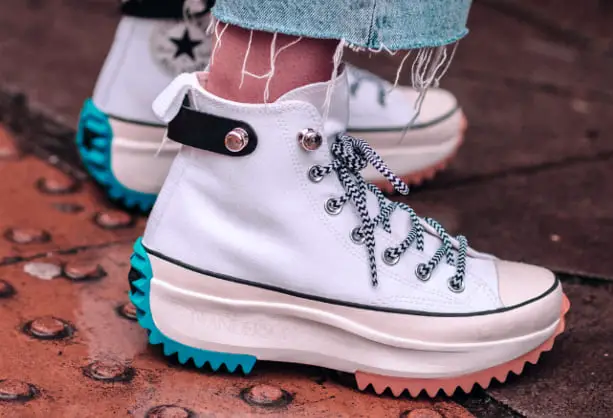 For a retro 70's look, try platform canvas shoes like the Keds 70's Sneaker. The thick rubber midsole and zig zag sole add major height. Flared jeans and bell bottoms complement the throwback vibe. Make a statement without compromising on comfort.
Canvas Boat Shoes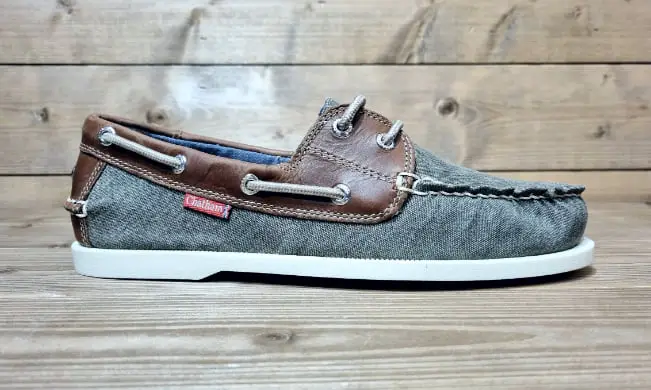 Boat shoes get a casual update in canvas. The Sperry Canvas Boat Shoe has the signature moccasin construction and 360 degree lacing system with a striped canvas upper. Non-marking soles are perfect for outdoor pursuit or summer strolls.
Canvas Sandals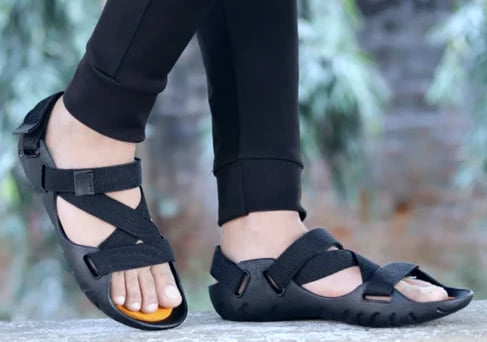 Why wear flip flops when you can rock canvas sandals instead? Styles from Converse, Vans and Keds feature sturdy canvas uppers on a foam rubber sole for comfortable warm weather wear. The adjustable strap ensures a secure fit.
This overview shows canvas shoes come in low, high, slip-on and strapback silhouettes. You'll also find canvas updates of boat shoes, sneaker boots, sandals and other footwear styles. Whichever you choose, you get that easy, breathable comfort canvas shoes are known for.
How Do Canvas and Non-Canvas Sneakers Compare?
Canvas sneakers have distinct advantages that make them ideal for casual wear. But non-canvas shoes have benefits too. How do the different materials stack up for comfort, durability, and style? Here's a brief comparison.
Breathability
Canvas wins for breathability. The cotton uppers allow air to circulate and keep feet cool. Leather and synthetic shoes can't match that ventilation.
Weather Resistance
Non-canvas materials like leather and synthetics withstand wet weather better. Canvas soaks through when very wet. But it dries out quickly afterwards.
Durability
Quality leather and rubber sneakers are quite durable. But canvas holds up well too. Avoid cheaply made shoes. With proper care, canvas sneakers can last years.
Support
Leather and synthetic shoes often have more structured uppers for arch and heel support. But many canvas sneakers now add cushioned insoles for comfort.
Style
Here it's a matter of taste. Canvas sneakers have an effortless simple style. Non-canvas offer more textures and statement looks. Canvas is more laidback while leather can look more polished.
Affordability
Good leather shoes are expensive. Canvas sneakers cost much less, making them more budget friendly. But cheap synthetics don't have the longevity of either option.
For optimal breathability and affordability, canvas sneakers are hard to beat. But leather and other materials have pluses too. Choose shoes based on your priorities for use, care, and budget. With canvas now available in many styles, you're sure to find options you love!
Caring for Canvas Shoes and Making Them Last
Part of the appeal of canvas sneakers is their versatility and durability as everyday shoes. With some basic care, you can add years to the lifespan of canvas footwear. Here are handy tips for care and maintenance.
Let Them Air Out – Never wear the same canvas shoes two days in a row. Rotate pairs and allow 24 hours for moisture to fully dry out before wearing again. Bacteria and odors flourish in damp shoes.
Use Protective Sprays – Pre-treat canvas with a sealant spray. Products like Scotchguard protect from moisture, stains, and dirt while allowing breathability. Re-apply every few months.
Spot Clean Messes – Don't just let stains set in. Gently blot wet spills with a clean towel. Use a tiny bit of mild soap and water to spot clean marks. Rinse and blot dry. Stuff with paper to fully dry inside.
Use Leather Cleaners Sparingly – For dirt that won't come out with spot cleaning, use the gentlest leather cleaner and soft brush. Rinse immediately so soap doesn't deteriorate the canvas.
Patch Small Holes – Stop tiny tears from growing by placing thin patches behind holes. Use a canvas needle and thread to sew on the inside of shoes. Sand rough edges.
Replace Insoles – Insoles compress with wear. Swap in new insoles every 4-6 months for arch support and cushioning. Or try adding custom orthotics.
Use Shoe Trees – Keep canvas sneakers stiff, dry and odor-free with cedar shoe trees. Insert when not wearing shoes to draw out moisture faster.
Avoid Heat – Never place canvas shoes in the dryer or direct sunlight. Heat deteriorates canvas and rubber. Let shoes air dry at room temp.
With some basic care between wears, your favorite pair of canvas kicks can look fresh for many seasons. Show your shoes some love and they'll be your loyal companions for years of versatile style and comfort.
Final Thoughts on the Humble Canvas Shoe
What began as a rubber-soled athletic shoe has morphed over the decades into a fashion essential with near universal appeal. Simple canvas sneakers transcend age, gender and style tribes. Their comfort and versatility ensure they belong in nearly every casual wardrobe.
Canvas shoes may seem humble compared to elaborate leather kicks. But their pared back styling is intrinsically stylish in an uncontrived way. Fresh whites or bold colors pop against any outfit. Patterns and prints let you infuse personality into a classic.
Part of the charm lies in the nostalgia factor. Canvas sneakers conjure happy memories of childhood and youth. Converse, Keds, Vans, and other heritage brands have real sentimental value. Each scuff and stain tells a story.
At the end of the day, the beauty is in the simplicity. Canvas allows shoes to be backdrops for self-expression. Keep the clothes bold and let the sneakers be that perfect blank canvas. For effortless, affordable style, you just can't beat the humble canvas shoe.
Frequently Asked Questions (FAQs)
What is the oldest canvas shoe brand?
Keds is considered the original canvas shoe brand, introducing affordable canvas sneakers with rubber soles to the masses in 1916. Other iconic heritage brands include Converse (1917) and Vans (1966).
How should canvas shoes fit?
Canvas shoes should fit snugly at first to mold to your feet without uncomfortable pressure. They will stretch and soften up over time. Low tops allow freer motion so don't size down too much.
Can you wash canvas sneakers in the washing machine?
It's best to spot clean canvas shoes by hand. If machine washing, use cold water on the delicate cycle. Remove laces and insoles first and place shoes in a pillowcase. Air dry away from heat.
Should I wear socks with canvas shoes?
Socks help absorb sweat so feet stay drier and shoes smell fresher. No-show socks are ideal for low top canvas sneakers in warm weather. Higher crew socks pair well with high top canvas shoes.
How to soften stiff canvas shoes?
Stiff new canvas shoes become more pliable with wear. Try rubbing shoes with coconut or olive oil. Wear with thick socks and walk around the house to naturally break them in.
What is shoe vulcanization?
Vulcanization chemically treats rubber to make it more durable. In the manufacturing process, the upper is affixed to the rubber sole under high heat pressure to bond them together permanently into one piece.
Can you resole canvas shoes?
Resoling prolongs the life of well-loved canvas sneakers once soles wear thin. Bring to a cobbler for repair. It costs less than replacing them. Some brands like Vans offer replacement soles through their website.
Are there vegan canvas shoes?
Many brands now offer vegan canvas shoes without animal-derived products. Look for synthetic vegan leather tags and rubber or phylon sole materials. Popular options include Macbeth, Keep Company, and Will's Vegan.
What brand has rainbow canvas shoes?
Vans has several canvas shoe styles that come in their iconic rainbow checkboard print. Converse and Keds also make limited edition rainbow-striped shoes. These colourful kicks are perfect for Pride events.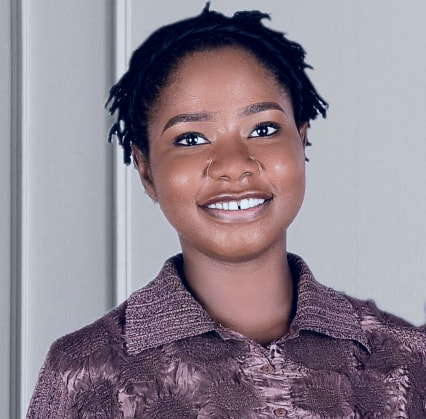 Blessing Bunmi is the founder and CEO of Blowra, the leading style guide providing insider fashion and shopping tips. With over 4 years of retail experience, She created Blowra to empower readers to confidently express their personal style.