Alternatives to the Wayback Machine become a popular search term. This is in response to reports that India's government has blocked the Internet Archive. However, no one is certain why the government did that. Leaving that aside, we shall find a substitute for everything. Why isn't there an alternative for the Wayback machine? The same query occurred to some brilliant minds a few years ago, and the answer returned with free Wayback machine alternatives.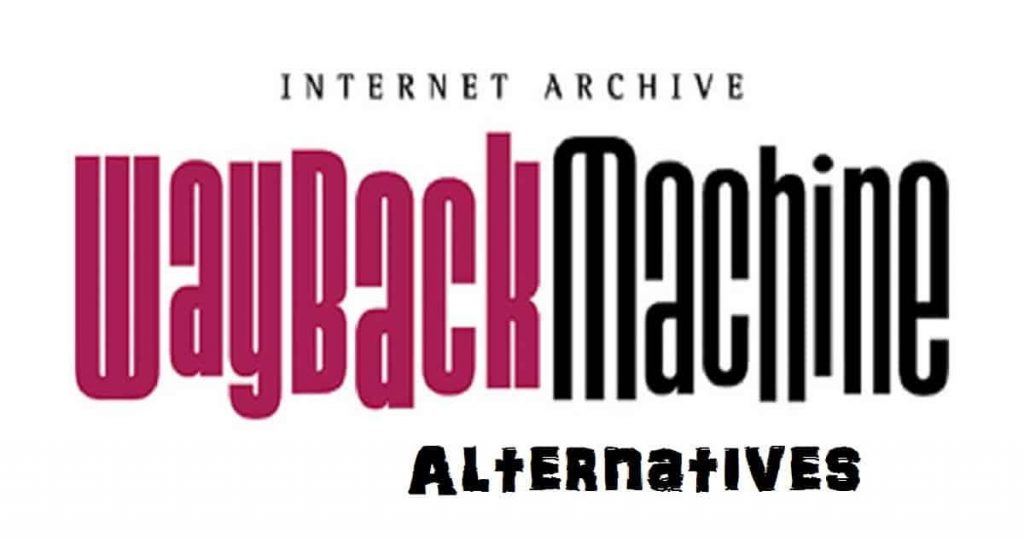 WayBack Machine
This is an Internet archive or time machine website that allows you to browse archived versions of website pages. This tool is great if you want to see how your current page compares to prior ones.
Is there alternative for Wayback machine?
Yes, if you're looking for something similar or interested in a time machine website, here's a list of the greatest free Wayback machine alternatives websites.
Top 12 Wayback Machine Alternatives For Internet Archive
1. CacheView
CacheView is a one-of-a-kind alternative to WayBack Machine in that it enables users to browse websites from Google Cache, the Coral Content Distribution Network, and the internet archive through a single platform. This is the greatest option for businesses who want a programme that archives webpages from a variety of sources. CacheView is a free programme that includes a Google Chrome extension that enables you to view the cache folder of a Chrome browser by presenting the cached files. This characteristic is what gives it its name. Typically, cache document contains information on the type of material, the server's name, the server's response, and URLs.
2. Perma
Perma is another time machine website tool that is designed to make web archiving simple and easy. PermaCrawl has been around since 2008 and is still going strong today.
If you need to archive multiple websites, then this tool is perfect for you. All you have to do is enter the URLs of the websites you want archived and click 'Archive'.
It is free to use but requires a subscription to access more information about each archived website. Libraries support this website because it is easy to use and offers many useful features.
3. Stillio
Stillio takes screenshots of websites on a daily basis. As a result, it collects screenshots at regular periods such as hourly, daily, and so on. It also allows users to define their own time periods. This makes it simple to determine whether or not your website is performing successfully.
The Wayback Machine website does not correctly read pictures or HTML. Stillio is so similar to Wayback Machine in appearance, however there are significant differences between the two.
When you call up such pages, you will find many damaged pages, but stillio supports remote storage. Stillio allows you to capture pages when they are offline and sync them to Dropbox or any other cloud service. It also provides you with complete control over your screenshots. Mobile device screenshots can be taken and altered to your taste.
You may use this time machine website tool to perform a website audit on your competitors' websites. This technique does not require you to visit your competitor's website on a daily basis. You'll be up to date as soon as you check-in.
You may also incorporate Google SERPs into your panel to gain insight into search results, positions, and advertisements.
4. ChangeTower
ChangeTower is a real-time website monitoring service similar to Wayback Machine.
It has some similarities to Wayback Machine, but one significant difference is that the ChangeTower notifies you anytime there is a modification to your webpage and quickly creates snapshots of the affected pages.
As with MessageWatcher, ChangeTower records only a snapshot of the page instead of the entire website, making it an unsuitable choice for reporting needs. And it cost about $9-299 per month.
5. Screenshots.com
Screenshot.com tool is very helpful in case you have forgotten how a certain webpage looked on a particular day. Screenshot.com will help you find out when the last time you visited a website was. You can also view the screenshots of the website at any given point in time.
This tool helps you save valuable time by providing you with a snapshot of the website at a specified date and time. It also saves the images so that they don't get deleted.
The tool also allows you to share the screenshots via email, social media platforms, etc.
One of the many free Wayback Machine alternatives is Archive.is. It keeps a web archive of your website. You can also obtain a screenshot of your site that has been archived. In order to see what your site looked like now, you'll need to use another Wayback machine alternative.
6. WebCite
WebCite is a service that permanently stores webpages. It enables users to conveniently retrieve archived data of any website. Academics, authors, editors, and publishers are the primary users of this service. WebCite distinguishes itself from Wayback Machine website by providing detailed screenshots of webpages.
WebCite is a free online service that lets you create a permanent link to any website. There is also a free version of the service that allows you to save up to 100 web pages. However, if you wish to archive over 100 web pages, you must pay a monthly fee of $10. The service also provides a premium version for $20 per month. This version allows you to save an unlimited number of web pages.
The archive contents can be accessed directly using the provided link.
7. Memento TimeTravel
Memento TimeTravel is a website that allows you to search the Internet Archive. You can look up older content using keywords or calendar. You can also download individual pages or entire collections.
8. Resurrect Pages
Resurrect Pages addon tool brings back old pages from the past. You can use it to examine what your competitors were up to before they vanished, or to look up the history of a certain site.
This is a web-based archiving tool that allows you to store web pages as PDF or HTML files. You can also save your favourite pages to your PC.
9. Pagefreezer
Pagefreezer is one of the online archiving sites like Wayback machine that uses cloud technology to make web archiving simple. It is an ideal option for both small and large enterprises, and it can be utilised in a range of industries such as finance, education, retail, and telecommunications. Companies utilise pagefreezer to permanently safeguard their website and social media material. More significantly, they are of higher quality than ever before.
It is one of the most user-friendly platforms, and you may archive all of your content from a single port. When you log in, you'll see all of your webpages, blogs, and social network information in one spot. It doesn't get any simpler than that!
Pagefreezer is a simple web archiving application that lets you save everything online. It can also crawl the Internet and archive anything you desire. In some aspects, Pagefreezer is similar to Wayback Machine in that it traverses the internet and archives pages.
10. MirrorWeb
MirrorWeb promises to be the most popular free Wayback Machine alternative for financial institutions. This online tool monitors and records websites for the purposes of compliance and eDiscovery. So, if you run an online financial service and don't want the SEC or other regulatory organisations to find out, you might think about using this web application.
A service that grabs and stores webpages as snapshots. MirrorWeb, on the other hand, captures social media outlets more than other Wayback Machine alternatives do.
11. MessageWatcher
MessageWatcher service keeps track of every version of your website. By login into your account, you can access all of these copies at any time. It can also be used to transmit emails, text messages, and other types of communication.
This script saves a screenshot of the page as an image file. You can then save or upload it elsewhere.
12. Archive.today
Archive.today is a fantastic platform for creating webpages. You can still save your pages as snapshots, which will remain accessible on the archive.today even if the original links are no longer accessible.
There are numerous sites like Wayback machine available today, and Archive.today is one of them.
Conclusion
In this article, we looked at several WayBack Machine alternatives. Knowing the pros and cons of each tool might assist you in selecting the best platform for your needs.

Dhare is a popular blogger and also runs a boutique business. He has a lot of years of experience, so he knows a lot about fashion in general. So, he is sharing his information and technical stuff in this diary.