Free Online Dating Apps Like Tinder for Finding Love, Fast Matches, or Hookups
This is a digital world where almost everything in human endeavours is achieved online. Online dating is no longer a new thing to many netizens. If not now, I guess you would have heard of the Tinder dating app before.
What is the Tinder Dating App?
Tinder online dating app is just an online platform specifically designed to meet new people of different personalities searching for love.
Nowadays, it is possible for you to sit at the corner of your room relating with different people online asking you for love online. This is exactly what Tinder does.
However, the overprice and overpopulated of Tinder dating apps have made many of their users to keep searching for the best tinder alternatives which can offer the best services too.
If you are the kind searching for the best free online dating apps like Tinder or Tinder alternative, this article get you covered. In this article, I have provided the best free online dating apps that can serve you the best features like Tinder dating app.
Top 15 Free Tinder Alternatives Apps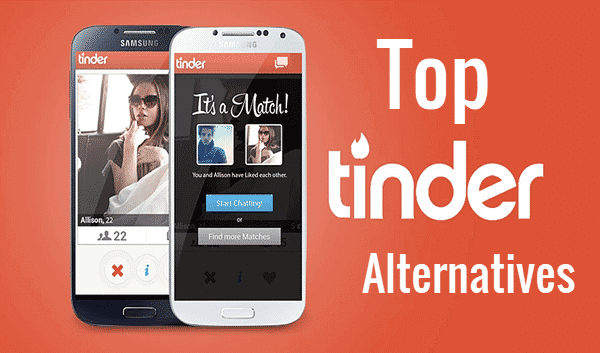 1. Happn
This is the first app on our list of best free dating apps like Tinder. Truly, it is not very easy to find true love on online dating apps but I can vouch for the Happn dating app. Most of the profiles you'll be showing on this app are those that are very close to the location where you reside.
They might even be those you've met on the street or those you've even had conversations with before. Happn online dating apps create perfect with those who already show interest on your profile. So there is no fear of receiving unwanted messages. Happn is available for download on Playstore and iOS.
2. Coffee Meets Bagel
This another perfect Tinder alternative app you can explore to create fast matches and find true love. The name of this app says it all. Coffee Meets Bagel cares about their users. It is the only app that can give you a match and ask for feedback on whether the match created is good taste for your future or not.
Trying Coffee Meets Bagel today may give the everlasting love you've been looking for all these days.
3. Eharmony
This app creates matches based on the details of your profile. Your location, gender, interest and lots more are usually put into consideration before showing the available profile.
Another thing about Eharmony is that they don't show multiple options at a time in order not to get confused choosing the right one.
All you need now is to click on the link above to get the app and sign up.
4. Bumble
When it comes to the best free dating apps like Tinder, Bumble is another perfect one you can explore. It has very distinct features from other free online dating apps discussed above.
For instance, the role first message usually comes from female sex on Bumble. So, it is the responsibility of women to text men first in order to start the conversation with a match.
5. Hinge
Hinge is another dating app available online. This app has some features which makes it to be one of the best dating Tinder alternatives.
On Hinge dating platform, you can create a match with other users using the app. The app shows you the profiles of those users who are very close to the location you filled when signing up. This will make it easy for you to have a physical connection or real life conversation with your loved one.
6. Blendr
Available on iOS & Android
I can say Blendr is like a hookup app but still have some traits which make it looks like a Tinder alternatives app
Blendr connects you with the people that are near your residence or your street.
The app is very easy to navigate and free.
You can access the app on both Android and iphone.
7. Match
Basically, Match is one of the online tinder alternatives platforms that have the highest population of users. It was just a website earlier when it first surfaced on the internet. Right now, Match can be accessible as a website and also as an app.
This app give opportunities to people between the age of 45 – 50 to be part of the game too. Research let us know that almost 58% of the Match users are already 45-57 years of age.
The app can be downloaded for free but messaging potential partners requires a subscription of $19.99/month.
8. Zoosk
Are you looking for a decent and quality single to date? Zoosk is always available for your service as it is also a Tinder alternative.
There are many distinct features that makes the app different from other free online dating apps. For instance, there is photo verification during registration to see whether you are real or not and to avoid scammers.
Again, there is an advanced search filter that you use to get a better match of your choice.
Trust me Zoosk is a dating app you will never regret if you give it a try.
9. Feeld
Here is another dating app that works like Tinder. Feeld allows you to privately browse and search for a better match of your choice. This may be just friends or data.
It allows you to view profile of whoever you like before starting a conversation with them.
One of the annoying parts of this dating app is that you are required to make payment on the platform before you can be allowed to use the app.
10. Luxy
If you are wealthy enough and search for exclusive relationships, I can advise you to try Luxy.
Luxy is undoubtedly a Tinder dating app alternative but with few different features. The app is specifically designed for influential singles who are searching for people of the same personality.
Luxy app is available and can be accessed on Windows, macOS, Android and iPhone.
Note; the platform doesn't give you access to have control over your profile thereby neglecting the privacy option.
11. OKCupid
With millions of users throughout the internet space, OkCupid remains one of the world's best online dating platforms. This is why it is regarded as the best dating app like Tinder.
OkCupid was designed with a special algorithm which can determine the total percentage of users you can match with at a go.
12. Hily
Hily is another app you can explore if you're interested in tinder alternatives to mingling with other genders. HILY is an acronym which stands for "Hey, I Like You".
One of the distinct features of this dating app is that it uses AI in creating matchmaking and at the same time free with optional subscription.
13. HER
HER is a dating app created by a woman. It is a LGBTQ+ app and also a social platform which is specifically designed for young women and the other gender to find love.
The app is one of the best dating apps that have the highest population of users. With a total estimation of 10 million users, HER remains the top best online dating platform where you can find the perfect match.
14. Inner Circle
Are you curious about having true love? Then Inner Circle is part of those free dating apps like Tinder where you can get the perfect match that will suit you.
Inner Circle regulates the scammer users through the "Date Pledge". It requires the users to be committed, respectful and reliable. So, there is no need to fear scam actions on the platform.
Inner Circle app is available for Windows, macOS, Android devices and iPhones.
15. BLK
BLK is the last on our list of free dating apps like Tinder. If you are the type that has an interest in Black singles, BLK is always there for you because the majority on this platform are fellow black singles.
It is a free app where you can have a perfect match and have conversations with other users on the platform. They have a free package to chat with potential users and premium membership of $9.99/month.

Dhare is a popular blogger and also runs a boutique business. He has a lot of years of experience, so he knows a lot about fashion in general. So, he is sharing his information and technical stuff in this diary.