Thingiverse has grown into a popular site for getting free, open-sourced, 3D printing files, whether you're new to 3D printing or have printed hundreds of components, but relying on just one source might be problematic. We've compiled a selection of Thingiverse alternatives to help you plan your next 3D printing sprint!
There are numerous methods for creating 3D models. Some people like to draw them by hand, while some others prefer to utilise computer-aided design software. For people who wish to be creative but lack the necessary skills, there are various sites like thingiverse where users can upload their creations and share them with other users.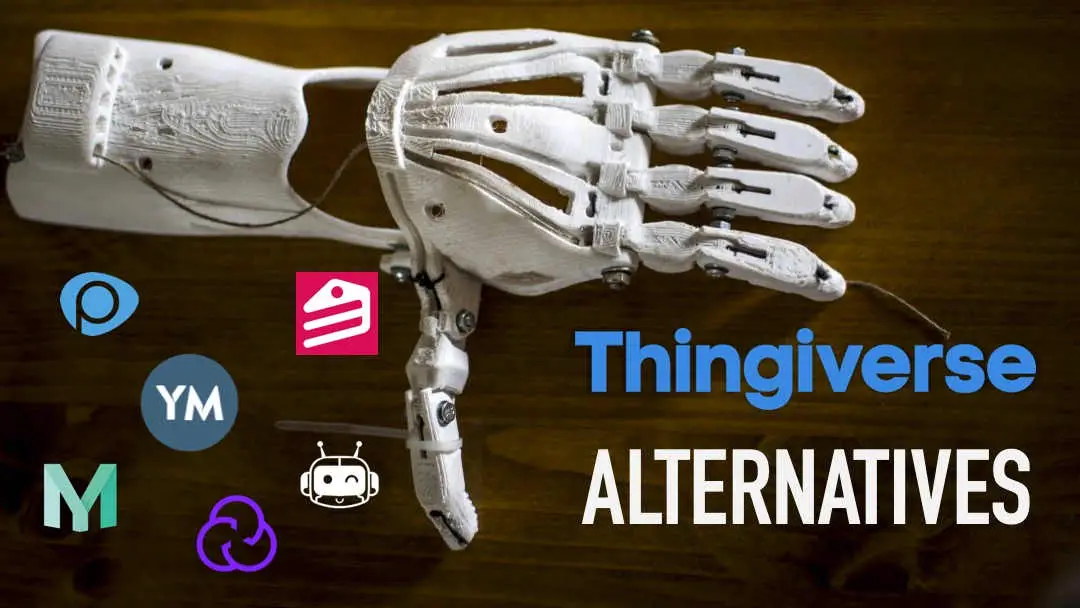 What is Thingiverse?
Thingiverse is a website where people can upload their 3d objects. This portal offers a large number of free designs for users to access and use for commercial or personal purposes. Users can also distribute their designs to others.
Thingiverse has a large selection of 3D-printable things. Their own success might often get in their way. Users may be dissatisfied if they seek for an item but it is not currently available.
Top 12 Sites like Thingiverse To Create 3D
1. MyMiniFactory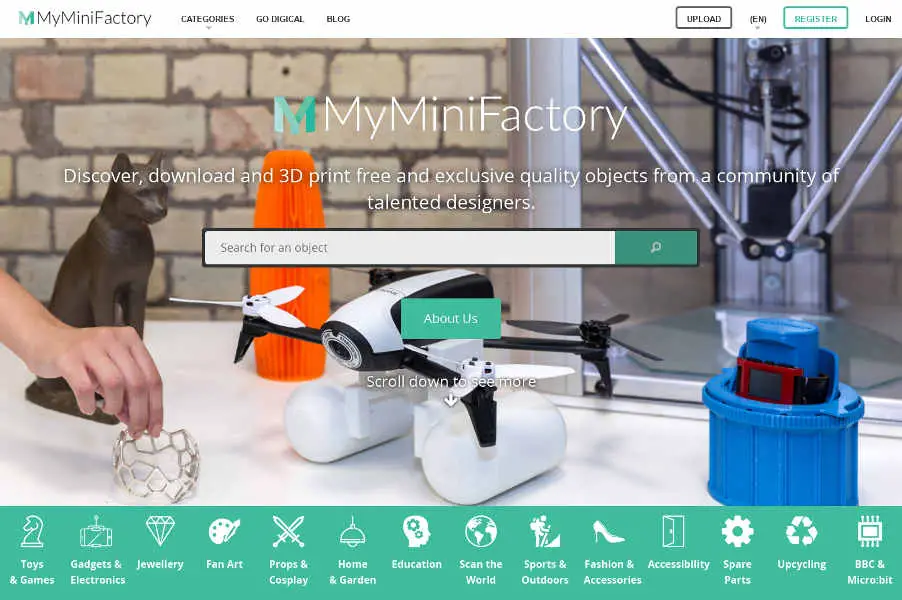 MyMiniFactory is one of the thingiverse alternatives website where you may share 3D designs. It allows users to upload files and share them with other people. Before releasing a design, it must pass a software test. This guarantees that the model can be printed and functions properly. You might also download free versions to test out before making a purchase.
MyMiniFactory is a website where people may design their own products. This site also provides competitions and discussion forums for ideas. New contests are held on a regular basis, so users should keep an eye on what's going on. Another method to help the community is to upload your own design. You can also suggest new contest ideas.
MyMiniFactory has a lot of free and paid 3D designs. However, they are relatively cheap when compared to other sites like thingiverse. The user interface was meant to be very intuitive and small, and it presently helps over 270,000 users.
2. Cults
Cults collection is approximately 344k files is organized utilizing a straightforward category system. There are no filters to find the most relevant for search when browsing. A random button is used to manage their file collection.
Cults incorporates a number of community components, such as creations, likes, and collections, and does not include remixes. The biggest feature of this Thingiverse alternative is the community print section, where you can see all of the most recent prints made by other people. Members can also win wonderful prizes in frequent 3D printing themed competitions.
This site like Thingiverse provides both free and paid design templates. There are around 344,000 different designs. You can look for things by category or keyword. There are ten categories, but no subcategories. There are no filters available. To search, only phrases are used. There is a section dedicated to recent community prints. Sponsorship challenges are also available. There is also a random button.
3. CGTrader
CGTrader is like other thingiverse alternatives where you can buy and sell 3D models. It enables users to buy and sell 3D print files, including those that have not been optimised for 3D printers. It also features a loyalty programme that gives discounts on future purchases to repeat consumers.
The community section has a large number of user-created tutorials as well as an active forum and it's not available on most sites like thingiverse.
Users can post-commission offers for designers to quickly apply in the Freelance 3D Projects tab.
As with the website, these commissions are not limited to 3D printing models; instead, they include everything from board game figures to textures.
And there's a hire me button on each model that allows you to contact specific designers if you like their work.
It's simple to sort by price. You have the option of viewing free or paid designs. There are numerous categories to choose from. Tutorials and discussion boards are beneficial.
This thingiverse alternative website provides an impressive portfolio for independent artists interested in showcasing their skills. On each page, there is also a "hire me now" button.
4. Dagogo
Users can purchase designs from several categories for a price or for free on Dagogo. Designs range from more functional (such as chairs) to more beautiful and artistic types (like sculptures). On this Thingiverse alternative website, designs can be printed using a variety of printers. Designers are protected by copyright, and customers can seek a refund within 14 days. If you have any questions, you can contact the community help centre.
Dagogo is a design application that allows users to create and share 3D designs online. This programme allows users to simply cut, save, and print their designs. 3Dagogo also collaborates with Astroprint, allowing users to cut and print 3D files instantly from any internet-connected device.
5. Pinshape
Pinshape is a 3D printed object marketplace. Using a 3D printer, users may buy designs and print them. Users can personalise and share their creations online. Designers can sell their work to buyers directly.
This thingiverse alternative website hasn't been modified since 2018. Their discussion boards are dormant. Their educational material is out of date. In general, they're quite good tour guides, but they're also rather old.
This website is excellent for those who are new to 3D printing and want to learn more about it. There are a plethora of tutorials and videos accessible. There are some free designs in the design process that you can print yourself, or you may purchase a design if you need something more complex. There is even an online store where prints and kits may be purchased.
6. GrabCAD
GrabCAD is a very user-friendly website as other thingiverse alternatives. It includes a plethora of features that make it quite easy to use. Individuals and corporations use it to create 3D designs.
GrabCAD is an unsuitable platform for purchasing 3D printed objects when compared to other sites like thingiverse. The majority of the designs are for pricey things that you cannot print yourself. However, if you would like to make something for yourself, GrabCAD has some good ideas.
GrabCAD is a fantastic resource for businesses, academics, and engineers. Everyone is pleasant and helpful. If you require assistance, you can receive it fast.
GrabCAD is an excellent application for CAD designers because it allows you to share your drawings with other people, which makes it easier to collaborate on projects. You can even set up a forum for your project.
7. 3DExport
3DExport is another thingiverse alternative website that sells 3D printable things. They provide a wide range of products, including 3D printed parts, 3D graphics, and even custom-made clothes. They also offer a big number of free 3D printable objects. The majority of these models are in.stl format, which is compatible with the majority of 3D printers.
3DExport features a sizable instructional section that includes over 100 free and highly specific 3D modelling courses. These are a little out of date, but they still serve a purpose. They provide file conversion services to ensure that your designs are always in the correct format. You can request a refund within 24 hours if a file does not work out.
This website provides both free and premium videos. There are numerous categories to choose from, including how-to, tutorials, business, and entertainment. There are also other filters available to assist you in narrowing down your search. There are, however, no more videos or instructions.
8. Prusa Printers
Prusa Printers is a fantastic resource for free 3D printed designs. There are over 40,000 layouts to choose from. Filtering options include printer model, printing time, and even filament quantity. When you need to print anything quickly, searching for pre-slices is quite useful.
The Prusa Printer blog is an excellent resource for learning about 3D printing. They provide a wealth of useful data and tutorials. There is a lot of intriguing stuff on their website. Their user print files are really useful when creating your own prints. They include a group option that allows you to follow communities or specific topics of interest.
This is an excellent resource for 3D printing fans. There are numerous categories to choose from. You can narrow down your search by material type, filament type, and even printer brand. Users can also form groups to follow specific themes or communities. There are other forums where people can talk about 3D printing.
9. YouMagine
YouMagine is a website that allows users to create their own 3d objects. User can also upload their own graphics or use pre-existing ones. This website provides a variety of features, including the ability to create your own 3d design, upload your own design, or use other people's ideas.
YouMagine is a fantastic resource for free 3D models. There are almost 16,000 free 3D files can be found there. Most of them are quite cool. I came across a few that piqued my curiosity.
The portal includes user manuals for many 3D printers, essential maintenance advice, and tutorials for novices. By developing printer handling skills, users are granted access to a new expert level of experience and can focus exclusively on printing.
10. African Fossils
African Fossils is a non-profit organisation dedicated to educating the public about prehistory through the use of current technologies, such as scanning petrified bones. Many prehistoric fossils, including dinosaurs, mammals, amphibians, insects, fish, birds, plants, and other species, are available for free download on their website. These scans are made freely available online for instructors and learners to use.
There are a lot of files, however, African Fossils categorise them into hominids, animals, and implements. Users can narrow down their choices by fossil age, and there are many different sorts of human skulls to choose from.
11. Repables
Repables is a community-driven 3D printing platform. It is perhaps the easiest and most uncomplicated website for uploading 3D models for free, and it allows users to print off 3D models for free. However, when you establish an account on the site, you will be given the option to submit a 3D model. This implies that the collection of 3D models is extremely huge, but it also means that the uploaded designs have almost no quality control. As a result, it's critical to understand what you're getting into before submitting a file.
A printer setting governs how well a printer prints an image. For example, if you want to print a page at 300 dpi (dots per inch), you must set your printer to that resolution. This can be accomplished by navigating to your printer's settings or by utilising software such as Adobe Photoshop.
Because the majority of the designs on this site are not 3D printed, it is not very useful. Nonetheless, some designs are 3D printed.
12. Treatstock
Treatstock is a cross-platform that enables to print 3D objects and cutting them out with CNC machines. Users have the option of uploading their own designs or purchasing ready-made designs. Users can also use the site to market their own products.
Conclusion
There are numerous websites like Thingiverse that provide 3D designs. Thingiverse remains the most popular platform for offering or purchasing 3D creations. However, it is critical that you do not limit yourself to the thought that Thingiverse is the only website with downloadable 3D models, as there are over a dozen websites like thingiverse that may assist you as well!

Dhare is a popular blogger and also runs a boutique business. He has a lot of years of experience, so he knows a lot about fashion in general. So, he is sharing his information and technical stuff in this diary.