Are you a business student looking to learn more about the retail industry? Do you want to understand how to analyze a company's performance and potential? If so, then read on! We've put together this SWOT analysis of Banana Republic to help you gain some insight into the company.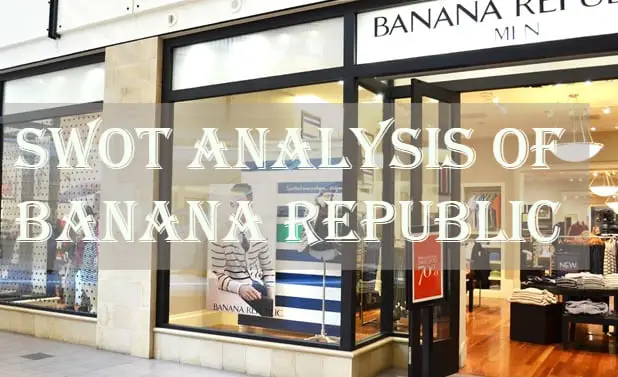 An Overview of Banana Republic
Mel and Patricia Ziegler started Banana Republic in 1978. It is a lifestyle brand that is known all over the world. From its roots as an outdoor clothing store, it has evolved into a fashion retailer offering modern, versatile apparel, shoes and accessories for men and women.
It prides itself on creating timeless pieces that are designed to last. Their collections are designed with an eye for quality, detail and innovation. The brand also offers exclusive products, collaborations with top designers and limited-edition collections.
Whether you're looking for classic staples or something new to love, they have something for everyone.
In-Depth Banana Republic SWOT Analysis
Strengths of Banana Republic
It has several strengths that make it stand out from the competition.
Strong Brand
Secondly, the brand has an established reputation as a reliable provider of quality apparel with an eye towards modern trends. Additionally, Banana Republic is a well-known brand name with strong recognition in the market which helps create customer loyalty and trust in the company's products.
Partnership
It also collaborates with other companies to create unique items not available anywhere else which further enhances its appeal to customers looking for something special.
Quality Fabric and Styling
Banana Republic is known for its quality fabrics and stylish designs. The company's fabrics are sourced from around the world, with many of their signature pieces made from natural fibers like cotton, linen, and silk. Their clothing is also designed to flatter a variety of body types, making it easy to find an outfit that looks great on you.
Clear positioning
The Banana Republic markets itself using the strategy of benefit positioning, and it claims to be a brand that makes long-lasting, yet adaptable, statements of contemporary classic style. The brand is also known for its attention to detail in the form of fine stitching and an emphasis on functional details like pockets and comfort.
Weaknesses of Banana Republic
Here are the weaknesses in banana republic swot analysis;
Lack of Online Presence
The company has not been utilizing online sales efficiently, limiting their potential customer base. It also faces a very competitive rivalry from Amazon, which could reduce their market share significantly if not addressed properly.
Poor Quality Control
It has faced criticisms over the quality of their clothing, citing poor fabric and construction. This can be attributed to outsourcing production to low-cost countries, where regulations regarding quality control are often not as stringent.
Political instability
They are often characterized by political instability, weak civil society, and a reliance on export-oriented economies. This lack of strong institutions makes them particularly vulnerable to external shocks such as global market downturns or changes in commodity prices. In addition, the government's lack of autonomy can make it difficult for the country to respond quickly and effectively to changing economic conditions.
Limited product selection
Banana Republic, while popular for its stylish clothing and affordable prices, has a limited product selection when compared to other retailers. This can leave customers with fewer options for finding the perfect outfit or accessory.
Portfolio
Gap Inc.'s portfolio consists of Gap, Banana Republic, Old Navy and other brands that could be seen as competition from within the same company.
Opportunities for Banana Republic
It has plenty of opportunities to capitalize on in the modern market.
Expanding Into New Markets
As a popular fashion brand, they can benefit from expanding their product offerings and their customer base. Expanding into new markets and offering a wider variety of clothing for different age ranges and genders can help them reach more customers.
Digital Marketing Strategies
Embracing digital marketing strategies such as social media campaigns and influencer partnerships can increase their brand visibility and help them stay ahead of the competition.
Investing in customer loyalty programs, expanding their e-commerce presence, and forming strategic partnerships with other retailers are all excellent opportunities for Banana Republic to further grow their business.
Diversify the product range
They have been known for its classic clothing and accessories, but branching out into other areas could help the company reach a wider audience. Consider adding products such as home decor, jewellery, and beauty products to create opportunities for customers to explore new items.
Dress for success
Its clothing is known for its classic styling and timeless features, making it a great choice for anyone looking to dress to impress in the professional world. Whether you're heading into the office, attending a networking event, or going to a job interview, it offers clothes that help you look smart and stylish.
Develop skills
Banana Republic store managers have the opportunity to develop their business and management skills, as well as their customer service and communication skills. Working in a retail environment helps managers gain knowledge about the industry, become familiar with the product line, and stay up to date on fashion trends.
Threats for Banana Republic
It faces several threats to its business, including competition from other clothing brands, rising costs of materials and labour, and the potential for economic downturns that could reduce consumer spending.
Inflation
It also faces rising costs of materials and labour as a result of inflationary pressures in the economy. The cost of raw materials used to manufacture clothing can increase over time due to changes in supply and demand or currency fluctuations. Similarly, increases in wages can lead to increased production costs.
Economic Downturns
Economic downturns can reduce consumer spending on luxury items like those offered by Banana Republic. During an economic recession, consumers may be more likely to purchase less expensive items or delay their purchases until they are financially able to do so. This could lead to decreased revenue for Banana Republic and other luxury retailers.
Lack of competitive advantage
Banana Republic may not have a significant competitive advantage over other retailers, which could lead to lower demand from customers. Additionally, the company may find it difficult to differentiate itself from other businesses in the industry. This could result in decreased sales and profits over time.
Competing with Low-Cost Retailers
One of the threats for Banana Republic in a SWOT analysis is competing with fast-fashion brands like H&M and Zara, which offer lower prices on trendier items. They also face competition from premium fashion brands such as Louis Vuitton and Gucci, which offer higher quality items at higher prices.
Economic threats
Banana Republic faces the risk of economic downturns, which can lead to a decrease in consumer spending and sales. Additionally, rising costs for wages, materials, and transportation can further impact the company's bottom line.
Summary
The SWOT analysis of Banana Republic reveals that the company has numerous strengths, such as its well-known brand name and its wide range of products. It also has weaknesses, such as its relatively high prices, which may limit its appeal to certain segments.
However, by taking advantage of its strong positioning and targeting multiple markets, they can capitalize on opportunities for continued growth in the future.
Its threats include competition from other brands offering similar items at lower prices.
By remaining focused on providing quality apparel and staying abreast of fashion trends, the company will be able to maintain a successful business model in the years to come.

Abedex studied strategic management in college, and he continued to be interested in the subject long after he graduated.
He has done a lot of research on the topic and has been using his knowledge of strategic management and swot analysis to analyse businesses for the last 8 years. And he is here to share you more info about data analysis.